Welcome to another weekday blog post from Systematic Income in which we touch on whether we are now facing another muni redemption wave.
A number of subscribers on the service have expressed concern that the recent run-up in Treasury yields may cascade into another muni redemption wave, delivering sharp losses to over-stretched positions.
A quick glance at longer-term valuations shows that just prior to the latest weakness in munis, valuations were at record levels. 
Muni/Treasury ratios hit record low levels on Tuesday before recovering a bit by the end of the week. Relative richness of munis vs Treasuries is really due to stronger than expected fiscal situation of munis (i.e. better tax collections), issuers moving out to taxable bonds so the new tax-exempt supply is much smaller, direct aid from the new $1.9bn stimulus and an expectation of higher marginal tax rates.
In terms of relative valuation - high-grade bonds are back to being pretty expensive - even BBB's have retraced 90% of their credit spread widening.HY bonds have retraced about 80% of their widening.
That said, what all of this tells us is that while valuations are on the expensive side, they are supported by fundamentals. That's not a terrible place to be and something that should keep any redemption wave contained.
Something else to keep in mind is that despite the recent drop in munis, it has really been a blip so far. Year-to-date tax-exempt muni CEF NAVs are nearly all up. Our biggest overweight positions (we have held since August) have done very well reflecting the high-yield / unrated overweight due to attractive valuation and resilience in the face of higher rates which has played out spookily exactly as planned.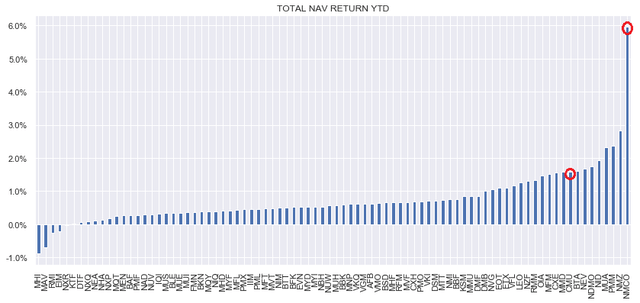 What is the risk of a redemption wave right now? 
We are generally not in the business of forecasting macro market variables. That said, we view a big redemption wave as unlikely due to a healthy number of investors who have been on the sidelines, waiting for a better entry point. Weekly demand for tax-exempt bonds at $8bn is sufficient to scoop up a big chunk of redemptions, particularly as tax-exempt supply overall has been low, diverted by increased taxable issuance. 
Overall, our view here is that keeping high-yield focused exposure still makes sense - valuation is still ok though not as great as last year, discounts on some of those CEFs are also ok-ish e.g. CMU, NZF, CXE, NMCO.
Some term funds are still attractive as well e.g. NID - they can outperform due to the discount compression to zero on termination date. Our key message here is that you want to be able to add to munis if we find 10-year Treasury yields 0.50% higher in a panic market event. So I don't think you want to be all-in at this stage given the sharp moves in Treasury yields and how expensive the broader muni sector is. So, some allocation to longer-duration HY munis, some allocation to short-duration open-end funds for dry powder + NID - this kind of barbell (is there a barbell that has 3 points?) makes sense in our view.
Thanks for reading.

Check out Systematic Income and take a look at our suite of Income Portfolios designed from the perspective of yield and risk control in mind.
Explore the best of the CEF/ETF, preferred and baby bond markets with our powerful Interactive Investor Tools.
Check us out on a no-risk basis - sign up for a 2-week free trial!