Earlier this month, the stock prices for Microsoft (MSFT) surged to their highest level in the current year of $47.52 per share. However, this surge in prices represented more than just a yearly high-point. This was Microsoft's highest stock price since 1999. Shares for Microsoft are showing no sign of any drastic decline and, keeping their recent performance as an indicator, growth in prices is not expected to show any considerable slowdown, particularly in the coming few years. Market indicators are actually pointing towards a further growth in Microsoft's stock prices.
There are many reasons to expect this continued upward movement in prices, with Microsoft diversifying its range of operations and unveiling newer versions of its trademark products, things are definitely looking up. The following 3 reasons can broadly sum up why growth in Microsoft's shares will continue.
Growth in gaming and smart-phones
Microsoft has a diverse portfolio of products and services at its disposal, it has used its gains in the software business to branch out its operations on a much diverse scale. It has efficiently utilized marketing strategies such as cross promotion and product bundling, particularly in the field of gaming and smart-phones. Microsoft has grown its gaming business slowly over the last few years but growth has been steady and has seen them breaking into the console business with the Xbox being its crown achievement.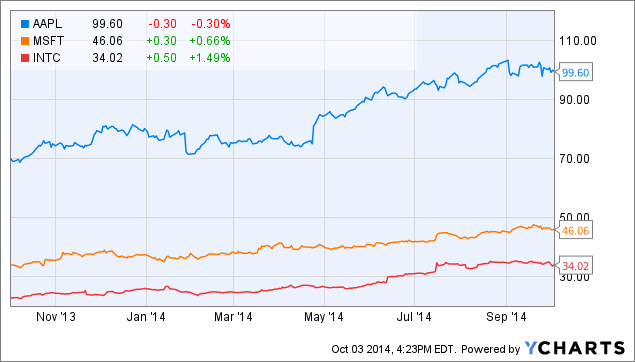 Microsoft has recently added further value to Xbox by paying $2.5 billion for the developer of the extremely popular virtual reality game Minecraft. Along with that, Microsoft also added value to the Xbox through the launch of its partnership with gaming industry giant Electronics Arts (EA). The two companies will collaborate on special Xbox One consoles with subscriptions to all of EA's most popular games that are trending worldwide. The share of Microsoft's gaming hardware segment in total revenue has increased significantly over the year. Microsoft's partnership with Nokia over windows operated smart-phones has started reaping rewards as market share has increased to 4% and is showing considerable upward potential with Nokia Lumia phones increasing in popularity particularly among the young generation.
Strong financials
Riding a stream of steady growth, financials for Microsoft have been impressive over the year. Cash flow position has become significantly stronger as cash, equivalents and short-term investments have shown an $8 billion increase over the previous year to a staggering $85 billion. Retained earnings have grown by almost 80% to around $18 billion. Equity for shareholders has grown by over $10 billion from the previous year. Moreover, Microsoft has further increased dividends as quarterly dividends showed a further 11% increase. Dividends over the last 4 years have increased by a whopping 140% and further growth is expected, considering the substantial growth in retained earnings. Investors are getting a fairly decent dividend yield of around 2.7%. Payout ratios are expected to grow further.
Microsoft has also added value to its investors through share repurchases and only last year laid the ground work for another huge buyback amounting to $40 billion. Overall growth in Microsoft has been substantial, with huge rewards to be reaped by investors. Investors can also feel more secure due to the massive scale of Microsoft's newest ventures that will definitely add further value and enhance returns on investment.
Continued pursuance of and catching up with future trends
Microsoft has more than often been criticized for being relatively inflexible and not catching up with up and coming trends, particularly in the field of social media and the ever growing smart-phone market. However, it has been able to catch up without having to lose too much of its revenue or market share even in the meantime. Microsoft has establishes itself as a brand and commands significant customer loyalty. It has a broadly defined and steady customer base. Microsoft takes pride in its B2B approach and its clientele has grown stronger over the years. Moreover, Microsoft has been able to catch up due to its sheer corporate strength and reach, its monstrous scale of operation and its massive earnings generation power.
Microsoft has taken advantage of the fact that innovation eventually loses value and thus has taken a back seat while others continue to innovate. However, not once has it failed to update itself and renew its operations in order to cater to changing trends, as it aligns itself with considerable PC upgrades and shifts focus to cloud and mobile devices as well.
Conclusion
The reasons highlighted above clearly show why Microsoft is scaling new heights and achieving enormous growth with no signs of slowing down. The company has surely laid the groundwork for further growth in the future through its ambitious and endearing new ventures, particularly in the gaming industry. With strong financials and a history of adding value to shareholders' investment, Microsoft stocks will continue to march higher and can truly be a highly rewarding investment even for the long term.