Bristol Myers Squibb (NYSE:BMY) are on the edge of such a potential historical breakthrough as they have made some key developments toward using their oncologic drug Nivolumab to treat lung cancer. The company is aiming to modify the drug to target lung cancer. According to Michael Giordano, senior vice president, Oncology Development, Bristol Myers Squibb, "Bristol-Myers Squibb is committed to advancing the science, research and development of immunotherapy as an innovative approach to treating cancer in multiple tumor types". Not only will this be a major scientific breakthrough this will also be a major financial breakthrough for Bristol Myers Squibb as this will surely give them the first mover advantage in the industry and attract an impeccably high sales volume.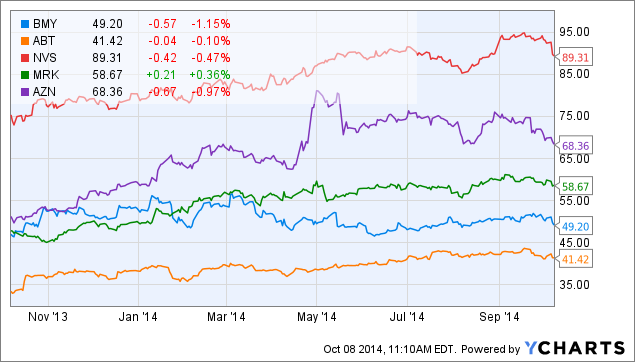 Nivolumab and immuno-oncology
Bristol Myers Squibb is collaborating with pharmaceutical giant Novartis (NYSE: NVS) in order to combine nivolumab, with targeted therapies developed by Novartis to come up with modifications to the oncologic drug that can be used as a treatment for Non-Small Cell Lung Cancer (NSCLC). Both companies are aiming toward using combined immunotherapy along with therapies taking a concentrated molecular approach in order to explore the potential of enhanced immune system response to different types of cancer. In this combined approach, nivolumab has been renamed Opdivo and is used in the immunotherapy part of the combined treatment. Opdivo is used to harness the resistance of the body's own immune system as a defense mechanism against different types of cancer. These are innovative approaches by Bristol Myers Squibb, it has recognized the risks it faces from competitors such as Merck (NYSE:MRK), Roche (OTCQX:RHHBY) and AstraZeneca (NYSE:AZN) and continues to innovate in order to remain competitive. All these treatments are basically aimed at blocking the PD-1 pathway which is responsible for allowing cancerous cells to pass undetected if left unattended to.
The progress so far
Among the firms competing for immunotherapeutic drugs as a treatment for cancer, Bristol Myers Squibb was the first to be globally approved and has remained first in line for approval in lung cancer. The European Medicines Agency has accepted an application by BMY seeking approval for nivolumab in the treatment of Non-Small Cell Lung Cancer (NSCLC). Clinical testing has been carried out in collaboration with Novartis. Combinations of nivolumab and Novartis' own oncologic drugs have been tested for their impacts on NSCLC.
Bristol Myers Squibb has utilized a thorough Research & Development program that has spanned a total of 35 trials, individual and combined trials included. Through its immense efforts, BMY has been able to gain the world's first approval in the field of immuno-oncology for nivolumab, which came from Japan. It has kept up with its immediate competitors, Merck in particular who have their own FDA approved treatment of melanoma.
Future Outlook for Bristol Myers Squibb
Gaining approval for lung cancer treatment is a particularly lucrative prospect, especially in the market for oncology drugs. The boost to sales revenue should be in billions as the drug will definitely be expensive but it will be a one of a kind breakthrough and thus will indeed attract customers or those seeking treatment for terminally ill relatives etc. If Bristol Myers Squibb does manage to gain approval for lung cancer treatment, it will have the highest share of the huge market for PD-1 drugs which could possibly amount to $35 billion per year. Sales resulting from nivolumab are themselves expected to peak in the range of $6 billion. Approval will definitely place Bristol Myers Squibb as undisputed leaders in the market for PD-1 drugs, and will give them a considerable first mover advantage and an edge over all of its competitors.
Conclusion
Bristol Myers Squibb has pushed itself to innovate and go further in its pursuit of achieving history making scientific/medical breakthroughs. Currently it has backed up its seemingly impossible ideas into a plausible plan of action and has added significantly to its credibility through rigorous R&D processes and clinical trials. BMY has positioned itself ideally as a potential market leader. The time to invest in BMY would definitely be now as the firm has set itself up in order to gain maximum rewards for its innovations and eventually lead the market. Trend in the market is bullish for this month and prices are definitely expected to surge, depending on approval of BMY's signature PD-1 drug. Investors are definitely to gain from positive developments surrounding approvals.
Disclosure: The author has no positions in any stocks mentioned, and no plans to initiate any positions within the next 72 hours.
The author wrote this article themselves, and it expresses their own opinions. The author is not receiving compensation for it (other than from Seeking Alpha). The author has no business relationship with any company whose stock is mentioned in this article.