Dunkin's Brands (NASDAQ:DNKN), the parent business in the two most preeminent brands on the planet: Dunkin Donuts and Baskin- Robbins, recently held its 2014 Investor and Analyst day on September 17. Their chief executives described the company's strategic direction, expansion plans via new restaurants and Capital and R&D strategies (Note: These annual events, the company investors and stakeholders get an in-depth concept regarding existing and future corporate finance plans).
Dunkin Brands hosts practically a 100% franchised business model, with roughly 18,000 points of distribution in approximately 60 nations. The management is convinced that its model provides strategic and financial rewards by ensuring a sense of focus on menu innovation, marketing along with other initiatives to drive future enterprise development opportunities. This model provides a leveraged capital structure, and offers flexibility.
Mixed Financial and Sales Forecast
The business quarterly dividends rose from $0.15 in 2012 to $0.23 in Q2 2014. In its most recent Investor and Analyst day event, the company reaffirmed its guidance for the year 2014. The business expects a 5-7% system-wide in net revenues and 7-9% growth in the net operating earnings during fiscal 2014. Mathematically this should translate to operating margin expansion of about 50 to 100 bps. Moreover, EPS is expected to be in the range of $1.73 to $1.77 below from its prior forecast of $1.79-1.83. Dunkin Brands had below par results compared to the last two quarters. In Q2 Dunkin Donuts US segment posted a mere 1.8% in retail sales increase which was targeted at 3-4%. Furthermore, the net revenues rose just 4.6% to $191 million, driven by elevated royalty earnings as a result of system wide sales development.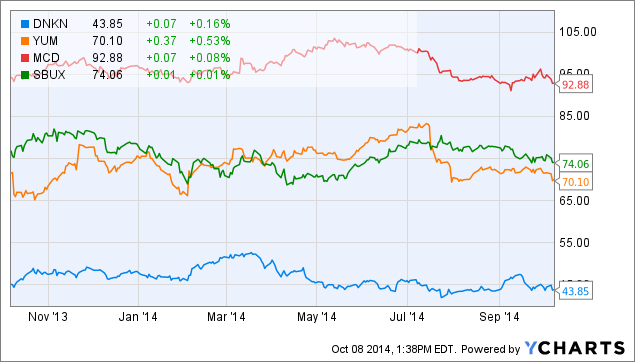 With regards to segment updates, Dunkin Donuts U.S. is expected to open 380-410 net new units and to remodel 500 units; same retailer sale is expected to grow 2-3% in 2014. Baskin-Robbins U.S. has offered a guidance of 1-3% retailer sales growth along with a total of 5-10 net new stores by the finish of 2014. The international segments of both Dunkin Donuts and Baskin-Robbins are expected to open net 300-400 units.
The organization also gave a brief overview of its 2015 guidance, in which Dunkin Donuts U.S. net restaurant growth is expected to become more than 5%, and same store sales development is anticipated within the range of 2-4%. Dunkin Brands has long term capital growth targets of 6-8% and above 15% in adjusted Earnings Per Share (NYSEARCA:EPS). To realize this growth outlook, the business has to optimize its cash flow management and to facilitate earnings development by means of either deleveraging or shareholder payout.
Expansion Plans:
Most of the Dunkin Donuts U.S stores are concentrated within the eastern region of the US and don't possess a presence in the Western US. The business has explained its presence within the U.S. via four categories: core markets, established, emerging and western.
The business aims to expand in the western markets. Adding new assets towards the business will aid them in creating more revenues in the foreseeable future. Within the long-term strategy, the business plans to add around 5,000 Dunkin Donuts units at the western industry, around 3000 in emerging markets and only 400 in its core eastern marketplace, to take the total Dunkin Donuts U.S. units to 17,000.
Nonetheless, because of strong franchisee demand inside the core and established markets, the company has changed its net new openings guidance. The net opening has been revised to a bullish 15-20%, which has been revised from 10-15%.
Accelerating Growth In Western Market
The business has doubled its footprint from 32 restaurants in 2010 to 64 in 2013 in Texas, a profitable western segment. Inside the state, the average weekly sales in the restaurants grew by 57% within the last 3 years. But the comparable retailer sales rose from 1% in 2010 to 9% in 2013. Long-term Dunkin Donuts plans to open 800 to 1,000 net new restaurants in the region given its substantial growth rate.
This really is just one of many regions the company is focusing its growth. Other main area for the organization is California. According to Nigel Travis, business's Chairman and CEO, Dunkin Donuts is slated to open 4-5 restaurants in California by the end of fourth fiscal quarter, much earlier than its originally anticipated. The business declared the locations of its shops in California on June 10th and also pointed out its plans to open 54 a lot more stores in Southern California in the future.
Conclusion:
There is high competitive activity in the breakfast market and the beverage business which has resulted in a rather disappointing performance of Dunkin Brand's with retail sales growing 1.8% against a target of 3-4%. However, this may be countered in the future by extending the business model by capitalizing the Western US market and emerging markets.
With intensified competition, discounting in the segment has eroded profitability which has manifested from the income statement numbers with a downward revision of stock price to $1.73-$1.77. The main bottleneck for improving the bottom line to the tune of 5-7% is the need to expand sales and it is important for the company to realize 7-9% growth in net operating income.
The trade-off resulting from lowered sales growth rate on the net income is stalling the price of Dunkin Donuts Stock. However, with the companies ambitious plans to increase its franchisee network it would be safe to assume that it is a growth stock and will provide capital gains yield to stock holders and should be a good buy.
Disclosure: The author has no positions in any stocks mentioned, and no plans to initiate any positions within the next 72 hours.
The author wrote this article themselves, and it expresses their own opinions. The author is not receiving compensation for it (other than from Seeking Alpha). The author has no business relationship with any company whose stock is mentioned in this article.