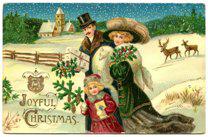 1:00 pm ET: Today's half day action was muted with the major averages trading in a small range. Congress took the day off to observe the Christmas holiday and so there was no budget-talk action, although I did half-expect something to happen over the weekend. But you bulls can take heart in that the Santa rally isn't dead yet despite the fact the financial media is forecasting a stalemate on the budget talks. Why? I think that all of this gloom and doom can be looked at as a contrarian indicator. After all, there's still an entire week for Congress to cobble something together and I'm not counting them out just yet. Let's put it this way: They've known about this for a long time and have spent the entire time posturing and politicking, so if they can't pull something together this week they obviously can't do their job and I, for one, will not be voting for any of them in the next election. So there!
But even if my "hopium" is misplaced, it's still anyone's guess how much of an impact going over the fiscal cliff will have on the market. Many pundits believe that this scenario is already priced in. However, you bulls shouldn't get too excited because as I said, nobody really knows for sure. The prudent thing to do is to buy some short-term at-the-money put protection such as January SPY, QQQ, or DIA put options, the underlying vehicle depending upon the composition of your portfolio (i.e., if your portfolio is composed of mostly blue chip stocks, use the DIA; mostly tech stocks, use the QQQ; or a mix of large-cap stocks, use the SPY).
That's it for today. Merry Christmas to all!
Note to Subscribers: There is one new Channeling Stock.