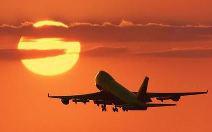 4:00 pm ET: It's nice to come back from vacation to a bullish market! It appears as if we're on track for all-time closing highs in both the Dow Transports (DTX) and the Dow Industrials (DJIA). The internals reflect today's bullish mood with the volatility index (VIX) shedding nearly 7%, moving back under the line of complacency at 15. Because the DTX is considered a leader in market direction, I'm expecting the party to continue through tomorrow at least. The Trin is still relatively high seconding the notion that today's rally has legs.
Moving the market is the ongoing sector rotation out of bonds and commodities (especially energy and metals) and into utilities, consumer staples, consumer discretionary, and the greenback. In fact, both the consumer staples etf (NYSEARCA:XLP) and the consumer discretionary etf (NYSEARCA:XLY) appear to be closing at their all-time highs, too.
Noteworthy highs & lows: The airlines were among today's biggest gainers with the following stocks breaking out to new highs: Republic (RJET), United/Continental (NYSE:UAL), Delta (NYSE:DAL), Alaska (NYSE:ALK), and Skywest (NASDAQ:SKYW). All of these issues were up 4-5% which are big gains in this industry group. The airline etf (NYSEARCA:FAA) also broke out to a new high, rising 3% on the day on quadruple normal volume. This industry group should continue to do well especially if energy prices continue to fall.
Moving to the dark side, gold and silver miners continue their slide with many putting in new yearly lows. The gold miner etf (NYSEARCA:GDX) and the junior gold miner etf (NYSEARCA:GDXJ) continue to dig deeper into the hole. Both shed over 3% today as their downward momentum appears to be accelerating. As my regular readers may recall, on January 24th I recommended a pairs trade: going long the transports (NYSEARCA:IYT) and shorting either the GDX or the GDXJ. Had you done that at the day's closing prices, you'd be up 3.5% on the long (IYT) side and up a whopping 17% on the GDX short and 22% on the GDXJ short. True, the gain on the long side isn't much to brag about but the gain on the short side sure is. If you're still holding on to these, do start setting trailing stops to protect profits.