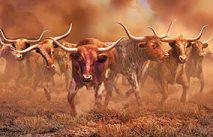 4:00 pm ET: In case you didn't tune into any media source today, you may not know that the Dow Industrials (DJIA) set a new all-time high. The really bullish news, though, was the fact that the Dow Transport Index (DTX) lead the pack with a gain of nearly 1.5%. The fact that the DTX is still leading augers further upside movement. Adding more fuel to this rally is the Trin (Arms Index). It's been moving in a bullish range (under 1) and has yet to move to down to a contrarian level (around 0.5 and below). And if that isn't enough to douse the last smoky wisp of the bears' campfire, today's rally was fully supported by the financials, consumer discretionary, and tech. This rally is so bullish it's beginning to make me just a little nervous!
Market Leaders & Laggards: Pretty much everything today was coming up green--it appears as if spring has indeed sprung, at least on Wall Street. Benefiting from the rotation out of low-yielding bonds have been the equity-based dividend exchange traded funds in particular. They've been on a roll for some time but today many of these issues gapped the barrier of recent resistance to hit new highs: VIG ($65, 2.2%), SDY ($64, 3%), VYM ($54, 3%), DON ($63, 3.3%), DVY ($62, 3.4%), PEY ($10, 4%), DTN ($60, 5.4%), DTD ($58, 5.6%). (The first number is the share price and the second is the dividend yield.) These funds certainly look tempting but just remember that if the market trips and tumbles, so will these.
Apart from the continuing slide in gold and silver mining stocks, the rest of the market did quite well. However, bearish topping tails were spotted in Timber (NYSEARCA:CUT), Biotech (FBT, BBH, IBB), and Pharma (NYSEARCA:PJP). All of these exchange-traded funds have had long runs and these topping tails are indications of weakening buying pressure. If you have a long position in any of the aforementioned, now is the time to either shore up your position, set a trailing stop/loss, and/or buy put protection. One of the biggest caveats in trading is to never let a winning position turn into a losing one. That is the definition of heartbreak.
Subscriber Notes: There's one new Stock Darling and one new Stock of the Day (a short write-up will follow). Please note that in the next few days i'll be weeding out plays from the Stock Darling and Channeling Stock databases.