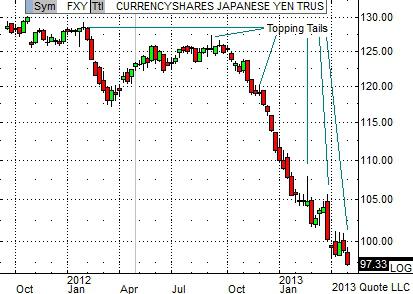 4:00pm ET: As predicted the Dow Transport Index followed through on yesterday's sell-off and lead the rest of the pack on the way down. Internals are growing increasingly bearish as evidenced by a rising VIX and Trin. In addition, many individual issues that have enjoyed big gains during the spring rally showed signs of weakness as buying pressure virtually dried up (re: topping tails for you technicians). For the bulls to stay in power, though, a little respite is required, so don't you bears start nipping from the honey pot just yet!
Today's Trade Highlights: A Yen for Japanese Stocks
Today's biggest news occurred in the currency markets which saw some big ups as well as big downs. On the upside, the greenback (NYSEARCA:UUP) jumped by 1%. I know that doesn't sound like much but in the currency realm, that's a huge move. Correspondingly, international bond funds WIP, BWX, IGOV, and BWZ all shed 1% of their values. Continued upside in the US dollar was forecast by Keith McCullough of Hedgeye and reported here on 4/29 (scroll down to view).
On the flip side, the Japanese Yen (NYSEARCA:FXY) broke recent support at $98.50. Judging by the triple topping tail (see above weekly chart of the FXY), further downside is in the cards. The exchange traded issue has support at the $5 levels making $95 it's next test. Considering Japanese Prime Minister Abe's vow to weaken the currency, I think it's entirely possible we'll see a retest of the 2008 low at $90.
Although this is bad for folks long the currency, it's good (in general) for most Japanese companies. We mentioned taking long positions in Japanese stocks in the March 11th and April 11th blog posts. Today we're adding two more stocks to the list: Fuji Heavy Industries (OTCPK:FUJHY)and Softbank (OTCPK:SFTBY). The former company is involved in the automotive, aerospace, and industrial machinery industries while the latter is a telecom and internet service and equipment provider. Fuji's stock chart has been a rising juggernaut and continues to hit new highs; Softbank's rise hasn't been so smooth but it leapt to a new high today gaining nearly 6%. As always, please do your own research before investing in any stock.
For those of you who would prefer a basket of stocks, consider the Japan country fund (EWJ, $11.76) or better yet the Wisdomtree Japan Hedged Fund (DXJ, $49.20) which has the advantage of being able to hedge against Yen/Dollar fluctuations. Comparing the two, the EWJ has gained nearly 40% (which ain't too shabby!) since the November low while the DXJ rose almost 60%. Both vehicles currently yield over 1% and both offer options.
That's it for now. Sayonara until tomorrow.