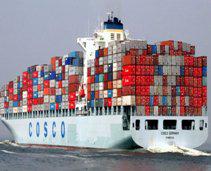 Market Notes: Although today's rally appears that the bulls are back in the driver's seat, the fact that the VIX is still elevated (above 15 is bearish) means that investors are nervous. We'll need to see the VIX move back below 15 and the marketing leading Dow Transport Index (DTX) move back above 640 before we can even think to say the bulls are back from their vacation.
Market Highlights: Indications of a global recovery?
Today, shares in the country funds of Korea (NYSEARCA:EWY), China (FXI, GXC), and Australia (NYSEARCA:EWA) all broke resistance levels. The health of these countries are considered indications of global growth. Also, shares of marine shippers zoomed today, especially Genco (GNK, $3.33), Star Bulk Carriers (SBLK, $9.17), Euroseas (ESEA, $1.28), Navios Maritime (NM, $6.63), Baltic Trading (BALT, $4.77), and Dryships (DRYS, $2.49) all of which jumped 7%-10% on heavy volume. Combine these two facts with the blow-out domestic auto retail sales figures and you've got some serious indications that the global economy is firming up.
Assuming that a war in the MIddle East won't derail this growth, how can one position oneself to cash in on it? Well, the obvious way is to begin taking positions in the countries mentioned above as well as cashing in on the expected growth in marine shipping, an industry group that has been suffering. You can begin your fundamental research with the above shipping firms, and since I haven't done it myself, the only thing I can offer you is a technical opinion. Out of the above group, the chart of Navios Maritime (NYSE:NM) is by far the best of the bunch, IMO. It's the least volatile and has been rallying steadily, doubling in price since January. One might think that it might be overvalued but its P/E is still only a measly 5. Income investors may like it for its 3.6% yield. No matter what, I do think there's a lot of value to be had in the shippers. If you can't decide on which one or ones to pick, look at the Shipping etf (SEA, $18.83). This is a more conservative play and it, too, pays a dividend currently yielding about 2.3%