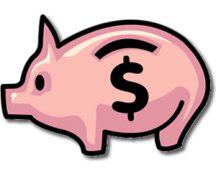 3:45 pm ET: Perceived progress in the fiscal cliff negotiations more than off-set this morning's negative (one might even say dismal) Empire State manufacturing report. The major averages rallied from the open with the Dow Transport index (DTX) leading the charge. We noted here yesterday that this index needs to advance over the 523 level for the Santa Claus rally to continue and today the bulls got their wish. So yes, Virginia, there will be presents under the tree this year after all. The VIX still has room to move lower meaning that there's enough fuel to keep this rally moving until the end of the year.
The "risk-on" trade was on in full force, i.e., everything rallied while the greenback, investment grade bonds, and treasuries sank. The euro currency etf (FXE) made news as it broke out following in the footsteps of the Swiss franc (FXF) which did so a couple of days ago. International bond funds have been in rally mode since last June, turning around a month or so before their currency funds did. Today, the Powershares International Dividend Achievers fund (PID) broke out to a new high while the SPDR DB International Government Inflation Protected Bond fund (WIP) put in another new high. These funds currently yield 3% and 2.5% respectively.
Sectors were green across the board. Breaking through major resistance levels to new annual highs were the Consumer Discretionary etf (XLY) and the Financial Sector SPDR (XLF). Market prognosticator Meredith Whitney, a widely followed Wall Street analyst, said that she sees continued strengthening in the financial sector and added some bank stocks to her buy list including Bank of America (BAC) and Citigroup (C). This sector rebounded in June and her comment only served to strengthen the already-in-progress rally. If you're looking to do some year-end portfolio rebalancing, you may wish to consider giving additional weight to this sector.
In commodities, Timber (CUT) and three Water etfs (PHO, FIW, PIO) all hit new highs. The boost in the timber etf was helped by major fund component International Paper (IP) which also put in a new high. The uranium stocks that were mentioned here yesterday continued their gains while profit-taking was seen in all of the precious metals and their miners.
As the housing market continues to show signs of strengthening, so do the homebuilders. Breaking out to new highs following recent consolidation were Pulte (PHM), M/I Homes (MHO), Ryland (RYL), and Hovnanian (HOV). Although these stocks have recovered some of the ground they lost during the Great Recession, they're still no where near their 2005 all-time highs.
Year-end note: If you're looking for a way to set-up and easily rebalance your retirement portfolio according to your risk/return profile while avoiding the devastation of sharp market corrections, please visit our Portfolio Preserver website. Sign up for your free sample report and check out our two month money-back guarantee. The portfolio you save may be your own!
Note to Subscribers: There are two new Stock Darlings.