Market Notes: Solar Flares -- July 15
Please Note: Blog posts are not selected, edited or screened by Seeking Alpha editors.
Portfolio Strategy, Long/Short Equity, Special Situations
Seeking Alpha Analyst Since 2008
Dr. Kris has two degrees from MIT because one just wasn't enough. Her life goal was to figure out the universe and having done that (at least to her satisfaction), she decided to tackle something even more difficult—the stock market. Applying the scientific method along with an insatiably curious mind, she began trading stocks, futures, and options in order to find the holy grail to market success. She's discovered to her immense satisfaction that not only is there one way to succeed but many. Combining her love of cooking with the stock market, she's devised recipes for investment success designed to please the palate of most investors. Dr. Kris currently manages a private equity long/short portfolio and writes of her current research projects that appear on her website, StockMarketCookBook.com. Her most exciting project is applying market timing models to Modern Portfolio Theory to not only give greater returns but at substantially lower levels of risk. (See PortfolioPreserver.com for further information.)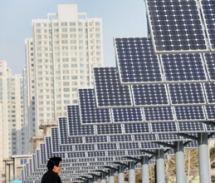 The market closed in the green yet again. For the S&P, today marks the tenth straight day of gains, but them's small potatoes compared with the gains notched by the tech heavy Nasdaq and the small-cap Russell 2000. The index that is starting to show some signs of fatigue is the mighty Dow which still hasn't been able to close over 15500 despite making five attempts at it. Market internals favor the bulls but the VWAPs are showing that the bears haven't gone on vacation just yet. As we've mentioned here before, the outcome of this earnings season will be a major factor in determining market direction for the remainder of the summer especially as many stocks are now trading at premium levels. To keep the bulls in business, we'll need to see continued leadership from the Transports and a low VIX (under 15). For right now, the prognosis is for more sunny skies over the bulls' camp.
Today's market highlights: Solar flares
Although today's overall gains weren't particularly noteworthy, what did stand out was the breadth of the rally. Pretty much everything was trading in the green with the exception of non-white metals, muni bonds, oil drillers and producers, and some soft commodities (corn, grains, wheat, cotton). Yep, even the US dollar and treasuries moved up.
While today's rally was well attended, the true belles of the ball were the solar stocks with many of the more familiar names jumping by a whopping 10 to 20 percent. The reason behind the move was that the Chinese government came out saying that it was committed to building 35 GW (gigawatts) of solar infrastructure by 2015. They've been hinting at this for a while so it's somewhat of a mystery why today's announcement had such an effect unless investors don't put much faith into what the Chinese government says until it actually puts it in writing...
Anyway, the news caused both of the solar etfs to break out of strong resistance on heavier than normal volume. This type of move is regarded as being very bullish among market technicians. The Guggenheim Solar etf (TAN, $27.56) and the Market Vector Solar etf (KWT, $54.46) both jumped 8.5% and 6.7% respectively. Among individual issues, the biggest gainers were the Chinese companies: Hanwha Solar (HSOL, $3.17, +22%), LDK Solar (LDK, $1.75, +21.6%), Suntech Power (STP, $1.40, +21.2%), and Jinkosolar (JKS, $12.03, +18%). Also making a big gain was Canadian Solar (CSIQ, $13.93, +20.6%) based on its strong presence in emerging markets including China and India.
So, how can you cash in on this jump in solar? Let's consider some facts. Although the Chinese issues are cheaper and are showing technical strength, the industry is heavily subsidized by the government making it more difficult for the investor to tell which company is healthy and which one isn't. Also, the talks between China and Europe regarding hefty import duties on non-European solar products are currently at a stand still. There are only 22 more days before the tariffs go into effect and if the situation can't be resolved, it won't be surprising to see a big drop in the share prices of some of these Chinese solar manufacturers. For that reason along with the fact that the solar space is, in general, more volatile than the rest of the market, I'd recommend taking a position in either of the above-mentioned etfs. These funds represent a basket of solar stocks making them less volatile than many of their constituents. The even better news is that they pay a dividend. Current yields are 5.15% for the TAN and 2.41% for the KWT.
The fact that oil energy costs are increasing along with rising environmental concerns globally make for a bright future in the alternative energy space and solar is poised to be a major player. It's how you play it, though, that will matter.
Suggested further reading:
Five reasons to buy solar stocks
China won't let its solar industry fail
SolarCity/Goldman Sachs deal highlights solar's investment appeal
Seeking Alpha's Disclosure: Past performance is no guarantee of future results. No recommendation or advice is being given as to whether any investment is suitable for a particular investor. Any views or opinions expressed above may not reflect those of Seeking Alpha as a whole. Seeking Alpha is not a licensed securities dealer, broker or US investment adviser or investment bank. Our analysts are third party authors that include both professional investors and individual investors who may not be licensed or certified by any institute or regulatory body.