Overview:
CorMedix (NYSEMKT:CRMD) in their own terms is a "specialty pharmaceutical company that develops and seeks to commercialize products for the treatment of cardiac, renal and infectious diseases." Its lead product is Neutrolin, a catheter lock solution for the prevention of Catheter Related Bloodstream Infections (CBRSI) and maintenance of catheter patency. Neutrolin consists of a broad-spectrum antimicrobial/antifungal agent (Taurolidine) that has no observed bacterial resistance, an anti-coagulant (heparin) and a buffer (citrate).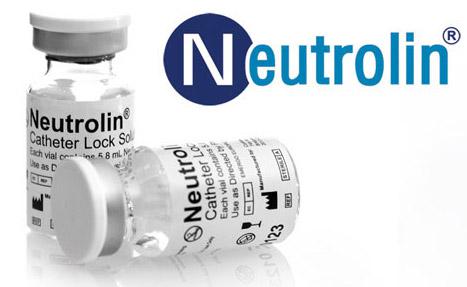 Neutrolin has already received a CE Mark in the European Union and is marketed as a class III medical device. It has received label expansion there such that it is approved for use in prevention of CRBSI and maintenance of catheter patency in hemodialysis patients, oncology patients, intensive care unit patients, and patients receiving total parenteral nutrition. Basically, if there is a central venous catheter in place, Neutrolin is approved for use in it. In the United States, it is considered a medication and has been approved for initiation of a Phase III clinical trial (first trials will be in hemodialysis, but other studies are also planned for label expansion). Importantly, it has received Fast Track Status and Qualified Infectious Disease Product (QIDP) status. The latter, established under the GAIN act (Generating Antibiotic Incentives Now), grants companies an additional 5 years of market exclusivity. This would extend CRMD's US market exclusivity for Neutrolin to 10.5 years from the date of launch as the CEO Randy Milby indicated on the most recent conference call March 13, 2015 (text here, audio available on CRMD's homepage).
Share price appreciation:
Over the last few weeks CRMD has jumped onto the scene in a big way. As recently as December 2, 2014 shares traded for as little as $1.25 and daily trading volume around that time was as low as 9,300 shares. On Friday, March 13, 2015, the closing price for CRMD was $8.40 on volume of 1.1 million shares (with recent trading days exceeding 3 million shares). This represents a fully diluted market cap of approximately $370 million (based on full dilution of 44 million shares).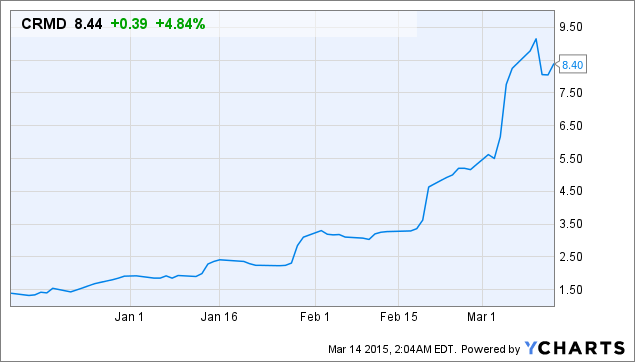 One might have a natural inclination to think that this run must be just about over. As the saying goes the point is to "buy low and sell high." One wants to avoid buying at the peak only to see their investment crash over the coming days, weeks or months. Thankfully, that is not the case here and hopefully this article will help you see why. I contend that contrary to what Amit Ghate would have you believe in his recent SA article, CRMD actually would better be described as too low, too long. CRMD as I will establish still presents a very convincing value proposition, even for new investors at today's market valuation.
Disclosure:
First, my disclosure. I have been long CRMD since almost one year ago (entry price in the $1.30's). I first came across this gem as I was researching another stock here on Seeking Alpha. It just so happened that I was reading the comments section as I recall and one commenter suggested CRMD would be a double or triple by the end of the year. Naturally, that peaked my interest so I delved further reading articles here by Wall Street Teacher (here and here). I continued my due diligence and a few things conspired to give me a great entry point into this stock. One of the events was a delisting threat from the NYSE (May 2014, now resolved). Second was EU (Germany) sales for the first quarter of 2014 were predictably poor. These events along with the need for a secondary in March 2014 resulted in the stock tumbling from a high of just over $3/share shortly after initiation of sales in Europe to a low of about $1.05 just a few months later.
Thankfully at the time, I had the suspicion that the short comings mentioned above were really not material to the ultimate success or failure of CRMD and Neutrolin. In fact, I even encouraged others to join me in the ride and thankfully they did. In particular I knew at the time there were multiple catalysts in the near future for CRMD. These included (with dates achieved adjacent):
1. Finalized protocol with FDA for Phase 3 study of Neutrolin (6/23/2014)
2. Acceptance of Phase 3 study by FDA (8/14/2014)
3. Label expansion approved for EU (9/19/2014)
4. Taking TauroPharm to court for patent infringement (9/20/2014)
5. Filing of IND for Phase 3 study of Neutrolin (9/25/2014)
6. Okay from FDA to proceed with Phase 3 study (10/24/2014)
7. Fast Track status (1/15/2015)
8. QIDP designation (1/29/2015)
The great thing about CRMD at the time of my original investment is that all of these events were very predictable. We were dealing with a compound that was already in use in the EU with demonstrated safety and efficacy. Additionally, the product addressed a high priority unmet need (CRBSI). If anything would meet the definition of a drug that should qualify for Fast Track status and QIDP status, this would be it.
Additionally, due to my medical background, I had first hand knowledge and experience that this product is desperately needed. As this article indicates, there are over 500,000 hospital acquired bloodstream infections annually in the U.S. The majority of these serious events are catheter related. Catheter related blood stream infections frequently have grave consequences for patients including prolonged hospital stays, increased expenses, and ultimately increased morbidity and mortality. CRBSI's also have significant financial consequences for clinics and hospitals. The Centers for Medicare and Medicaid Services (NYSE:CMS) announced several years ago that federal payor programs would no longer reimburse certain conditions it considered a complication of care. This created a so called "never events" list and one of these listed events was vascular catheter associated infections. The result is that hospitals now lose a significant amount of money for each patient who develops a CRBSI. Some estimates of a treatment cost per case are between $33,000 to $75,000 with hospitals suffering a loss due to unreimbursed care in excess of $26,000/case.
So, what is CRMD worth?
Looking back it is really hard to see how a company with all this going for it ever had a market cap of less than $50 million, but for the longest time this is where this company sat, and this is my first point. To establish some context, I hope it is clear the market significantly and inexplicably undervalued CRMD prior to the later part of December 2014. We must understand this if we are to appropriately assess its current share price to determine if it is a worthy investment of new funds. It was reasonable for investors to take a more cautious and speculative approach to a microcap biotech stock, but how this stock continued to hover around $1.50 -$2.00 for so long is beyond my understanding then and now. As I make my next few points below, I think you too will come to this conclusion. Sometimes as the saying goes, the market can remain irrational at times longer than you can remain solvent. Thankfully I survived.
The current cost of the problem Neutrolin addresses:
When performing a value assessment of CRMD we need to first delve into the scope of the problem it seeks to address with its Neutrolin product. I have expounded on the problem of catheter related blood stream infections above, but it would be appropriate here to analyze exactly how big of a financial cost this is to the medical community. I plan to be very conservative in my calculations (as I believe CRMD is in their own presentations), so I am erring on the side of undervaluing CRMD. Depending on the source, estimates are that there are approximately 400,000-500,000 CRBSI each year in the US. There are between 5 and 7 million catheters placed in the U.S. each year. Estimating treatment associated costs of $26,000 dollars per infection (very low end of estimates available) we see that cumulative costs to the medical community easily exceeds $10 billion annually (400,000 infections x $26,000). True costs to the healthcare system are likely drastically higher since as I stated earlier $26,000 actually only represents the amount "lost" by a hospital treating a patient with a CRBSI. On CRMD's January investor presentation they make a very conservative statement of "Cost to healthcare system > $2.3 bil." As you will see throughout my valuation of CRMD, CRMD appears at times overly conservative in their value proposition calculations, almost to a fault. A great exercise as well would be to look at a market analysis by Griffin Securities performed in August of 2010 (available here). While much has changed at CRMD since then (new CEO, etc), the essential prospects for Neutrolin (especially with QIDP status) have only gotten better. Back in 2010 it is worth noting Griffin Securities saw Neutrolin as addressing a $675 million dollar market, with dialysis CRBSI's alone costing the medical community $800 million/year.
The Market:
Now that we have established the problem, we can better analyze the market. I like to think of all the reasons why a treatment clinic, hospital or other facility would want to use this medication. Since I am a part of the medical community and my thought processes are very much shaped and aligned with the rest of the medical community, I think this exercise presents significant value. Some key points include (and other have also made similar comments):
1. Hospitals and clinics desire to stay in business and make a profit. The best way for them to do this is to keep their patients as happy and healthy as possible. Happy patients refer family and friends. In addition, happy and healthy patients do not sue you, so legal costs are minimized.
2. Doctors have similar goal (to earn a living) that generally best done by maintaining a happy, healthy patient population.
3. Patients and their families obviously want a good outcome.
4. Society has a vested interest in decreasing the cost of care and having healthy, productive citizens that are better able to contribute to society.
CRBSI as we can see are destructive to the desires of all parties involved. At this time however, there is nothing on the U.S. market that addresses this grave problem. When a solution to this problem is available, all parties involved will have a strong motivation to adopt it. CRMD is positioned with Neutrolin to become the first FDA-approved catheter lock solution to address CRBSI. It is my opinion that adoption of this product will be rapid and universal.
The first Phase 3 FDA study will be in dialysis patients, however, if this medication prevails in that study, then I contend it will be adopted for use in an off label manner in all catheters in the US. One should also keep in mind that the threshold established by the FDA per the Tony Pfaffle's (Chief Scientific Officer) during the conference call was a mere 40% reduction of CRBSI. Multiple studies to date indicate efficacy of 50-100% reduction in CRBSI, and TauroPharm, the entity CRMD has taken to court in Germany, advertises 90% reduction of infection with their use of an inferior grade II medical device solution (see this PDF). Given these facts, a 40% reduction should be a very easy threshold to exceed. If we see that infections are reduced 40% or more in dialysis patients, hospitals, clinics and physicians will naturally make the next logical step and will administer it in all catheters. While dialysis catheters have some differences compared to CVCs used in other settings, the basic mechanisms for development of CRBSIs are very similar. Waiting for an on label indication for use of Neutrolin in other CVCs will in many doctors minds will be putting their patients at unnecessary risk. If a CRBSI is bad in an otherwise healthy renal failure patient on dialysis, it is significantly worse in critically ill and immunocompromised patients in the ICU or oncology infusion clinics. Even the most benign pathogen can be fatal in these patient populations. Omission of the use of a medication proven to reduce infections 40% or more (more likely 90-95%) even without explicit FDA approval in that particular indication would be unethical and indefensible in many physician's minds.
Market Differences--US vs Europe:
As we can see, there is a huge, unmet need in the US for a medication to address the problem of CRSBI. on critique Amit Ghate made in his article was that "IF European Sales are Any Indication, We're Not Talking about a Blockbuster Product." Unfortunately, Amit Ghate fails to recognize the vast differences between Europe and the US.
First, he fails to take into account the fact that CRMD's sales in Europe are anemic because there is an established presence there already seeking to address this need. Earlier in his article he mentions the few competing products to Neutrolin in the EU (none of which have a US presence), but fails to use the same line of thought to explain why sales in the EU would not be representative of potential US sales. If you take into account the discounted rate TauroPharm sells their inferior TauroLock solution in the EU (some have suggested sales approaching $40 million), then the picture changes dramatically. They cannot and will not compete here in the US. CRMD has a significant head start on any competition and will enjoy the privilege of the first entrant into this market in the US.
Second, he fails to acknowledge the vast differences in how medical care here vs Europe is financed. There are likely vast differences in how medical care here vs in Europe is financed. There are likely vast differences in how each country pays for treatment of CRBSI. Specifically, in the US with the "never events" list and CMS's declaration that CRBSI treatment costs would not be reimbursed, hospitals and health systems have a significant incentive to find any and all economical viable methods to prevent these infections. As I stated earlier, I think this will lead to more rapid alignment of hospital, clinic, doctor, patient and societal interests in this matter, and it will ultimately lead to universal adoption of this medication.
Third, similarly related to the above is the fact that in the US we have a system pushing migration to a quality of care focused reimbursement and less focus on quantity of care. This is causing health systems to focus more on outcomes and prevention of readmissions than ever before. This too will drive more rapid adoption of any measure proven to improve outcomes.
Last, our system is becoming more and more automated and electronically driven. Electronic medical records are not just for documentation purposes. Orders are standardized and quality assessments are rapidly assessed. For example medical record systems prompt you on every admitted patient of certain age/demographics/etc if you want to give them any number of treatments (flu shot, beta-blocker, and so on). Use of Neutrolin in a central venous catheter will become an automatic order for any patient with a catheter.
It is unfortunate that Amit Ghate failed to recognize these and may other differences in the two markets that I do not have time to go into at this time. If he had, he very likely would have come to a significantly difference value proposition.
Other Misconceptions Addressed:
1. Ongoing risk of dilution: Due to the anticipated exercise of the warrants, this is no longer a near term concern. In fact during the conference call CEO Randy Milby stated that upon full exercise of the warrants CRMD would "bring in about $13.5 million plus or minus." Additionally, he affirmed that would be above and beyond the $2 million already brought in through warrant exercises. Given their burn rate of about $800,000/month, these additional funds should last CRMD for a while. Finally, CEO Randy Milby was asked directly the following regarding dilution during the conference call:
John Marcel - XG Capital
A follow up question. Do you expect to register more shares in the coming six months?
Randy Milby - CEO
At this point, no.
2. Current cash situation: CRMD indicated prior to warrant exercise they had enough funds to carry them in to third quarter 2015. With the warrant exercise that timeline has been significantly increased. See above. This is no longer a near term concern.
3. Competition: The only competition Amit Ghate listed in his article are in the EU. There is not a single entity listed that can or will likely compete in the US. Competition in the US will weigh on pricing power. Additionally, ongoing litigation in Germany may very well lead to less competition in the very near term (March 27, 2015).
What's Next: BUYOUT
Several events have transpired in the last couple months that have made the prospects of a buyout of CRMD very real. First, it should go without saying that given CRMD now has Fast Track Status and QIDP Status for Neutrolin while on the verge of a initiating a Phase 3 study the value of the company has risen immensely. Likewise the value to any prospective acquirer has also risen. I would find it very odd if CRMD has not been receiving unsolicited offers for quite some time now given the significant revenue potential Neutrolin holds. I suspect they have refused up till this point due to the fact that they knew that QIDP status was a virtual lock and it would immensely increase the return to their investors. This milestone has been successfully achieved, so negotiations can begin.
Second, it was revealed Elliott Associates LP and Paul Singer both substantially increased their stake in CRMD. Elliott, is a hedge fund founded by now billionaire Paul Singer. Paul Singer notably increased his stake 181% to roughly 2.2 million shares. Elliott agreed to provide CRMD with a $4.5 million backstop while warrants were exercised. Elliott received warrants for 200,000 shares with an exercise price of $7.00. Elliott also will place two members on CRMD's board.
Third, Evercore was hired by CRMD. Evercore's expertise per their website is:
"Advisory services for prominent multinational corporations and financial sponsors regarding mergers, acquisitions, divestitures, restructurings, financings, public offerings and private placements."
Given CRMD has publicly stated they have no intention to hold a secondary offering in the near term, it's obvious Evercore was brought in to negotiate either a sale (my opinion) or a significant partnership.
While a partnership deal is not out of the question, the writing on the wall seems to be that CRMD is either up for sale or has received so much interest that they feel compelled to explore their options. Elliott now has a substantial stake in the company (9.9%) along with 2 members of the board. I doubt Elliott is worried about placing members on the board of a biomedical company to ensure that a partnership and phase 3 trial flow well. This move by Elliott makes the most sense in the situation of an imminent sale. The $7.00 warrants also give a good indication that any sale of the company would be much greater than $7.00/share.
Valuation in a buyout scenario:
If we use CRMD's very conservative market opportunity figure of $500 million dollars in annual sales (see their website presentation as previously linked and the recent conference call) and make a few basic assumptions about COGs, inflation, etc, then we can come up with an approximate buyout price per share. While I would love to take credit for these kinds of computations/valuations, that is not my expertise. However, thankfully, someone else with this specific expertise in the medical industry has done this already (link here), and I have pasted this response below as I find it very enlightening.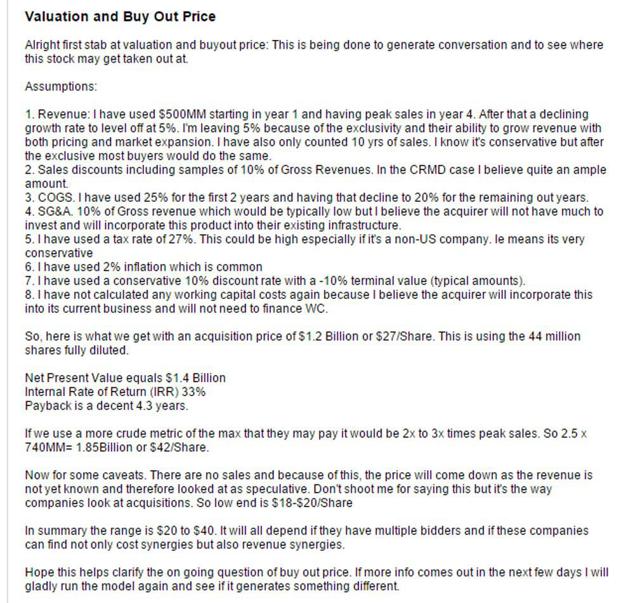 Prior to access to the above information, I had come up with my own valuation based on number of catheters in use (5 million), current cost of CRBSI in US (exceeding $10 billion), and a cost per infection prevented analysis. My separate calculations suggested a minimum share price in any acquisition of $20/share (very close to the above more sophisticated process). Either way however would suggest that a buyout price based purely on Neutrolin sales in the US would be close to $1 billion. This does not take in to account ex-US sales, any win against TauroPharm in the pending lawsuits in Germany, or any other product line that CRMD currently has in development such as CRMD004. Those may add additional value that could be either paid for upfront on a more significantly discounted rate or they could be separated as a Contingent Value Right (NYSEMKT:CVR) upon any acquisition.
This also does not include any value that QIDP status might grant if the 21st Century Cures Act goes through Congress. The Cures Act alone could drive the value of CRMD/Neutrolin into the hundreds of millions even billion dollar territory as it would allow a company to transfer 12 months of marketing exclusivity to one or more other drugs. Companies with a billion dollar a year blockbuster drug would be able in some situations to retain a full year of marketing exclusivity for this drug. This alone could be worth more than CRMD's total current market cap.
SUMMARY:
While CRMD's share price has had a great run over the last three months, it still has a long way to go to. In my analysis, this is not a case of Too High, Too Fast, but instead a situation where the market irrationally assigned a Too Low, Too Long value to CRMD. I expect that in the next 30-60 days CRMD will be bought (though I admit this could take a little longer). I expect CRMD should sell in its present state for between $20 and $25/share, which would represent an appreciation of 250-300% from current trading price of $8.40. However, I think if CRMD prevails in its case in Germany in the next two weeks and/or if the 21st Century Cures Act is passed CRMD's value could rise substantially. With a buyout prior to either of these events, I would expect CRMD to negotiate a CVR for the shareholders.
In closing, I will leave you with a P&F chart that succinctly summarizes my expected trajectory for CRMD: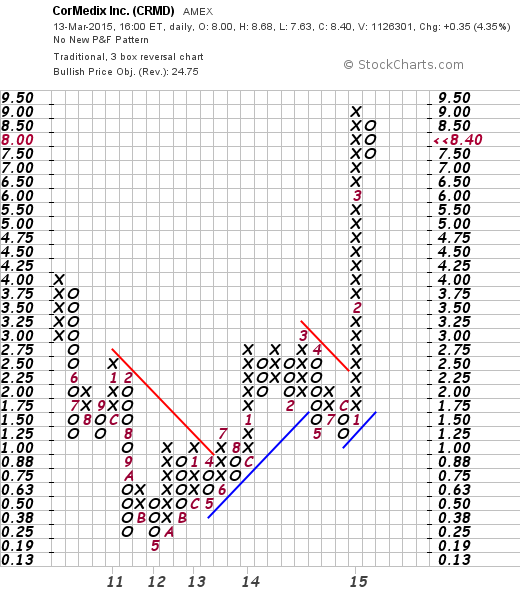 Disclosure: The author is long CRMD.