I wish to briefly mention what I consider the premier emerging juniors ( in the 100-700k oz range), as their are a few standouts that should outperform their peers over the coming years. In no paticular order.....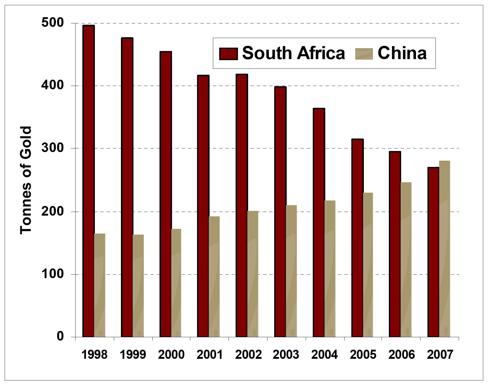 Sino evil -(OTC:SIOGF) - I have looked at Sino Gold now and again but until recently had been  reluctant to put any money there. I am half gold bug / half silver bug but I first saw Sino as a way to play China (China is the largest producer of gold now). My intuition paid off when the announced they would be doubling production by 2012. Reading deeper into some comments, I imagine the will move past 500k oz per annum by 2012 or 2013. Even more impressing to me is the little capital investment needs going forward coupled with declining cash costs as follows 2008: $442/oz, 2009E $422/oz, 2010E $401/oz, 2011E $379 , 2012E $371. 152k GEO oz in 2008 will rise sharply to their estimate between 420-450k oz, while I think 500k can be achieved. They are capable of this because they currently have 1 mine at full capacity (Jinfeng) and a small deposit in White Mountain. The next big project expected to reach commercial production will be the Eastern Dragon Mine in 2011, reaching full capacity by 2013. They also have the Beyinhar Mine, which will come online either in 2012 or 2013. I also think they will be able to easily reach 600k by 2014-2015 through organic growth, though I doubt things will play out like that as they are well capitalized and likely on the prowl.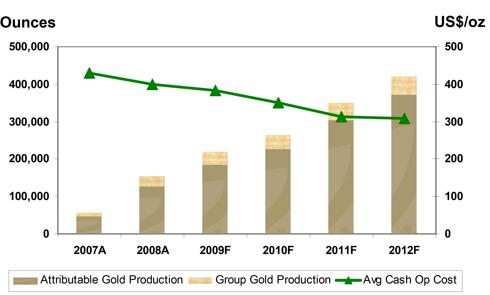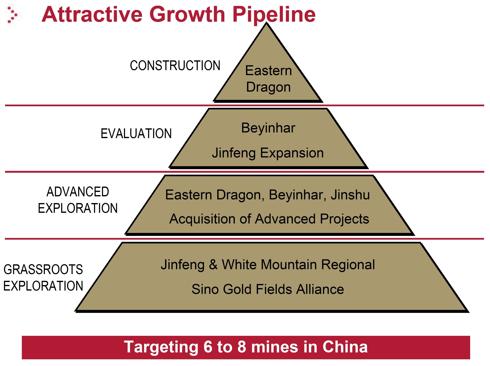 RIding The RedBack (
OTC:RBIFF
) - This was actually my speculative mining play back in Nov, when I first got my feet wet with redback. I didn't put on my full position until February, as I had my concerns of it being in Africa. But people generalize Africa to a harsh degree, I mean South Africa is completely different that such places as Ghana, but the fact is most people associate Africa with the stories coming out of there. RedBack though has had a great record of production that will see dramtic increases over the next 3 years. Gold Production in 2008 was a mere 261k oz at cash costs of $428/oz while 2009-2013 should see production going to 383k this year, 500 , 540, 575, 600k. While Cash Costs drop to $393 in 2009, $387 in 2010, $383 in 2011 & 395 in 2012. These figures are estrimated via organic growth with relying on their two flagship mines and expansion projects. They are net cash positive and will likely pick up a few exploration companies possibly in other countries to negate some political risk but I think they will stick with has worked in west africa and buy an exploration company around there. Of course they could make another bid for Moto Mines (if it's not to late).
I would like to go in depth about my favorite emerging junior but I have already written an article on them. By them I mean Jaguar Mining. The Following is copied and pasted from a past article
Yes that's a jaguar, but not the car. Rather, it's the best in class emerging Junior Miner with a unique set of attributes among its peers. I think of Jaguar Mining (JAG) as a junior hybrid of Agnico-Eagle (AEM) (due to the extraordinary production growth over the next 3 years or so) and Yamana Gold (AUY) (due to the location of their flagship mines in South America, not to mention their low cash cost profile). Jaguar has been around for a while but instead of the explosive growth it has set itself up for (2009-2013), it has displayed remarkable execution growing production at a consistent steady rate. Before I go into the details of why this is such a value among the junior mining industry, I will give a brief overview of its current mines and those which will come-on line in the not too distant future.
Mines in Operation:
The largest mine currently producing is Turmalina which produced about 19,000 oz in Q1 with cash costs below $350/oz. A ramp up in production is expected in its entire mining portfolio, so this will increase quarter after quarter.
Coming in at a close second is the Paciencia mine which came on-line Q2 of 2008. It is expected to past Turmalina in 2010 in regards to production. It currently has much higher cash costs of $490/oz, but that will decline to around $400-$425/oz next year.
The Sabara mine is the last currently producing mine, but relatively small to the first two. It also has high cash costs which are expected to moderate, but will still have the highest average cost per ounce of all their mines. It was also not in operation in the first quarter due to weather.
Finally, its Caete Mine will be a nice addition to the portfolio as it begins production in about a year (possibly Q3/2010).
It is nice to find an emerging miner that doesn't have all its eggs in one basket. Jaguar's Turmalina + Sabara make up about 1/3 of its NAV as well, and the other two mines account for another 1/3 give or take. It is very unique for a growing capital intensive company to have an extremely low debt of $70m and $55m in cash.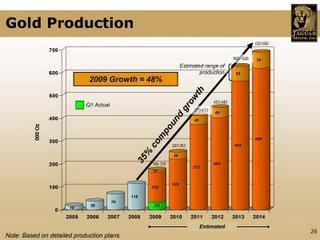 As mentioned previously, a meager 110k of production in 2008 will catapult to nearly 700k oz by 2014 assuming no additional reserves are found. A long term production growth rate of 35-40% is amazing on its own. But it also has low cash costs around $400-420/oz, and if you're in the inflation boat I'm in, this is extremely bullish for the company. I think gold will double during the next leg of the commodity bull market, mostly propelled by inflation (both in the U.S and around the world). If you aren't familiar with the term free cash flow, I will explain it very briefly.
Free cash flow is basically the real profit of the company to the shareholder, because in order for a company to keep operations going, a certain amount of capital has to be reinvested. That being said, because the value of any asset of the present value of all future cash flows, free cash flow is the real profit. It is calculated as Net Income (although I make sure no extraordinary items are mixed in) -+Depreciation (which was taken out as a non-cash charge) - Capital Expenditures (both increase in PPE and acquisitions if any occurred) - change in non-cash working capital (Non cash current assets in year T - current liabilities in year T).
Below is a chart of Jaguar's capital expenditures going forward: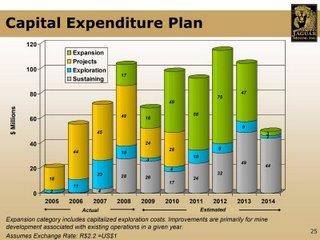 These are extremely low reinvestment needs for such strong growth, the likes of which I have yet to come upon for a miner with similar attributes. In other words this means Jaguar is well capitalized, has strong long term growth and needing little reinvestment to support that growth making it a huge free cash flow machine. I think instead it will be bought.
Above is an open for editing link to a Valuation I made for Jaguar, so you can change the projected gold price around. It also includes a sensitivity analysis.

So What Separates These Juniors From The Rest.
Others with strong growth profiles, such as Randgold and El Dorado will require large capital requirements for some years to come, Thus lower free cash flow (the true profits). While Sino will require a little above 100m for 2009 and 2010, the following years will be under 75k. The same goes for Jaguar as they will only require 100k of capital expenditures 1 time in the next 5 to 6 years (assuming no aquisitions).
Long: Jag, Siogf.pk, rbiff.pk




 
,