Global markets have rallied significantly this week, as impressive U.S. housing sales data and climbing oil prices spur hopes of a strong recovery in the world's largest economy. Although this has encouraged a more hawkish stance by the Fed in its policy to raise rates, the markets seem unfazed.
Is it plain sailing?
Despite the S&P500 rallying over 2% this week, there are still a number of going concerns as we head into the summer. One of which is the Brexit Referendum on 23rd June, which the polls suggest could go either way (46% to stay and 41% to leave, as of May 25th). It is argued that if Britain were to leave the EU, a prolonged period of economic uncertainty would ensue, along with a reduction in investment and job cuts. Furthermore, if the UK were to leave, the response by the UK government and the ability to strike a supposed trade deal with the EU is unclear at this stage.
Another similar situation is unfolding in the US, as on May 19th Trump momentarily took the lead over Clinton in the US presidential polls. Although Clinton regained the lead in the poll that followed, her substantial margin has disappeared.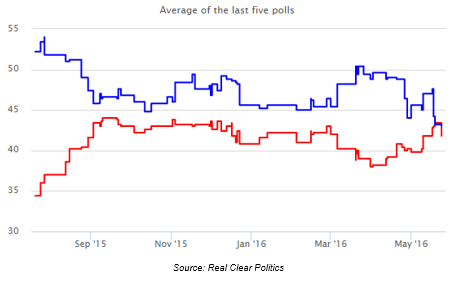 This has amassed significant economic uncertainty, which surprisingly does not seem to be reflected in the market.
Another important concern is the Chinese economy, which has by no means made a healthy recovery despite its backseat in the media as of late. Data today has shown Chinese industrial profits have slowed to 4.2% YoY, down almost 7%. This data, coupled with weak sales growth and investment returns has eradicated the somewhat promising rebound in March, and has led to concerns over China's economic situation moving forward. Reserve Bank of India Governor Raghuram Rajan warned on Thursday, the slowing growth and risks from the country's over-leveraged sectors pose a significant threat to not only China, but the global economy.
Bottom Line
Considering all of these fundamental going concerns, it is difficult to comprehend the market behaviour over the last week. Does this provide an opportunity for investors to establish or re-establish positions that would benefit from this uncertainty that is likely to continue throughout the summer?
With the S&P500 back up and approaching an area of overhead supply around the 2100 level and with the spot VIX trading in the low 13's down around 18% on the week, I believe there is an opportunity to purchase put spreads in the SPY and call spreads in the VIX if, like me, you believe that we are in for a turbulent summer.