Some words on the business, its development and its challenges
As you might have noticed Michael Kors stocks have been given a pretty bad beating by the market in the last years and I would like to provide you with my "post-mortem" analysis of the Michael Kors business. Furthermore, I will also give my thoughts on the company's future, including how I think they need to act in order to reinvent themselves and grow their revenues from current levels.
Until March 2014 Michael Kors had been the stock to own since its IPO in late 2011, this is due to fact that the stock price almost had quadrupled within these 3 years. Considering the numbers and growth that Michael Kors posted within that period, the huge surge in the share price, might have been somewhat expected and "fair", but since I haven't looked at valuation on these levels don't take my word for granted. If we look at Figure 1, it becomes clear why the Michael Kors stock was just as wanted on the stock market as their products were in the retail stores at that time.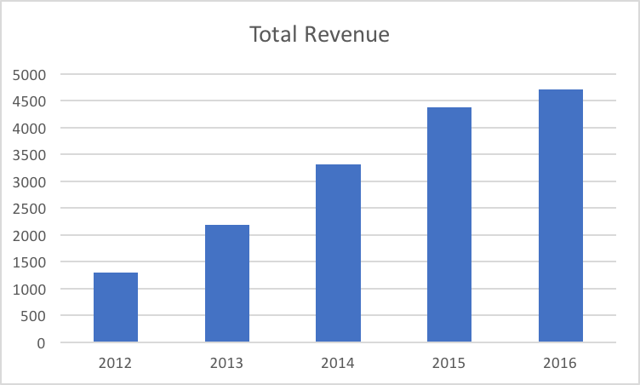 Figure 1: Total revenue in millions
It should now be evident that Michael Kors saw massive growth in their sales during the 2012-2014 period and this also continued somewhat in 2015 even though their stock, became cheaper and cheaper. On the other hand, the 2016 earnings were very disappointing and so was the outlook that Michael Kors gave for the future, which probably justifies the fact that Michael Kors is and has been trading at very low multiples compared to the whole retail sector, since 2015.
But how can a company go from posting moderate double digit growth over the period of 3-4 years and then all of a sudden get "crushed" on their sales? The answer lies within the market, as some say; Michael Kors has done a perfect job saturating their own market and customers. From the sales trend, it seems like their customer-segment has been utilized to its maximum and they need to pivot and expand into another area that holds a new customer-segment and this should be the source of future growth. Furthermore, by expanding their wholesale sales I think Michael Kors has made the brand "too easy" to get a hold of at a good price - there are situations where Amazon sellers are underbidding Michael Kors on some of their products, which in my opinion ultimately kills the brand, its exclusively and its status as being luxury. Michael Kors has already started to scale down on their wholesale sales, but since these contribute roughly 50% to the overall revenue, their total revenues will get hurt in the future if they keep decreasing the wholesale unit - but this does not mean it is a bad move for the Michael Kors brand, no I think it is the right move. I believe it is the right move, because during this they will limit the cheap availability of Michael Kors products and thereby try to reestablish themselves as the main seller of the luxury Michael Kors brand - this should eventually be done by leveraging their e-commerce and retail stores around the world - women and men love when things are a little bit hard(er) to get. One could argue that the way into growth is via social media channels, it should be of critical importance that Michael Kors get the right social media influencers to promote their brand. They really need to engage their target audience and provide them with value, this should be the key growth driver that they need. Unfortunately, from what I can see by following their Instagram profile, they are doing a very poor job at the moment - they should turn they eyes towards the initiatives that Tag Heuer is taking on Instagram for example and really get inspired by them, because the way Tag Heuer are doing marketing is probably going to be the future of marketing.
Looking at the financial aspects of the Michael Kors business we see that their debt position is very strong; they have no long-term debt and only a small amount of short-term debt where this money has been used to pay for business acquisitions in Asia and stock-repurchases and not because they couldn't handle the operation expenditures. The cash flow seems to be quite strong and they are always having cash on hand since they don't have any great receivables they need to collect in their financial reports - so cash flow wise, they have some freedom to operate. From a financially point of view, things do not look catastrophic and with a profit margin of roughly 16% which is high compared to industry peers, Michael Kors could be an attractive investment. Although for it to be attractive they certainly need to reinvent themselves and turn things around, if you believe they can do that, then I would say you should invest in them.
Objectively speaking it seems like Michael Kors have some great challenges they need to overcome in the coming years and this is also why their stock is trading at almost historically lows. So, is this company a cheap value investment or is it a real value trap? To be honest I think it's a hard question, because as I see it the future of Michael Kors is outcome dependent, dependent on if they can grow their new Men's brand, dependent on if they can regain brand-awareness among different customer segment and dependent on whether they can expand as fast and as much as they want into Asia (proposed to become a +1 billion market). But then again in the investment world, most of the things are outcome dependent and if we look at the current price compared to the opportunities available, Michael Kors could be a good buy especially since most bad news should already be anticipated at least according to the current valuation of the company.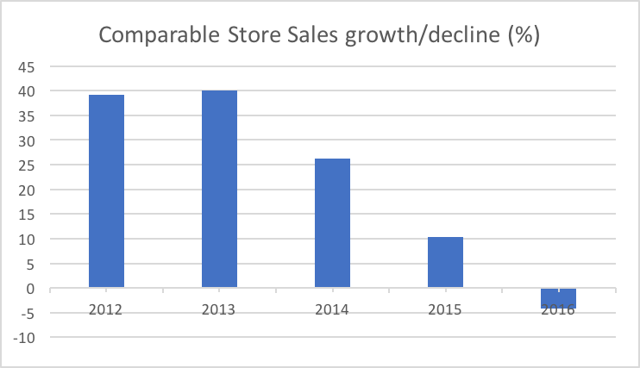 Figure 2: Comparable Stores Sales Growth/Decline in percent.
However, my number one concern with the company is the fact that their comparable store sales have been falling lately and since they have long-term locked lease agreements on the buildings that house these stores, we could see a very unfavorable cost-structure that could become a huge expenditure especially if sales keep falling. As I see it they have been expanding their physical retail stores way to aggressive and they should instead have focused on they e-commerce stores if you ask me. And to be honest it is bad management behavior to keep increasing the number of retail stores, even though the data is against you - I think they should have stopped opening retail stores around 2014 or at least they should have kept this number of stores at a constant, but that is not possible since their lease-agreements don't let them close unfavorable stores ahead of time.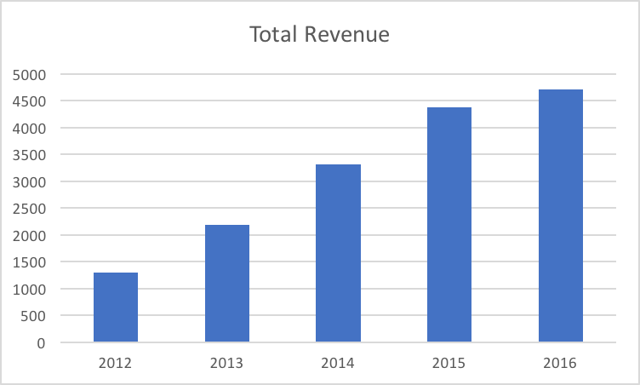 Figure 3: Number of retail stores.
To sum up, Michael Kors has fundamental problems within their business and if you believe that they will be able to set things right in the future, it could be a potential buy at current price levels. But before you press the buy button, let me tell you again, Michael Kors is cheap because they have fundamental problems within their company and an investment in this company should therefore be of long-term, potentially very long-term, since there is no apparent upside on the short- to midterm-basis.
Disclosure: I/we have no positions in any stocks mentioned, and no plans to initiate any positions within the next 72 hours.