With its already somewhat diversified clinical-development portfolio the biotech company Galapagos from the Netherlands immediately caught my attention and I decided to dig a little deeper into the business/investment case.
Galapagos is an early-mid stage biotechnology company that specializes in the research and development of small molecule drug-candidates. Currently Galapagos do not have any approved drugs and they are therefore dependent on milestone payments and investor cash. Galapagos' clinical-development portfolio consists of the following drug-candidates: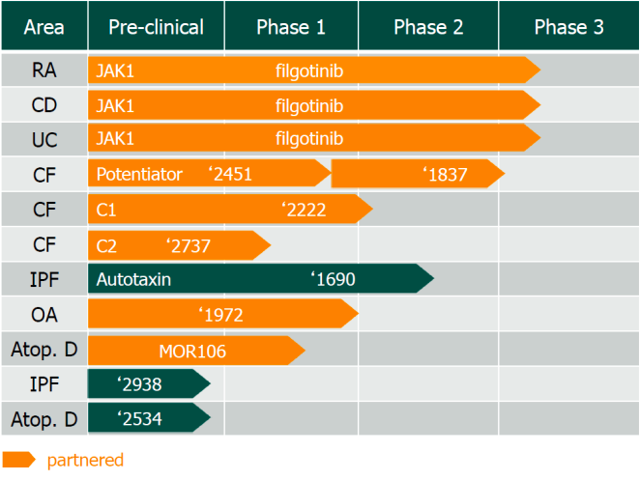 Figure 1: www.glpg.com/clinical-pipelines
The first and for now most interesting drug-candidate is Filgotinib, which is currently on its way to Phase 3 clinical development as a treatment to Rheumatoid Arthritis, Crohn's disease and Ulcerative colitis. This is the drug-candidate that if all go well, will be the first big revenue driver for Galapagos and they are currently partnered with Gilead in a 20/80 agreement. The 20/80 agreement means that Gilead will pay 80% of development costs and then take 80% of the sales, which leaves Galapagos with royalties and development-expenses at 20%. Gilead will commercialize the drug in most of the world, while Galapagos and Gilead have some co-promotion countries, where the profit will be shared equally. Under the same agreement, Galapagos is eligible to receive development, regulatory and commercial milestone payments up to $1.35 billion.
As mentioned above is Filgotinib developed as a treatment to Rheumatoid Arthritis (NYSE:RA) patients where the only JAK-inhibitor currently approved by the FDA for RA treatment is the drug Xeljanz® which is marketed by Pfizer. Xeljanz® sold for $927 million in 2016 and it is expected to become a blockbuster (sales over $1 billion) by 2017. According to clinical data the use of Xeljanz has been associated with a range of side effect, including anemia (reduced hemoglobin levels) and elevations in both liver enzyme and lipid levels. These side-effects are not seen or seen in a much lesser extent in patients that has been treated with Filgotinib in 24 weeks, so if these data prove to be viable for long-term treatment as well (will be answered in DARWIN 3 studies) Filgotinib could become a market-leader for JAK1-inhibtor treatment in RA patients and a blockbuster drug. It is worth to note that a Filgotinib approval would have consequences for Pfizer, but that is another talk. The next thing we are waiting for now is the phase 3 clinical data from the FINCH-studies.
The second treatment area for Filgotinib is inflammatory bowel disease or IBD, which is a group of inflammatory conditions in the colon and small intestines, with Crohn's disease and Ulcerative Colitis representing the two most common forms of the disease. The normal treatment for IBD involve immunosuppressive drugs called anti-TNFs, Integrin inhibitors, anti-inflammatory drugs and general immunosuppressants but there is still to be a JAK1-inhibitor approved for treatment. Filgotinib is intended to address the limitations of existing therapies or in combination with common IBD therapies and Galapagos are hoping to demonstrate this through their clinical programs. Currently I find it a bit hard to estimate the market size for an IBD treatment, since they haven't really provided any data on how the drug perform against its peers, but Xeljanz has shown to have a favorable efficacy profile in patient trials in Ulcerative colitis and as we have previously seen Filgotinib has a better safety profile. If Filgotinib can show excellent efficacy in both Crohn's disease and ulcerative colitis the drug could possibly fill the hole of a large unmet need in these patient-groups which in turn would generate a great amount of revenue to Gilead and Galapagos - but if it could generate blockbuster revenue on these indications? I do not know at the moment.
The second very interesting part of the Galapagos clinical pipeline is their cystic fibrosis (NYSE:CF) portfolio, where they have the hypothesis that by utilizing three different molecules in a triple combination therapy, may restore clinically meaningful CFTR (malfunctioning protein in CF) function. The hypothesis is supported by preliminary pre-clinical data and for the company to be very successful in this field, they need to show efficacy in the clinical trials. If the cystic fibrosis is going to be a major revenue driver, it is of crucial importance that this triple combination gives clinically meaningful results - the market for this kind of treatment is enormous. The first important step in this journey is to show that GLPG-1837 the potentiator molecule, shows great results in clinic, because in preclinical settings it showed superiority against an already approved potentiator Kalydeco® from Vertex Pharmaceuticals when it was used in combination with Orkamib®. Vertex pharmaceuticals guided sales of Kalydeco in 2016 at $685 million on the lower end and if GLPG-1837 shows superiority in clinic it could potentially be the winning drug in this class. However, this is not the most interesting part, the previously mentioned triple combination therapy was superior to Kalydeco and Orkamib treatment in preclinical settings and could this translate into clinical settings the therapy will be looking at yearly revenues of +$1.5 billion. This amounts to a yearly royalty payment to Galapagos at +$225 million to +$300 million, depending on the exact royalty percentage, which is disclosed to lie between mid-teens to 20%. The CF-portfolio is constructed so that they have a few molecules hitting each of the desired targets both in clinical- and preclinical-development as some sort of "hedge". Therefore, the next events we should be looking towards are the safety, dosage and initial efficacy data of these drug-candidates. Furthermore, one should look at how the clinical trials will be designed for these compounds, because if the trials are not designed to show the effects of a triple-combo treatment, it could be an even longer time before we see this as an approved treatment option. The cystic fibrosis development is partnered with AbbVie under a mid-teen to 20% royalty agreement, where Galapagos is paying for clinical studies until Phase 3 where AbbVie will take over with some financial contribution from Galapagos. Galapagos is eligible to receive approximately $570 million in total additional payments for developmental and regulatory milestones and sales milestones upon the achievement of minimum annual net sales thresholds.
The rest of the drug-candidate portfolio is not as interesting as the candidates we have been through so far and they will not be considered further. They are not considered further since most of them are either preclinical or phase-1 candidates, where the valuation is hard and inconvenient. The reason being that it is almost impossible to say anything about a possible realistic patient population (and market) in which the drugs is to be used, since this is first revealed/evaluated around phase 2 studies and the data from them.
Based on my risk-adjusted net present value (rNPV) approach that has been corrected for probability-adjusted development costs I find the drug-candidate portfolio is a bit overvalued at current market valuations. The majority of the portfolio value lies within Filgotinib and Galapagos' cystic fibrosis pipeline and it is my estimate that these two components constitute around 50-60% of the current market valuation and to me it seems like the market may be a little optimistic on future royalty-incomes when you are looking at what other drugs in the same segment are selling at. Since the last part of the clinical portfolio is consisting of mainly preclinical and phase 1 drug-candidates it is hard to estimate market size and therefore also their present value. So, rather than trying to estimate the value of these components I would like to keep them out of the equation and use them as some sort of "margin of safety" when investing in Galapagos. On this basis, I believe that an attractive price of the stock is around 45 to 50 euro, for the long-term investor. If you buy the stock at the 45 to 50-euro level you will probably pay for Filgotinib, the cystic fibrosis pipeline and their holdings of cash and cash equivalents, while you will get the rest of their clinical candidates and their proprietary target-discovery platform for free.
The proprietary target-discovery platform may provide Galapagos with a competitive advantage over other research-stage biotechnology companies, since it has been used to identify seven clinical-candidates with novel modes of action. It is also this platform that has been used in the identification of Filgotinib and if this gets approved by the FDA it will indicate a good validity of the discovery platform. The interesting part of this platform is that is uses human cells to identify possible protein-targets in treating selected diseases and I believe the Galapagos know-how is valuable - it might be valuable enough to consider Galapagos a take-over candidate. However, for this technology to get even more valuable it must be validated that it can produce medicines that is safe and efficient enough to get approved by the FDA. If this technology is calculated into the current stock price, I find it hard to value exactly how much this platform is worth, since it is almost impossible to gauge the amount of revenue or even better the amount of knowledge that potentially can be generated using this platform.
As Galapagos is an early-mid stage biotechnology company there are some risks involved and the main risks at the short-medium term is that the clinical phase 3 studies of Filgotinib, has the possibility to become a failure. In that case, the company and therefore also the stock price would take a massive hit and this may not be total failure for the company but the price will be corrected massively. Next up is the possibility of failure from the cystic fibrosis pipeline, since it is only 1 compound from this pipeline that is heading into phase 3 clinical trials, there is still a lot of uncertainty regarding safety and efficacy of the other cystic fibrosis drug-candidates. And then there is of course also the general uncertainty when one is considering to invest in a biotechnology company so, the mentioned risks are just those that are most likely to have a big impact on the stock price and the company's current outlook.
To sum up, I believe that there is a huge potential for the long-term investor who are willing to invest his/her money in Galapagos. The very interesting and somewhat diversified clinical-development pipeline together with the proprietary target-discovery platform makes Galapagos a very interesting investment case over the long term. However, as mentioned I think they are a bit optimistically valued at current levels and I would like to see the price pullback to around 50 euros before an entry. Their clinical pipeline looks strong with a huge potential and as with any early-mid stage biotech company we are just waiting for some positive clinical data now, until then - wait for a pullback before you decide to buy the stock.
Disclosure: I/we have no positions in any stocks mentioned, and no plans to initiate any positions within the next 72 hours.