AnaptysBio Inc. (NASDAQ:ANAB) is a very early clinical stage biotechnology company that is developing first-in-class antibody product candidates focused on unmet medical needs in inflammation. The product candidates are developed via their own proprietary discovery platform, which is based on the natural processes of antibody generation, known as somatic hypermutation or SHM, their platform can replicate the natural process of antibody generation in vitro. AnaptysBio Inc. went public at the 26. Of January in 2017 where its initial offering price was at $15, now a little over 1 month later the price is consolidating around 22-23$.
Antibody programs
AnaptysBio have both wholly-owned antibody programs where they have retained all commercialization rights and clinical development costs and out licensed antibody programs, where their collaborators TESARO and Celgene will pay the clinical development costs and provide AnaptysBio with event-specific milestones together with low tiered single-digit royalties on net sales. The most advanced AnaptysBio wholly-owned antibody programs, ANB020 and ANB019, neutralize targets that are genetically associated with severe inflammatory disorders in humans. ANB020 is inhibiting the interleukin-33 (IL-33) cytokine for the treatment of moderate-to-severe adult atopic dermatitis, severe adult peanut allergy and severe adult eosinophilic asthma. AnaptysBio recently completed a Phase 1 trial of ANB020 in healthy volunteers in Australia and they believe that the results of this trial demonstrated a favorable safety profile of ANB020, since it was well-tolerated and no dose-limiting toxicities were observed. Furthermore, it showed favorable pharmacodynamics properties, where a single dose of ANB020 was sufficient to suppress IL-33 function for approximately three months post-dosing, but this was measured by an ex vivo pharmacodynamics assay. ANB019 inhibits the interleukin-36 (IL-36R) receptor for the treatment of rare inflammatory diseases including generalized pustular psoriasis (NASDAQ:GPP) and palmo-planar pustular psoriasis (NYSE:PPP). AnaptysBio submitted a clinical trial notification in November 2016 and if it is cleared they plan to commence a Phase 1 clinical trial in the first half of 2017, with the announcement of top-line results in the second half of 2017. The last part of the wholly-owned antibody program is their novel preclinical checkpoint receptor agonist antibodies that they believe will be applicable for the treatment of certain autoimmune disease. Currently, these antibodies have only demonstrated good efficacy in preclinical animal models.
Under the immuno-oncology collaboration with TESARO there currently are 5 disclosed programs and 1 undisclosed program whereas only 2 of the programs are in Phase 1 clinical studies, the rest are either in the discovery phase or in the preclinical phase. AnaptysBio are eligible to receive up to $273 million in milestone payments, which are comprised of $18 milllion for preclinical and clinical development milestone payments, $90 million upon certain regulatory events and $165 million upon worldwide commercial sales thresholds. Furthermore, TESARO is obligated to pay tiered single-digit royalties on annualized net sales.
Under the Celgene collaboration Celgene is using the AnaptysBio SHM platform to discover antibodies that can be used as a treatment in inflammatory diseases. Celgene currently has 2 undisclosed programs under this agreement, where one 1 is preclinical, with the aim of clinic introduction in the first half of 2017 and the other program is still in the discovery phase. The agreement between Celgene and AnaptysBio provided AnaptysBio with an upfront payment of $6 million from Celgene, milestone payments of up to $53 million per target and low single-digit royalties on net sales of the antibodies against each target, and reimbursement of specified research and development costs.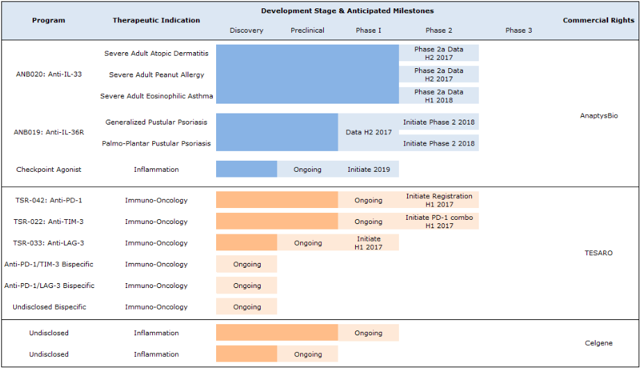 Figure 1: AnaptysBio development stages and anticipated milestones. Source: www.anaptysbio.com/pipeline/
The antibody discovery platform
All the ongoing antibody programs have been discovered using AnaptysBio's proprietary SHM discovery platform. The somatic hypermutation (NYSEARCA:SHM) antibody discovery platform generates antibodies by leveraging natural processes that is normally embedded in the human immune system to rapidly develop a diverse range of therapeutic-grade antibodies in vitro (outside animals/humans). The advantage of this kind of antibody discovery platform is that the antibodies generated mimics the antibodies that is normally generated naturally within the human body, since they are utilizing the same mutation systems. The result of this is that the risk of developing antibodies that is not well-tolerated (or toxic) in humans is very decreased and the antibodies generated using this platform may be well-tolerated in humans. I think it is worth to mention, that I see this platform as being quite valuable to the company if the hypothesis regarding the safety of the antibodies generated is true. The reason why I think it may be valuable is because of the efficacy of this platform when we compare it to other antibody discovery platforms and according to AnaptysBio their platform has the following advantages over competing approaches:
Diversity against difficult targets
High potency of generated antibodies
Functional activity selection
Speed
Manufacturability
Bispecific antibody generation
Furthermore, I think that the (early) collaborations with both Celgene and TESARO proves that this platform is already valuable to bigger corporations and that it does a great job generating antibodies that might be used as therapies to treat different diseases.
Current valuation
AnaptysBio is currently valued at $434.15 million (assuming a share price of $22.66) and the company's value has been skyrocketing since its IPO where it was valued at $287.4 million (assuming a share price of $15) assuming 19.16 million outstanding shares. From the initial public offering AnaptysBio was able to raise $69.75 million and they will use these proceeds to advance their pipeline into clinical settings and to discover new drug-candidates that may also enter clinical development. Even at their initial offering I think that the stock was a bit overpriced, with only sub-preclinical, preclinical and Phase 1 drug-candidates, the net present value of these programs don't exceed $287.4 million, you'll also have a hard time even trying to estimate future market size and terminal-cash flows. As mentioned they also have their patented proprietary antibody discovery platform and this will of course also contribute value to the company, but I don't think anything besides clinical advancements or take-over rumors can improve the market value of the company with $150 million over at month. So, at the current market valuation of $434.15 million the company is outrageously overvalued in my opinion and an explanation might be that there are only 5 million shares available to the public investors the rest is locked up with the early investors, the lock-up period is 180 days from the prospectus date (25th of January 2017). So, after the lock-up period an additional 14,159,133 share will become eligible for sale in the public market, where 11,688,156 of these shares will be held by AnaptysBio affiliates and are therefore subject to the volume and other restrictions of Rule 114 as described in their prospectus. So, with 3 times more shares available for sale in the public one could think that this will result in an increased selling pressure and therefore also a decreased stock price, however this is not certain at all. Regarding when AnaptysBio needs new capital, they have not provided us with a cash-burn rate estimate from their prospectus but they do write that the capital from the IPO including existing cash and cash equivalent will enable them to fund their operating expense and capital expenditure requirements through at least the next 24 months.
Risks
The risks associated with an investment in AnaptysBio Inc. are the same risks that are associated with investing in any other early-stage biotechnology company. Furthermore, I have researched the target (IL-33) of ANB020 a bit and according to Rahul Kakkar and Richard T. Lee the current data available on the IL-33/ST2 pathway proposes that it has a cardio-protective role, since exogenously administered IL-33 reduced cardiac hypertrophy, reduced gene expression of BNP and increased survival rate after aortic constriction in wild-type mice when these are compared to untreated control-mice[1]. This may not be a problem, but I am still looking forward (with concern) to the safety results of long-term treatment with an IL-33 inhibitor. For the full picture of the risks associated with an investment in AnaptysBio Inc. I would recommend you read their prospectus.
Conclusion
AnaptysBio Inc. is indeed a very interesting company with its already diversified portfolio of antibody programs and its collaborations with big companies like Celgene and TESARO. AnaptysBio's antibody discovery platform is also very interesting and it might even be very valuable but it still needs to prove its worth and bring a novel antibody drug to the market. As I see it AnaptysBio may have a very bright future and I am considering investing my money with them, but not at the current valuation. I believe the company is too overpriced and you'll be able to pick up some shares at a much lower price, the risks (current downside) involved with investing in the company right now does simply not justify the possible upside in the next coming years.
References
1. Kakkar, R. and R.T. Lee, The IL-33/ST2 pathway: therapeutic target and novel biomarker. Nat Rev Drug Discov, 2008. 7(10): p. 827-40.
Disclosure: I/we have no positions in any stocks mentioned, and no plans to initiate any positions within the next 72 hours.