After a good year for the auto industry in general in terms of sales, not all is rosy at Tesla. Why? Let's have a look at some fundamentals as well as at the technical side.
Fundamentals
According to the Economic Observer, Tesla is cutting 30% of jobs in China after the car maker reported declining sales. Not confirming this number mister Elon Musk, CEO and founder, did say that the concerns about charging electric vehicles weigh on the sales figures. This is the second big setback for Tesla in China in 3 months time, after top manager Veronica Wu resigned in December last year having worked only 9 months in her position. More worrisome however might be the fact that Tesla counted on the world's biggest car market to be one of the main drivers of growth. It seems however that this expansion might be more difficult than the California based company initially thought.
At the current share price, Tesla's market cap is around 24$ billion. This is high compared to other premium brands such as Daimler (Mercedes) and BMW who have a market cap of 104,5 and 79,8 billion $ respectively. However these companies' car sales figures are multiples of those of Tesla. It appears that the current stock price reflects investors anticipating a significantly higher market share in the near future. Although I believe the stock might grow into today's valuation, for now I think this kind of valuation is premature.
According to the 2014 shareholder letter, the company is expecting a 70% growth in car deliveries in 2015. However with the average price of a Model S being 105,000$ and starting prices of the Model X aligning with those of the Model S, it is still the high end market that is served. So what about the promising Model 3 then? Well, with prices around $45k - $50k it remains to be seen whether this car will contribute to the growth as much as is expected, taking into consideration that the average price of a car in the US is $31k. Furthermore, in a recent report, a local newspaper argued that the construction of the Nevada Gigafactory is delayed. However, Tesla already denied this stating that 'the project is progressing and the Gigafactory is on schedule'. According to Morgan Stanley's estimates, the Model 3 is expected to hit figures of 40,000 in its first year of sales; 2018.
While the company's CEO admitted in September last year that the company is overvalued, I believe this is still the case. Obviously this company has great potential, but for now investors seem to be too optimistic and have been so for quite some time now. But the tide is turning; the share price has already dropped 34% since its peak of 291.42$ in September '14 and is on its way to reflect a more accurate price. Despite the drop in recent months, the average stock price target is now at 261$ taking into account estimates from 22 different analysts, according to Bloomberg data.
Technical analysis
When looking at the below chart, one notices a declining middle to long-term trend. Resistance can be found at 227.82 while support stands at 191.90. I believe the only way the car maker can get out of this negative spiral is by breaking through that resistance level. Unless this happens, the bottom is not reached yet.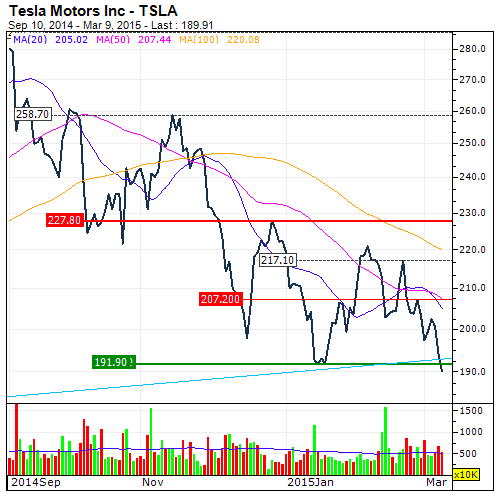 Source: Zonebourse.com
Conclusion
It remains to be seen how Tesla will perform in terms of car deliveries in the coming year(s), largely depending on whether or not the Model 3 will be a success. The high volatility of the share price makes it unsuitable for the risk averse investor, and if you are looking for the short to middle-long term then this is not a stock you want to be looking at. However if you have the patience, you might be able to pick it up at a lower price and benefit from then onwards.
Disclosure: The author has no positions in any stocks mentioned, and no plans to initiate any positions within the next 72 hours.