When investing, it is not always better to have bought at the lower price. There may be instances where there is a lot of uncertainty, and that buying at the lower price involved much more risk. For example, it is better to have bought a stock at $1 when the risk of bankruptcy had subsided than to have bought at $0.50 when the risk of bankruptcy was high. Sometimes it is better to wait for new pieces of information before investing.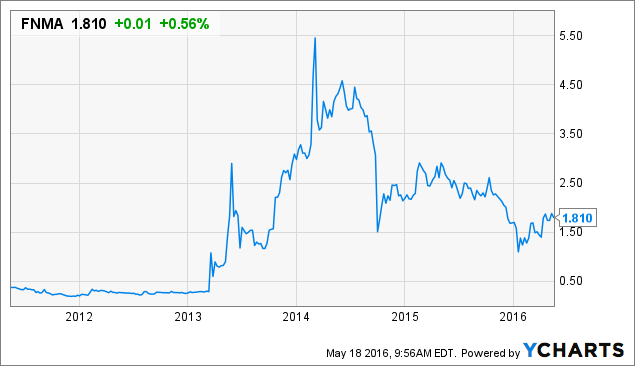 When it comes to Fannie Mae (OTCQB:FNMA), the situation is even better. You have a new piece of information that has come out that is highly favourable towards investors, yet the share price is still trading below the highs of 2013, 2014 and 2015. When investing, these are the situations to seek out. Who needs insider information (which is illegal) when you have situations like this?
First of all, I would like to point out that the Third Amendment (Net Worth Sweep) is not as egregious as many make it out to be (I am going by the language I often see).
In Fannie Mae's 2012 2nd Quarter 10-Q, it was noted that:
"The aggregate liquidation preference on the senior preferred stock remains at $117.1 billion, which requires an annualized dividend payment of $11.7 billion. The amount of this dividend payment exceeds our reported annual net income for every year since our inception."
At that time, Fannie Mae had not made $11.7 billion in any annual year of its history. Therefore, the Net Worth Sweep could have rightly been viewed as Treasury saying to Fannie Mae, "We know you've never made that much, just give us what you are able."
Prior to former CFO McFarland's deposition, there was no evidence of government wrong doing. The Net Worth Sweep, at the time, could have been rightly justified as a means of "preventing circular draws" and protecting taxpayers.
Susan McFarland's deposition completely blew that out of the water. Her deposition, as Donald Trump would say, was HUGE! I still think, judging by where the shares trade today, that investors out there don't realise how significant her deposition is.
In her deposition, she stated:
"I had expressed a view that I believed we were now in a sustainable profitability, that we would be able to deliver sustainable profits over time. I even mentioned the possibility that it could get to a point in the not-so-distant future where the factors might exist whereby the allowance on the deferred tax asset would be released."
"So when the amendment went into place, part of my reaction was they did that in response to my communication of our forecasts and the implication of those forecasts, that it was probably a desire not to allow capital to build up within the enterprises and not to allow the enterprises to recapitalize themselves."
Regarding the Deferred Tax Assets, she stated:
"And I believe my response was around 50 billion, but that could be larger or smaller depending upon when."
We now have conclusive evidence that Treasury knew of the impending massive DTA releases ($50 billion), and that Fannie Mae was now in a position to deliver sustainable profits over time. Her deposition completely destroys the government's "prevent circular draws" rationale.
In a recent email, Whitney Tilson stated:
"Mark my words: this is the turning point. Now that the lie has been exposed, the courts will overturn this illegal seizure and the stocks of the GSEs will be multi-baggers from here."
I am of a similar view. Her deposition was HUGE! I have no idea why Fannie Mae is still trading below $2. As I mentioned above, you don't need insider information when Mr Market is making such a great offer to you.
There is now no doubt that Treasury acted inappropriately. Fannie Mae today is a lot less risky (compared to a year ago) investment because of these damning revelations. Doubters can no longer accuse investors of perpetuating looney conspiracy theories. We have been right all along!
Ultimately, the government will have to come up with an arrangement whereby the GSEs are released.
Disclosure: I am/we are long FNMA.