Wiggle Room for the Rest of the Year
After their second-quarter earnings report, Target (TGT) soared 20% due to their surprise in revenue and raised guidance. In Q2, we saw a comparable sales growth of 3.4%. This is the 9th consecutive quarter of comparable sales increase. Digital sales have played a large part of this growth, accounting for 1.8% out of the 3.4% comparable growth. This is a huge win for Target as they continue to follow Brian Cornell's lead. They saw a 34% growth in digital sales on top of a 41% growth from the previous year.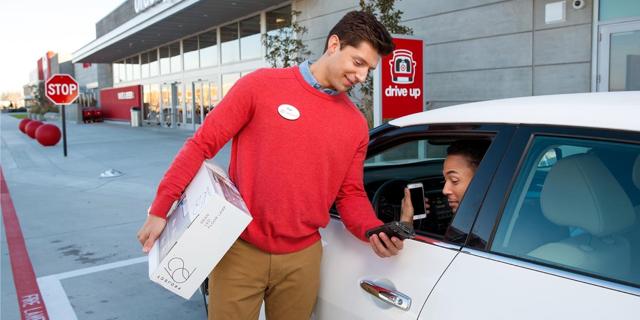 Source: Target.com
Turning the ship around through preservation of income
"As we move digital fulfillment from upstream distribution centers to stores, we see a significant reduction in expense and we talked about a 40% reduction." – Brian Cornell
If we take a look at their peers, we can see right away that Target is taking initiative to reduce expenses in the right places. When we look at employee compensation, Target is leading the pack by setting a minimum wage of $15 by the end of 2020. With unemployment near rock-bottom at around 3.7%, this is not an area where companies want to be lag on. Panera bread is losing nearly 100% of its workers every year. By increasing their minimum wage, Target is able to save expenses on hiring/training new workers. By taking a look at their gross profit margin, we can see that Target has the highest gross profit margin, while leading their peers in employee compensation.

Source: Seeking Alpha
More importantly, Target's main goal of improving their efficiency through technological advancements will help them save on fulfilment cost, further increasing their gross margins. We have already seen the benefits of their same-day fulfilment options (in-store pickup, Drive-up, and Shipt). Amazon (AMZN) has also recognize and adapted to the customer's hasty needs. In the 2nd quarter, Amazon's shipping cost increased 36% year over year to $8 billion. By using their storefronts, Target has quickly assimilated to customer's 1-day waiting period without a drastic increase in shipping expense.
This was ultimately a small change in their business strategy that sat very well with their customers. Their management team deserves a round of applause for not deviating from their unique strategy of moving their distribution centers to their stores. This is unique because there has been a trend of companies closing down stores due to sales moving towards e-commerce.
We will be keeping a close eye on their gross margins as their technology will provide them with the ability of reducing split shipments, saving on the additional shipping expense that has been occurring. Gross margins are expected to be 30.6% this year from 30.3% last year. This is the first time in the last twelve quarters where they see a Y/Y increase in the gross margin rate. As their technology starts becoming efficient, it will be exciting to see their bottom-line grow.
Groceries are a recurring income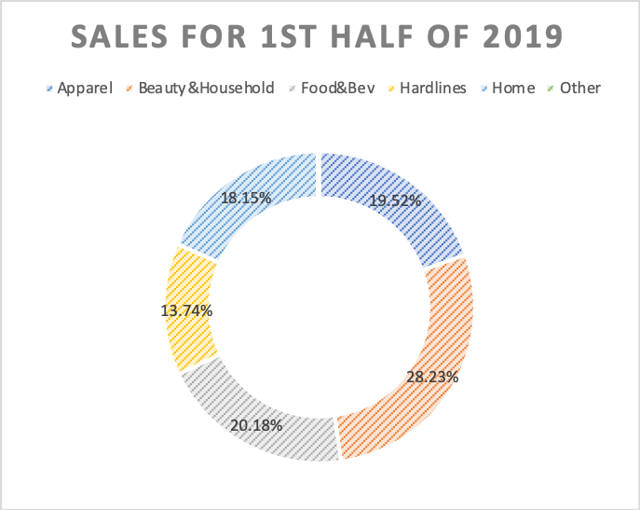 Source: Author
In the 2nd quarter, the Food and Beverage segment achieved low-single-digit increases in comparable sales. Target was never really seen as a destination for grocery shopping, as Food and Beverages only accounts for 20% of their sales. Walmart on the other hand derives as much as 50% of sales from their Consumer Foods segment. Looking to improve in this segment, Target has launched their own private label, Good & Gather. Target will have 650 products under Good & Gather on the shelves starting September 15th, with an estimate of over 2,000 products available by the end of the next year.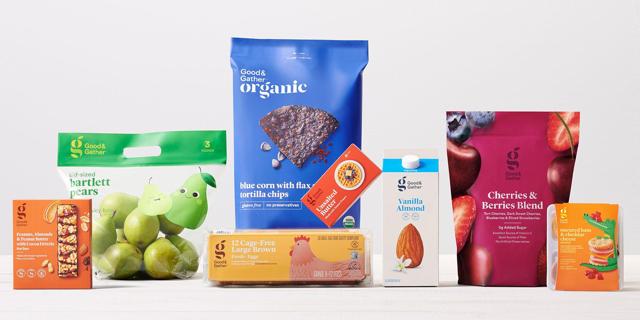 Source: Target.com
This comes at a time where consumers are more mindful of the ingredients that go into their bodies. This has been reflected in J.M. Smuckers' (SJM) current sales. They reported revenue of $402.2 million in their Consumer Foods segment, down 16.8% from $483.3 million a year ago. Shoppers are starting to look at artisan brands as their focus shifts to more natural products. In 2018, U.S. private label food sales were $153 billion, a 5.5% growth from 2017.
Good & Gather will be able to take advantage of this opportunity as their products already seem to be directed towards the consumers' needs, with the addition of being able to sustain competitive pricing.
"It's all the good stuff you love without artificial flavors, synthetic colors, artificial sweeteners and high fructose corn syrup."
With more options in the grocery aisle, customers will be walking out of the store with bigger baskets, as they will be able to do all their shopping in one place.
What does the Disney partnership mean?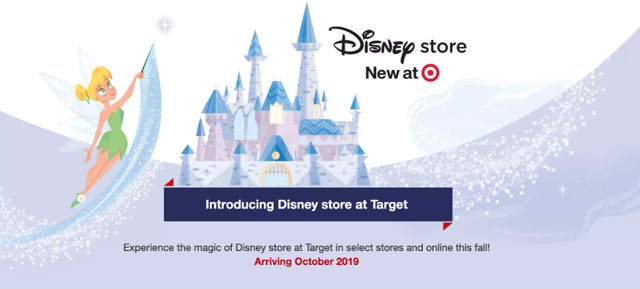 Source: Target.com
Hardlines, including toys, had a flat performance in the 2nd quarter. They were expecting a slower growth given that the tailwind from Toys 'R' Us had just annualize. However, Target is planning to continue to bolster this segment with a new partnership with Disney (DIS). On August 25th, Target announced that they would be opening multiple Disney stores within target over the next year. They plan to open 25 Disney stores on October 4th in their major city markets. Over the next year, an additional 40 stores are set to open. Disney stores will sell toys, games, apparel, and more.
"Our teams worked closely with Disney to co-develop and design the store experience with features like music, interactive displays, photo ops and a seating area where families can watch Disney movie clips."
With the addition of Disney's interactive store inside of Target, we should be seeing customers prolonging visit time in the stores. Providing an interactive experience, the Disney store targets the children's demographic at a much deeper level. The last toy store that allowed kids to interact with their surrounding was Toy 'R' Us, and the Disney store should be able to fill this void. The improvement in the toy segment may just be the reason for shoppers to do the remainder of their shopping at Target as well.
Takeaway
With the recent surge in stock value, I believe Target (TGT) is a hold at its current price. With revenue growth fluctuating at round 4%, I believe that Target is no longer drastically undervalued as they recently filled their valuation gap.
Preservation of income is the task at hand. Because this is only the beginning of Target's move to digitalizing their business, it will be interesting to see how their earnings grow in the future, as their business processes become more efficient. Another area of interest is their private label in the food segment. Target was not in the food space until their launch of Good & Gather, which will make it more convenient for customers to do all their shopping in one place. Considering that Food and Beverages only accounts for 20% of Target's revenue, compared to Walmart's 50%, we should expect this segment to be revitalized in growth. Their partnership with Disney is definitely an improvement to their Hardlines segment, but we'll have to see wait until Q4 to see how well it pays off. Target's current business strategy is starting to pull in results, but this may be short-lived as their competitors are already adapting to their customer's needs.
Disclosure: I/we have no positions in any stocks mentioned, and no plans to initiate any positions within the next 72 hours.