On June 04, 2012 Forestar Group (NYSE: FOR) announced that it has agreed to purchase CREDO Petroleum (NASDAQ: CRED) for $146 million in an all cash deal. FOR is a real estate-mineral acquisition conglomerate based in Austin, Texas. The purchase totaled 125k net leasehold acres across North Dakota, Kansas, Nebraska and Oklahoma, which complements the company's legacy assets totaling 595k net mineral acres across Texas, Louisiana, Georgia and Alabama. FOR's business model with respect to its oil and gas program can be likened to Panhandle Oil & Gas (NYSE: PHX), as both companies (primarily) purchase minerals instead of leases, which gives them the option to either participate directly in a proposed well on its acreage or lease the mineral rights to an oil and gas company.
FOR's acquisition of CRED signals the non-operator's entrance into North Dakota's prolific Bakken Shale. The purchase includes 73,000 gross (6,300 net) non-operated acres in the play, lying primarily on the Fort Berthold Indian Reservation (see map below), which CRED estimates holds the potential for 62 spacing units. As of April 17, 2012, CRED had 16 producing wells in the Bakken-Three Forks (see strat map below for reference) operated by PetroHunt, Hess and Marathon, among others, with IPs ranging from 769 BOEPD to 3,732 BOEPD. The company has an additional nine wells awaiting completion in the Bakken-Three Forks.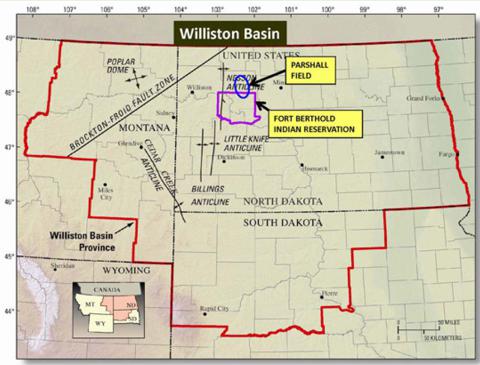 Source: CREDO Petroleum's April 2012 Investor Presentation
Fort Berhold Stratigraphic Map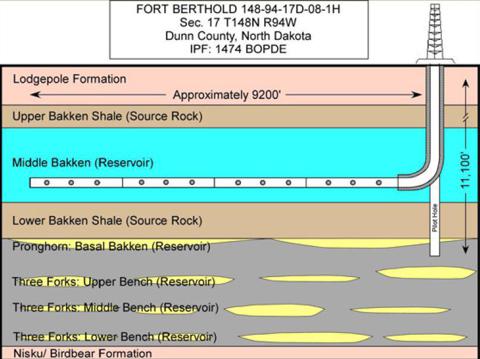 Source: CREDO Petroleum's April 2012 Investor Presentation
Also included in the purchase is 140,000 gross acres (85,000 net-50% operated) in Kansas and Nebraska and 75,000 gross acres (~33,700 net-80% HBP: see definition below) in Oklahoma.
Valuation: The 125k net acres were purchased for approximately $1,168 per acre / proved reserves of 4,100 MBOE (48% oil) were purchased for $35.61 per BOE.
Definitions: Held-by-Production (NASDAQ:HBP): When an oil and gas company purchases a lease from a mineral owner, the lease may be for several thousand acres lying in separate prospective drilling units with a primary lease term of approximately five years. If the oil and gas company drills land on one drilling unit, the lease would remain in force (unless the lease has a clause stating otherwise) beyond the five-year primary lease term until the oil well ceases to produce a certain amount of oil and gas.
Disclosure: I have no positions in any stocks mentioned, and no plans to initiate any positions within the next 72 hours.