Summary
Contango/backwardation in the VIX futures market is thought to be an important predictor of XIV performance.

Short-term XIV growth is primarily driven by market growth and volatility during the holding period. But baseline VIX contango/backwardation is informative.

I present a regression model for predicting 1-month XIV growth based on initial VIX contango/backwardation and expected change in SPY and VIX.

In general, I think a 1-month investment in XIV is appealing when VIX contango is greater than 10%. But you'll still lose big if the market drops.
Background
I think VelocityShares Daily Inverse VIX Short-Term ETN (NASDAQ:XIV) is a fascinating fund, for several reasons:
It gained 403% from Nov. 30, 2010 (its inception) to July 31, 2015...
...then lost 53.3% in just over a month, as SPY fell 8.2%.
The #1 contributor on Seeking Alpha says it's the best stock in the world.
Many investors feel that you can exploit VIX contango to systematically profit from XIV.
I've written a few articles about properties of XIV and ZIV based on historical performance, but I haven't directly considered the contango/backwardation angle. I really didn't know much about the subject before reading some great Seeking Alpha articles by Nathan Buehler and Force Majeure.
The basic idea is that you stand a good chance to profit if you invest in XIV when the first month's VIX futures price is lower than the second month's, a scenario referred to as contango. You can check the VIX futures anytime at vixcentral.com.
The question is, how much of XIV's price movement is driven by contango/backwardation at the time of purchase? It probably depends somewhat on the holding period, but my sense is that in general XIV's movement is primarily driven by market growth and volatility during your holding period.
Data Source and Methods
I obtained daily VIX contango/backwardation data from The Intelligent Investor Blog and historical SPY and VIX prices from Yahoo! Finance.
Daily contango/backwardation is defined as the percent difference between the first and second month VIX futures. While the Intelligent Investor dataset includes simulated XIV data going back to 2004, for this article I only use the actual daily closing prices for XIV since its inception in 2010.
I used R ("quantmod" and "stocks" packages) to analyze data and generate figures for this article.
Contango and 1-Month Gains
Unfortunately, if you look at all trading days since Nov. 30, 2010, there is a rather weak relationship between daily VIX contango/backwardation and subsequent 1-month (21-day) XIV growth, as shown below.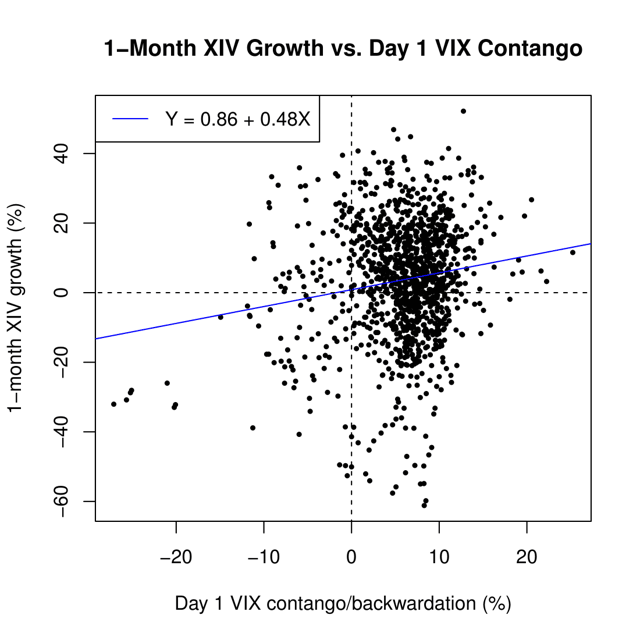 Contango/backwardation at time of purchase was a highly significant predictor (p < 0.001) but explained only 2.3% of the variability in subsequent 1-month XIV growth.
VIX and SPY Movement During Holding Period
Change in VIX and change in SPY during the holding period are much stronger predictors of XIV growth than initial VIX contango/backwardation, as you can see in the scatterplots below.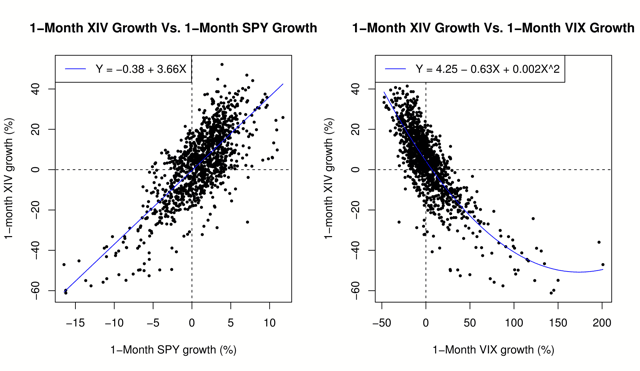 Together, SPY and VIX movement explain 67.4% of the variability in 1-month XIV growth.
Adding initial VIX contango/backwardation to the regression increases the R2 substantially, up to 81.9%. That regression fit is shown below.
Table 1. Fitted linear regression for 1-month XIV growth.

| Variable | Beta (Std. Error) | P |
| --- | --- | --- |
| Intercept | -4.586 (0.351) | <0.001 |
| SPY growth | 0.868 (0.106) | <0.001 |
| VIX growth | -0.648 (0.018) | <0.001 |
| VIX growth squared | 0.003 (0.000) | <0.001 |
| Day 1 VIX contango/backwardation | 1.297 (0.042) | <0.001 |
So despite the fact that VIX contango/backwardation is not a great predictor of 1-month XIV growth marginally, it's actually a very useful predictor when you control for SPY and VIX growth during the holding period.
Towards a Strategy
With a pretty good regression model to work with (i.e. high R2), we can plug in values for SPY growth, VIX growth, and current VIX contango/backwardation, and estimate expected XIV growth.
I have no idea where SPY and VIX are heading so let's see what happens if they end flat after 21 days. This is somewhat conservative because SPY gains over the course of a month more often than not, and SPY growth translates to greater expected XIV growth.
When net SPY and VIX change are both 0, the regression model reduces to E = -4.586 + 1.297 * CONTANGO. According to vixcentral.com, the current VIX contango is -8.06% (so really backwardation). That means our expected XIV growth over the next 21 days is -15.0%. We can also calculate a 95% prediction interval, which turns out to be (-29.5%, -0.6%). This suggests now is not a good time to buy XIV.
If we stick with a prediction of net 0 SPY and VIX change, we can see how the expected XIV gain varies with VIX contango/backwardation. Here's the relationship: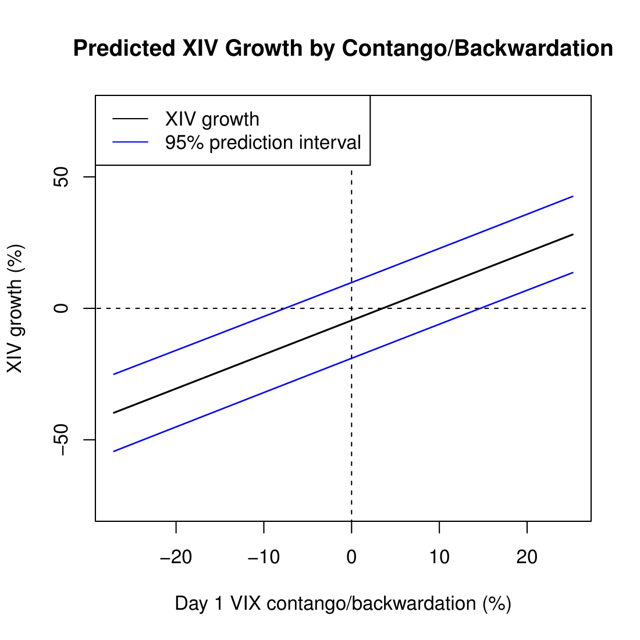 One approach you could take is buying XIV whenever contango is such that the prediction interval for 1-month XIV growth is completely above 0. This corresponds to initial VIX contango of 14.7% or greater.
Contango this high is relatively rare. Since XIV's inception, there have only been 22 trading days in which VIX contango was at least 14.7%. And it hasn't happened since August of 2012.
A Bit More Liberal
The market gains over the course of a month more often than not, so let's plug in a positive value for SPY's monthly growth. Let's try 10% annual growth, which corresponds to 0.801% monthly growth. The 95% prediction interval eclipses 0 for VIX contango of 14.1% and above. VIX contango greater than 14.1% has occurred on 25 trading days (1.9%) since XIV's inception, the most recent being March 15, 2013.
Let's get even more liberal and use an 80% prediction interval. For SPY and VIX change of 0, the lower limit for VIX contango is 10.8% (9.8% of trading days since XIV inception). For SPY gain of 0.801%, the lower limit is 10.3% (13.1% of trading days since XIV inception).
Conclusions and Future Work
The main finding of this analysis is that market movement is the main driver of 1-month XIV performance, but initial VIX contango does have a reasonable amount of predictive power, which is promising.
I think the regression fit summarized in Table 1 can be useful in deciding when (and whether) to invest in XIV. I have traded XIV in the past without considering VIX contango at the time of purchase. I'll probably wait for high contango before buying it again.
In future work I plan to experiment with trading strategies involving XIV. Obvious questions are when to buy, when to sell, and what other fund(s) to include in the strategy. My initial thinking is a 100% SPY portfolio, with some percentage available to exchange for XIV (or VXX) when VIX contango/backwardation presents a good opportunity. The better the volatility trades perform, the better the portfolio's raw and risk-adjusted returns.
There are many additional factors to explore in future work. For example:
For what holding period does baseline VIX contango have the most predictive power?
Is baseline VIX contango more or less predictive for ZIV than for XIV?
How robust is the regression fit for XIV growth based on baseline VIX contango/backwardation and SPY and VIX movement? Is the relationship consistent over time and similar during bull and bear markets?
How can we use the regression fit to maximize risk-adjusted returns for a contango-based trading strategy?
Disclosure: I/we have no positions in any stocks mentioned, and no plans to initiate any positions within the next 72 hours.
Additional disclosure: Any opinion, findings, and conclusions or recommendations expressed in this material are those of the author and do not necessarily reflect the views of the National Science Foundation.