Overview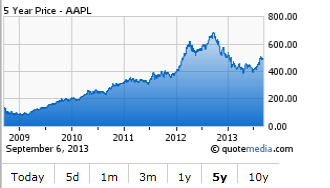 Apple (NASDAQ:AAPL) is growing into a mature company and, as such, investor expectations have to be realigned. This fruit will no longer provide the gains it did as it propelled upward in recent years, although it still can be a valuable growth story moving forward. Investors have to keep in mind that the company will likely not shock the market as it has done in the past with its products due to competitor market dilution. Yet, the Apple ecosystem, iPhone 5C and new premium models can most definitely provide a basis for continued growth.
September 10th: iPhone
Apple is set to have their much-publicized September 10th event focus primarily on the iPhone. Rumors have been floating around that the company will offer a new iPhone 5C and an iPhone 5S. The former is meant as a low cost option and the latter is meant as the premium advancement of the current iPhone 5.
No Lack of Competition
The release of the two new iPhone versions represent more than just product development for the company, it represents a new stage in Apple's life. The competitive nature in the mobile device market has become extreme, with many devices matching or exceeding the specifications that the iPhone offers. For example, the new Samsung (OTC:SSNLF) Galaxy S4 offers features unheard of on an iPhone such as 4G LTE-Advanced (Korean model), gesture movement and Qualcomm's (NASDAQ:QCOM) Snapdragon 600 or 800 processor to name a few. The market for mobile phones has undoubtedly caught up with the iPhone on a hardware level.
Powerful Ecosystem and Brand Loyalty
Outside of strict hardware competition there is an area that no competitor has matched Apple on - its ecosystem. No company has neared Apple's supreme ecosystem that surrounds an Apple ID granting the user access to Apple's superior set of proprietary applications. Applications such as iMessage, FaceTime, iCloud, iTunes and soon, iRadio. Furthermore, Apple has a very strong user base that loves their iProducts. In comparison, look how long Windows has had a helm over the personal user and business user's computer choice. Brand loyalty is strong. In a market of diminishing returns and like hardware, a growing and advanced ecosystem will undoubtedly help Apple maintain their user base and market share. One such ecosystem advancement could be iOS 7, rumored to be offering a new wave of incredible user interface with a slick design.
Adding to Apple's ecosystem could be a new iWatch or a new iTV that works seamlessly with other Apple products, such as they do today. Samsung beat Apple to the punch on the smart watch with its recent release just a week before Apple's event, demonstrating how close the hardware competition really has become. If Apple does not release an iWatch, and they are not expected to, that could lead Samsung into a further lead. Quality is key if Apple releases an iWatch next year and it kills the Samsung version. Consumers will have their minds made up instantly on what they want to buy. The same applies to Apple's smart watch which does not hold up to Samsung's version, although unlikely.
Expectation Realignment
The step-for-step competition in the mobile device market should push investors to view the two-model iPhone release slightly different than they have been portrayed in the media.
· iPhone 5C: This product release would be the most important factor in Apple's September 10 announcement. It would provide a move with China Mobile (NYSE:CHL) into a market of more than 700 million possible users -- more than double the population of America. This would provide not only massive sales but a move to an industry section Apple has not ventured while increasing accessory sales, app store sales and the size of the Apple ecosystem. China Mobile has 65% of the Chinas market share, which is a very lucrative percent that Apple could ride with a lower cost iPhone.
· iPhone 5S: The iPhone 5S is a very different animal. This phone will be popular in the U.S. and for premium mobile device buyers. With competition in the market specifically from Samsung's Galaxy line up, it will certainly not ignite consumers' minds as iPhone releases have in the past. This is due to most of the rumored features already being offered by competitors. Strict competition from rivals offering similar devices will likely be closely matched by a competitor for a cheaper price in the future. The iPhone has over 40% of the U.S. smartphone market share. Holding that level with a iPhone 5S would be smart as the iPhone 5S could expand the company's devices to other demographic levels.
The iPhone 5C marks a very smart decision by Apple to feed growth and revenue into the company from a new and massive market section. Moreover, the iPhone 5S will really have to blow away the competition to be as successful as previous iPhones have been in the past. In the past the release of a new iPhone marked a new benchmark in mobile device hardware. If Apple is seen as playing "catch up" this time around it will certainly not bode well with consumers or investors.
Share Buybacks:
Carl Icahn's stake in Apple and his move for the company to increase the current company's buyback program has not grasped any real ground. Currently Apple is set to buyback $60 billion worth of its shares, a number Carl Icahn wants increased. Increased share buybacks could influence a higher stock price. Many are arguing for increased dividends as the point of a business is to make a profit and to distribute it to its shareholders. With $137 billion and growing on its balance sheet, investors want a piece of the profits of their company. Furthermore, investors are disappointed that, if not returned, the money is not properly invested. Investing the funds could offer profit margins close to or at the level Apple earns now on their device sales.
Having a cash hoard can grow with a move into the Chinese market since the funds will likely not be brought home. This is because the funds would face high taxes on repatriation. The profits from an iPhone 5C venture with China Mobile could be used to grow and maintain international operations.
Last Quarter's Earnings
On July 23, 2013 Apple released a quarterly profit of $7.47 a share on $35.3 billion in sales down from $9.32 a share one year ago. These earnings were made up partially in sales of 31.2 million iPhones and 14.6 million iPads. Apple earned $44.64 a share in 2012, a number that Apple's 2013 EPS will likely not crest. Although in 2014 Apple has a chance to surpass the $44.64 EPS mark with the roll out of new and innovative products such as:
· iPhone 5C deal with China Mobile targeting a market of over 700 million users.
China Unicom (NYSE:CHU) and Telecom (NYSE:CHA) will begin selling the iPhone 5S/5C shortly after it goes on sale in the U.S., a major change of pace from the delays accompanying past Chinese iPhone launches. - SA Market Currents
· iPhone 5S for Premium users coupled
· Ecosystem advancements as selling points such as iRadio and iOS 7
· A possible iWatch or iTV deployment
· OS X Mavericks Operating System (set to be released at the end of October)
Apple's 2012 sales figure was built partially on the sale of 125 million iPhones and 58.31 million iPads. Just ponder this: if Apple maintains their current sales in the premium market with the new iPhone 5S and the would be discounted iPhone 5 coupled with a 5% market share through China mobile (700m x 5% = 35 million device sales) over the year then $45 should be surpassed in 2014. The numbers coming out of China Mobile, keeping in mind sales at home will be key to watch in early 2014 as they should foresee whether Apple will make or break the $45 mark. My estimate is that they will break that mark in 2014 based on these factors, time will tell.
A Saturated Market:
Apple could add value to it's company by playing a close game with it's competitors, while straying from the race to the bottom. This such race would be offering minimal enhancements to it's devices ahead of competitors as they each chase each other for the newer product. It is my opinion that Apple is not in the race to the bottom with it's competitors and they are not likely to start now. If they were going to, they would have offered an iWatch or the rumored 6inch iPhone device weeks ago. Apple's simplistic yet innovative stance in the face of a global supply of competitors is the correct one.
Possible Headwinds:
· Apple could face problems complying with Chinese standards while doing business in the country. These could include complying with tax and labor laws set forth by the Chinese government. A deal with China Mobile will likely limit these problems as Apple would simply supply the devices for China Mobile to sell.
Conclusion:
Apple is developing into a mature company, faced with lockstep hardware competition. A new iPhone 5S can offer a new choice for the premium market while an iPhone 5S can expand sales to a whole new playing ground. Investors and consumers should not look for the company to offer a bright and shining light with its iPhone 5S release but the continuation of the company's ingenious hardware with a break into a new international playing field with the iPhone 5C.
Disclosure: I have no positions in any stocks mentioned, and no plans to initiate any positions within the next 72 hours. I wrote this article myself, and it expresses my own opinions. I am not receiving compensation for it (other than from Seeking Alpha). I have no business relationship with any company whose stock is mentioned in this article.
Additional disclosure: This article is meant solely to be informational. Always do your own research and contact a financial professional before executing any trades or investments.