This article was released early to SecretCaps members as an idea generation article. Don't miss our August conviction pick.
Opening:
Snap Interactive (STVI) is a tiny $15M micro cap company that offers an interesting investment opportunity. At the core of the company is its fully integrated social dating site, along with an application for all major mobile phone operating systems. The company's platform is also a powerful data analytics engine.
Looking at the layout of the company, insiders currently own 62.5%. Shares currently stand at $0.30, near the 52-week low of $0.25. In 2013 the company generated $12.6M in revenue and in Q1 of 2014 STVI had $3.3M in revenue. STVI's competitive advantages within its dating platform, coupled with its revenue traction and small size make it worth a look as a potential investment opportunity.
Historically, Snap's annual revenue crested $19M in both 2011 and 2012. Snap's annual revenue for 2013 dipped to $12.6M as this was a transition and investment year for the company. As management focused money and attention on it's technology platform they had to cut back on marketing spending. So far in 2014 they have returned to growth and have targeted breakeven for the third quarter of 2014.
AYI - Snap's Social Dating Experience:
At the core of STVI is the company's "Are You Interested" dating website, or AYI for short. The platform is fully integrated with Facebook (FB), allowing for a login and integration directly through Facebook. Outside of the webpage itself, AYI is offered as an application on iPhone, Android, mobile web and as a Facebook application. As such, AYI is easy to access, with the ability to stay connected across a wide variety of mediums.
In terms of monetization, the average subscription price is $12 per month per user. Subscriptions are split 50/50 with half being domestic users, and half being international users. Snap offers 1, 3, 6 and 12 month plans with the average user being 46 years old. As such the service is an affordable option aimed at an older demographic, while still being accessible on the most popular mediums available today.
Growth in mobile usage is fueling AYI's platform growth. Roughly 32% of users log in using AYI's mobile application and contribution to user activity from mobile doubled in the last year. As such AYI's platform is growing rapidly on mobile devices.
Subscriber Growth:
After meeting with the company's officers at the Marcum Microcap conference, Mr. Lerner and Mr. Harrington stated that they pulled back on marketing spending in 2013 to focus on improving the AYI platform. Interestingly, Snap's stock price has faded as the number of subscribers has grown. This disparity in the marketplace adds a stronger foundation for investors. Snap's stock has lagged its successful business growth, creating a gap that the market has not aware of.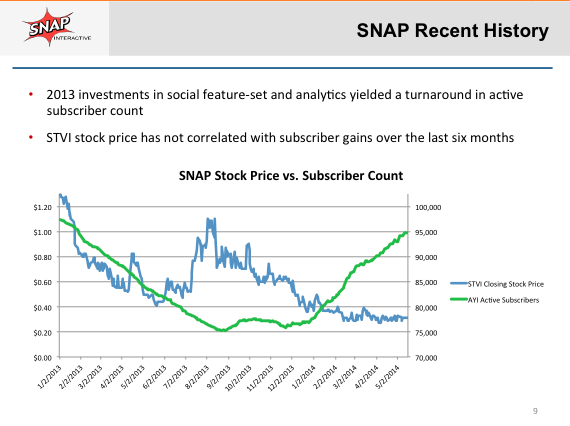 (Source)
After this rebuilding period in 2013 that focused on R&D, Snap's premium subscriber count has increased over 20% YTD in 2014. Thus, the improvements the company made to the platform have been successfully validated in the marketplace. This is demonstrated by the growth in subscribers following platform enhancements in 2013, amid a cutback in marketing spending.
AYI's Competitive Advantages:
Snap is positioning AYI not only as a dating site, but instead as a social dating experience. They are doing this by leveraging billions of social data points to create a better and more successful experience for their subscribers.
Finding a date on Facebook itself is nearly impossible as much of the exchange of communication is public and limited to your existing friend base. AYI's 25M+ connected Facebook users allow for the leverage of the data points within this user base to find dates for AYI subscribers through the AYI platform. For example, one data point that is advantageous to AYI's users is looking for matches that share a common friend with one of your existing friends. AYI's social dating experience can be compared to LinkedIn, in that common friends and interests is the key differentiator of STVI's revamped technology platform.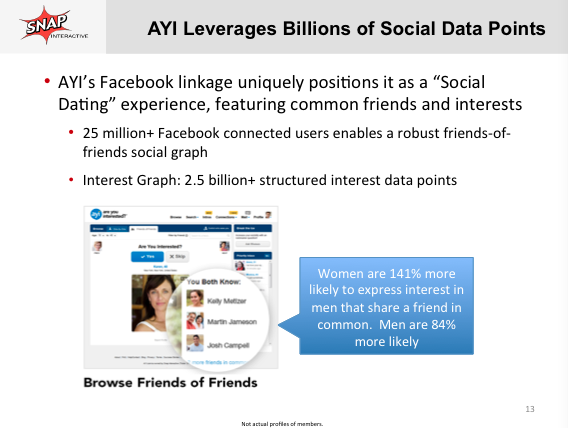 (Source)
Further, STVI's officers informed me that much of the platform's success is due to the continuous product optimization of the platform itself. They stated that in the 1Q of 2014, over 80 product tests per month took place with over 3MM permutations of AYI being measured simultaneously. Only about two-thirds of product enhancements are adopted only after being tested against the equilibrium platform first.
An example of the company's rigorous drive to continuously optimize it's AYI platform is shown below.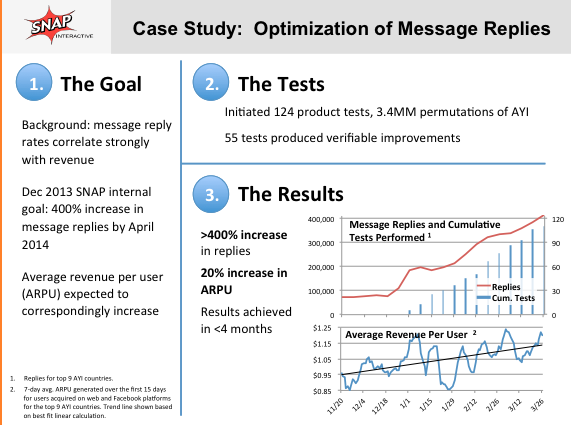 (Source)
After conducting 124 product tests encompassing 3.4MM permutations of AYI, 55 improvements were made to the platform. In turn, this resulted in a 400% increase in message replies, and a 20% increase in the average revenue per user, or ARPU. The significance being a higher revenue per user and a more optimized platform to drive subscriber growth for STVI.
A Look Into STVI's Financial Performance:
After STVI spent 2013 improving its platform, two quarters of sequential growth have been enjoyed. Further, 30% of new subscriptions are from repeat subscribers. This is a net positive as repeat subscribers equates to continued and reoccurring monthly revenue for the company. Also, this expands AYI's user base to provide more match opportunities for its members seeking dates.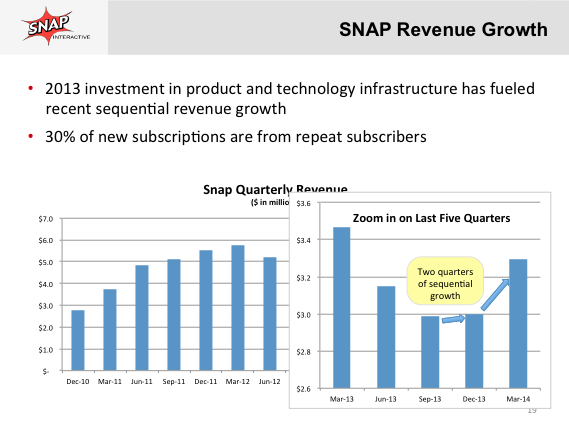 (Source)
AYI is deriving its growth through its platform offerings on mobile. Overall, contribution to user activity from mobile double in the last year. These are not blind downloads either, as AYI is consistently ranked as a top iPhone app and is the #1 top grossing app in the Lifestyle Category.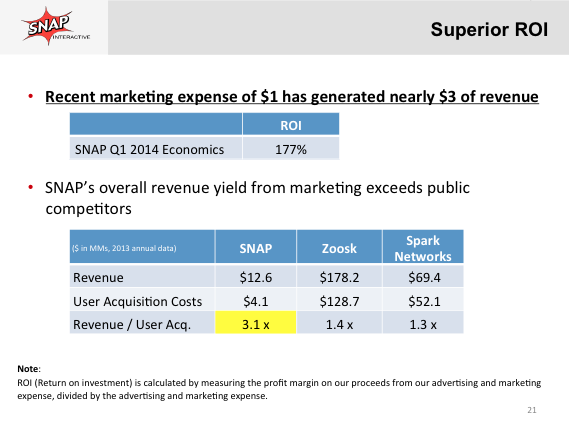 (Source)
Turning to Snap's return on investment in comparison to the company's peers, STVI's ROI in 2014 has been substantial. This demonstrates the company's investment efficiency and superior return over Snap's peers. In comparison to Zoosk, a larger dating site, STVI earned a return substantially higher on its marketing spend.
As such if Snap gains a worthy amount of capital to spend on marketing, they can earn a substantial return on the investment if this is to scale. After an interview with the company's executives, they stated that any influx of capital would be spent primarily on marketing.
"That said, a big driver of growth in our business is based on this spending, and with the effectiveness of our spend and to the extent capital becomes available, ramping up marketing remains a big opportunity for growth. " (Interview excerpt, see full interview at the end of this report).
With an impressive ROI maintained and a management team planning to spend any capital influxes on marketing, this presents a very compelling opportunity for Snap to see a potential growth opportunity. As for the influx of capital, Snap recently signed a business development deal with Match.com and Zoosk which both offer additional capital.
Supply In The Market:
STVI does business in a market that has a large array of competitors: such as Zoosk, IAX, IAC, Spark Networks (LOV), and MeetMe (MEET). Although the market is big enough for more than one company to exist, especially resilient ones. STVI remains competitive due to their drive for continuous product innovation that was detailed earlier.
Looking at the market, US-based online dating as a $1.3B market in in 2012 with the global market being estimated at $4B. This represents a huge potential market, one that STVI only needs to attract a fraction of to be successful.
Further, this market is not currently completely tapped. As of 2013, only 11% of American adults have used online or mobile dating. This leaves a large percentage of the adult domestic population open to add to the supply in the marketplace.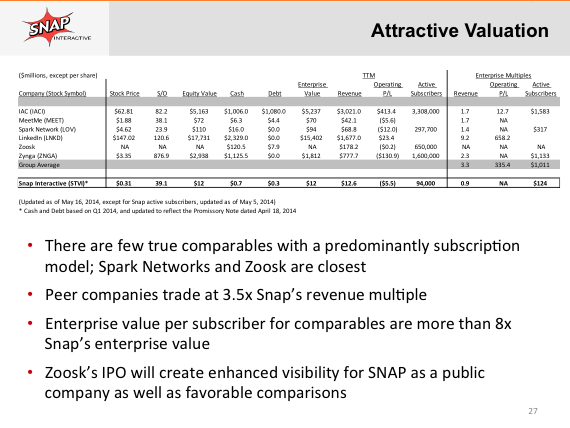 (Source)
While looking at STVI's peers on a financial basis, they trade at nearly 3.5x Snap's revenue multiple. Further, enterprise value per subscriber for comparables are more than eight times STVI's enterprise value. As such, STVI is not overvalued by any means in comparison to its closest subscription model peers. Thus, the company is generally undervalued in comparison to its peers, offering the potential for an undervalued investment opportunity.
Partnership With Zoosk:
Recently, Snap entered into a membership acquisition agreement with Zoosk that became effective on June 25, 2014. The term of the deal commences on August 15, 2014 and ends ninety days later. Within the deal, Snap has agreed to implement integration features on AYI.com's website and applications that advertise Zoosk. For this advertising, Zoosk will pay Snap for each person that registers with Zoosk through these integration features. Zoosk has agreed to pay Snap a $500k advance payment in two installments. If the company earns less than this amount, they must refund the remaining balance.
Snap's deal with Zoosk provides the company with capital that can be spent on marketing and demonstrates the robust nature of the AYI platform. If AYI was not a sticky and innovative platform, Zoosk would not have gone to AYI to advertise.
As an investor, I was concerned that Zoosk would steal away AYI's potential members, but Mr. Lerner and Mr. Harrington commented on this topic in our interview:
"We believe this will be accretive. Building our AYI subscriber base is our top priority, and we are very focused on building an advertising revenue stream that does not cannibalize our subscriber base. We test all integrations with partners to insure that they create value for both parties. Our experience has shown that interactive dating users often subscribe to more than one online dating site at once, so we have the opportunity to create win-win partnerships." (Source - interview at the end of this report)
All together, Snap is gaining valuable capital from the deal while creating a win-win partnership to grow their revenue and platform's exposure while not harming their subscriber base.
Financial Overview:
Snap interactive is currently trading close to its 52-week low. I believe this is the case as the company has had some lumpy improvements and decreases in its net income over the past eight quarters. These negative results could offer an attractive investment opportunity to buy shares at lower levels that would not be achievable without these events.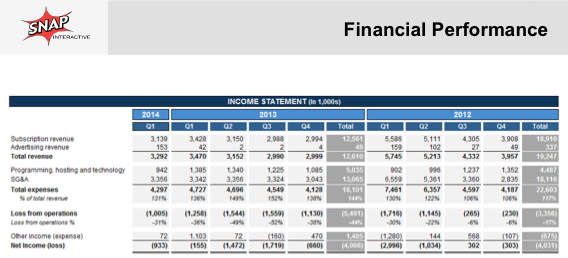 (Source)
Looking at the company's last four quarters, total expenses as a percent of revenue is on a downtrend. This is while total revenue is stabilizing. I believe Snap's financial performance is a lagging indicator and has the potential to improve as the company focuses more on its platform improvements which have seen impressive growth statistics.
Insiders currently own 62.5% of the company so their interests are aligned with shareholders - that being fueling growth to breakeven and beyond for an attractive shareholder return.
Forward Analysis:
When modeling STVI's projections, we found it to be more worthwhile and dynamic to link a growing subscriber number to actual subscription revenue. This would be in place of simply growing the top line by a set percentage each quarter. Moving forward, our model encompasses STVI adding a conservative 8k subscribers per quarter with the average subscription price increasing a moderate half of one percent per quarter.
On the advertising side, STVI will receive $300k from Match.com this quarter for its business development deal. The most recent Match renewal closed April 18, 2014 and has an effective term from May 16, 2014 through August 14, 2014. As such, the $300k from Match.com will be recognized in Q2 2014. In addition, STVI has a deal with Zoosk that extends from August 15, 2014 through November, and the company cannot offer guidance beyond this point. As such our model includes $300k additional advertising revenue from Match.com for Q2, and $500k from Zoosk split into $250K installments for both Q3 and Q4. Organically, we have grown the advertising revenue base 10% per quarter outside of these deals as they are a set additional amount.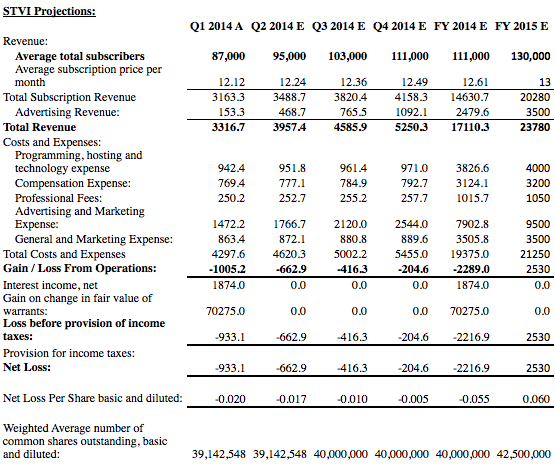 The partnerships with Match.com and Zoosk not only provide STVI with income, but with exposure to the company and its platform moving forward.
Snap's competitive advantages within its AYI platform and its financial efficiency as a company are leading to a potential for a breakeven in the third quarter of 2014. After cutting their headcount 27% from 48 in October 2013 to 35 in April 2014, Snap is diligently cutting costs. Further, the company cut its monthly marketing and advertising expense by 25% as well.
Within Snap's 10-Q, Cliff Lerner has 9.25M shares of restricted stock that we have only partially taken into account within our model. In our model, we have expanded 2016's share count by 2.5M shares as 2.5M of Mr. Lerner's shares vest on April 10, 2016. The remaining 2.5M shares vest on April 10, 2017 and 4.25M shares vest on December 16, 2021 so we have not taken the two later vesting periods into account as they are outside of our model's timeframe.
Looking forward, STVI will have to enhance revenue generation from its existing subscribers while attracting new subscribers as well. They have done the former quite well, as detailed by the 20% gain in their ARPU due to platform enhancements driven by their desire for continuous product innovation that has positioned AYI as competitively advantageous against its peers. Due to Snap's continuous and meticulous product optimization, we believe that the company will be able to increase its average subscription price per user by a conservative 1% per quarter.
Further, we view increasing the number of subscribers by 8k per quarter as conservative given that the company's recent performance results. Looking at these results, Snap had a 33% increase in new subscription transactions YTD through June 30, 2014 and an active subscriber count that increased 26% during the same period. Overall, active subscribers grew from 77,700 as of December 31, 2013 to 98,000 as of June 30, 2014. It is too early to extrapolate this projection to future years as the company's move out of R&D and back onto monetization is in its infancy.
With small one-percent increases in all costs and expenses categories and a 20% increase each quarter for advertising and marketing, Snap has the potential to break even in the third quarter and to reward shareholders further into the future. We believe our 20% growth estimate in advertising spending is a great fit as the company has a very impressive ROI and this percentage increase is more than enough to compensate for gaining an estimated 8k subscribers per quarter.
Overall, Snap has the ability to reach break-even in the 3Q of 2014. If the company is able to grow its average subscriber base by the same amount and reach an average subscriber number of 130,000 for 2016 then Snap has the potential to earn $0.06 per share. This total subscriber number for 2016 would be higher if we simply accounted for 8k more subscribers per quarter, but this more conservative approach is the estimated average number for the year.
Outside of raw subscriber growth fueling income and partnerships, Snap is testing paid add-on features to improve revenue generation from new subscribers. It is too early to model or make any assumptions on this data point, but it will be something to watch moving forward as a source of increasing their ARPU. Snap has been making notable improvements to its platform's diversification as well, as the percentage of users acquired through advertisements placed on sources other than Facebook increased from 43% in March 2014 to 72% in June of 2014. This means that Snap is less reliant on one subscriber acquisition medium and is more diversified.
A Look At STVI's Pilots:
Having met with both Mr. Lerner and Mr. Harrington at the Marcum Microcap Conference, I believe it is worth discussing these to individuals as the leaders of STVI. The management team of any microcap is the single most important aspect of the company.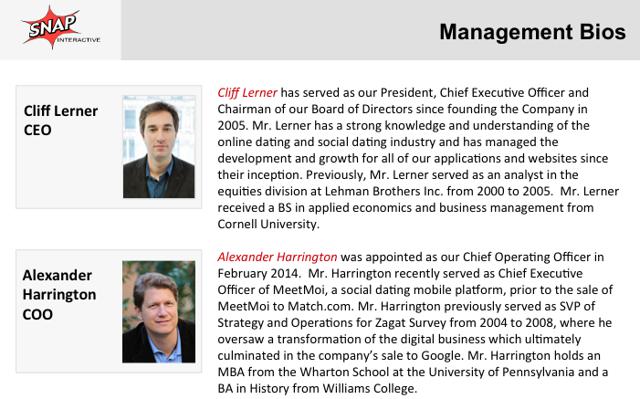 (Source)
Cliff Lerner, CEO of STVI, has an extensive knowledge and understanding of the online dating and social dating industry. He manages the development and growth for all of STVI's applications and websites as well.
Alexander Harrington, COO of STVI, served as the CEO of MeetMoi recently in the past before leaving. MeetMoi was a social dating platform that was sold to Match.com. Mr. Harrington also served as SVP of strategy and operations for Zagat survey from 2004 to 2008 where he oversaw the transformation of the digital business before it was sold to Google.
After meeting with both individuals I was satisfied with Mr. Lerner's extensive knowledge of the online dating industry and his drive to continuously improve all aspects of AYI. Moving to Mr. Harrington, his knowledge of the finances of the company coupled with what is being done to drive growth to breakeven and into profitability intrigued me.
Risks:
STVI is an small microcap company that has inherent risks as a micro sized company. These risks include its small market capitalization, illiquidity and the risk to dilute shareholders if the company cannot obtain future capital.
Focusing in on the risks, I believe the main risk to STVI is whether or not subscriber growth will bring the company to breakeven and future growth. Anything that thwarts this such as a lack or marketing spending or competitive pressure could de-rail Snap's efforts to grow. To combat this risk, I do believe that the AYI platform is very competitive due to the continuous product optimization which the platform undergoes. This optimization can be viewed as subscribers increased as marketing spending was cut. Further, the company's impressive ROI can be taken advantage of with capital provided by Match.com and Zoosk moving forward.
Another key risk to Snap, and micro-caps in general, is diluting shareholders moving. This is a risk if a company is unable to obtain working capital, or is not established enough to negotiate credit facilities. Any future raises that are dilutive are a risk if Snap cannot generate meaningful income to fund its operations though. Due to the risks involved, I would recommend a stop loss 10% to 15% below the purchase price.
Conclusion:
Snap Interactive is a micro cap company that is definitely worth a look, or a date. STVI's strong subscriber growth even during a time of platform changes and optimization speaks to the platform's competitive advantages in the marketplace. Now that all of the main product changes done in 2013 are in effect, STVI can focus on growing is subscriber base instead of enhancing its product.
With a fully optimized platform, and impressive ROI and numerous deals to provide capital for marketing funding, Snap has a compelling road ahead. Due to STVI's platform's success in the market, the huge target market it is attracting, costs being cut, continuous platform improvements and its undervalued nature to its peers - STVI is a micro cap company that is worth a closer look.
This article was released to SecretCaps subscribers early on July 10, 2014.
An Interview With The Cliff Lerner (CEO) and Alex Harrington (CFO) of Snap Interactive
Tom: Mr. Lerner and Mr. Harrington thank you for taking the time to inform and provide valuable insight on Snap Interactive for readers and investors.
Cliff / Alex : Thank you Tom, we are happy to be here.
Tom: There are many online dating sites available today such as Zoosk, Tinder and the bigger players such as Match.com. What sets Snap apart from your competitors?
Cliff / Alex :
Interactive dating is a large, diverse ecosystem, and competitors distinguish themselves in a number of ways. General purpose dating sites vary on dimensions such as free vs. premium, the degree of commitment of relationships users are seeking, and the demographics of their target audience. Unlike Tinder, Snap is a premium service, meaning our customers pay to communicate, which ensures our users have a high level of intent to communicate with other users using our service. Relative to Zoosk, our user base skews a bit older, as the average age of our subscriber is late forties.
However, what really sets us apart is how we operate our business. We are exceptionally data driven, which means we constantly improve our application by testing new features to make the most compelling impact for users and the business. As a result, our application is very engaging to users, and we believe the revenue yield from our advertising and marketing expense is significantly higher than comparable public companies in our industry.
Tom: I see that the company held back on advertising and marketing spending during the past year as resources were shifted to R&D, but you do have impressive marketing metrics. Are you planning to spend more on marketing this year? Will this be more successful with your more advanced platform in place?
Cliff / Alex :
In 2013, we spent ~$4.1MM on marketing, yielding ~$12.6MM of revenue, which generally approximates a 3x revenue yield ratio -- $3 revenue dollars for every $1 of marketing. Public company competitors like Zoosk and Spark Networks are in the 1.3-1.4x range for marketing yield. We get these superior returns by measuring every dollar we spend for minimum ROI thresholds and pursuing constant experimentation with our application to optimize paid conversion. Our advertising and marketing budget has increased slightly from 2013, but we've found that we've been able to grow the subscriber base for seven consecutive months (Dec. 2013 through June 2014) without major changes in advertising and marketing spending. That said, a big driver of growth in our business is based on this spending, and with the effectiveness of our spend and to the extent capital becomes available, ramping up marketing remains a big opportunity for growth.
Tom: Is Snap leveraging billions of data points simply to improve the platform? Or are these billions of data points used to better match users and provide an advanced dating experience?
Cliff / Alex :
Both. As described above, we use data intensively to optimize the economics of the business. But we also use data to enhance the user experience. In the physical world, people meet primarily through friends in common, and we believe we were the first to bring mutual friends to an online dating site. Our testing has proven that the mutual friends feature creates a more engaging environment for users as women are 141% more likely to express interest in men that share a friend in common. Also, our scale of interest data, with several billions of structured data points, enables us to introduce users with common interests as well. Collectively, we've found these uses of data have created a compelling experience for users.
Tom: The recent deal with Zoosk, where Snap will provide marketing for Zoosk through Snap's AYI platform, is meant to also provide Snap with additional capital. Do you think this will lead users away from AYI, or do you view the deal as accretive in terms of money and users gained?
Cliff / Alex :
We believe this will be accretive. Building our AYI subscriber base is our top priority, and we are very focused on building an advertising revenue stream that does not cannibalize our subscriber base. We test all integrations with partners to insure that they create value for both parties. Our experience has shown that interactive dating users often subscribe to more than one online dating site at once, so we have the opportunity to create win-win partnerships.
Tom: Snap's AYI platform undergoes rigorous application optimizations to improve the platform. How are you marketing this increased user experience to consumers? Is the only way they can notice the advantage through using the platform itself?
Cliff / Alex :
We haven't highlighted the recent application enhancements in our advertising and marketing efforts. Users can experience them in their engagement with the application.
Tom: I see Snap has enjoyed revenue growth over the past two quarters due to the R&D changes (and spending) for platform enhancements. Do you view this growth continuing into the future?
Cliff / Alex :
We see plenty of opportunity for revenue growth. If we obtain additional capital, one prominent opportunity is through increasing our advertising and marketing budget. We believe we can scale significantly higher without sacrificing high ROIs, but capital for marketing is currently limited.
Apart from deploying more capital to advertising and marketing expense, the company is executing on a few initiatives with the goal of driving revenue growth from the current user base. These initiatives include:
1. Increasing a subscriber's lifetime value by introducing premium add-on features;
2. Subscription pricing optimization; and
3. Advertising revenue through November 2014 from the deal with Zoosk.
Tom: How can investors model Snap's revenue moving forward?
Cliff / Alex :
Although it excludes certain variables such as subscription prices, when modeling revenue for a subscription business like ours, investors should at least consider two items. Some portion of our revenue is easily predictable, since we recognize multi-month subscription revenues over the duration of the period. Also, our current subscriber base has an opportunity to recur, and any forecast model should take into account that likelihood.
Tom: Snap has very impressive marketing metrics, producing $3 of revenue out of $1 in advertising and marketing expense. Is Snap planning a more rigorous marketing program in the future to take advantage of the high marketing efficiency that the company has enjoyed?
Cliff / Alex :
The scale of our advertising and marketing expense is dependent on the available capital of the company. If we obtain additional capital, the use of proceeds will be primarily for marketing.
Tom: The U.S. based market for online dating was a $1.3B market in 2012 and is a $4B market globally. Do you view the market as being dominated by a few key players in the future, or how can Snap compete with these larger players moving forward?
Cliff / Alex :
The industry is a large, diverse ecosystem that has room for several large and small players and niche dating sites as well. It's very tough to build a large enough user base to create a compelling dating pool, but we have accomplished that in several geographies. We believe our approach to marketing, rapid product development, and constant innovation will put us in a position to compete with the larger players moving forward.
Tom: Snap's valuation in the face of its peers is very attractive. Investors look at the company's Y/Y net loss and Q/Q revenue and view this as a deterrent though. How can investors quantify these data points? Is this linked to the large spending on R&D over the past year?
Cliff / Alex:
With respect to revenue, I'd point out the sequential revenue growth as a result of monthly gains in subscribers and subscription transactions. Due to the timeline of GAAP revenue recognition requirements and the opportunity for subscription transactions to automatically recur, we view these metrics as helpful leading indicators of revenue. The company's active subscriber count increased approximately 26% YTD through June 30, 2014 from approximately 77,700 as of December 31, 2013 to approximately 98,000 as of June 30, 2014. New subscription transactions increased approximately 33% YTD through June 30, 2014 as compared to the same period in 2013.
With respect to the overall P&L, we've made meaningful cost reductions starting in March 2014. We're anticipating the company to achieve break even cash flow from operating activities in the third quarter of 2014.
Tom: What is the biggest risk facing Snap and how has it been overcome or what are you doing to combat this risk?
Cliff / Alex:
There are always several risks in the interactive space but the one that comes up most often having your fate tied to any single third party platform. Whether it's iOS, Facebook or Google, we've seen many companies get burned through too much dependence on another company. Although historically the majority of our revenue has originated from users acquired on Facebook, we acquired 62% of new users from platforms other than Facebook in June 2014. SNAP is committed to being platform independent, with strong offerings on all major platforms.
Tom: Should investors expect 10%, 20%, 30% or more subscriber growth moving forward?
Cliff / Alex:
We can't give any future guidance, but year-to-date subscriber growth through June 30, 2014 has been 26%.
Tom: The most exciting change I see is the major platform changes in 2013 and how R&D spending has slowed down due to its completion. Can you introduce us to these changes, or are they ultra specific such as demonstrated by your application optimization process?
Cliff / Alex:
The infrastructure that supports the data-driven application development process was made possible by the investment in a new data center, and in new technology in 2013. All the good things that happened since, such as the increased ability to convert free users to paying subscribers and the improvement in our marketing efficiency all stem directly or indirectly from the these technology investments.
Tom: Do you think Zoosk will steal the show with its pending IPO, or will this increase visibility to Snap?
Cliff / Alex:
We're very excited about the Zoosk IPO. There really are very few pure play publicly traded dating sites and virtually none that are truly comparable to us. Zoosk's business model and origins are quite similar to Snap as we both began as large Facebook dating applications. We anticipate that their enterprise valuation on a per subscriber basis will be much higher than ours, which should make us look compelling to investors. Also, Match.com has historically been the only deep pocketed acquirer in the space, and that should change with the Zoosk IPO.
Tom: How should we model interest income and the gain in the fair value of warrants moving forward?
Cliff / Alex:
Interest income is a function of our cash balance. Warrant valuation depends on future stock prices so we can't predict it -- note, it's a non-cash expense.
Tom: Your MER dipped from over 3x to 2.14x last quarter, how fast can we see an improvement in this ratio?
Cliff / Alex:
By MER, I presume you mean the ratio of revenues divided by marketing and advertising expense from the same period. Fluctuations from month-to-month can skew this metric and revenue associated with advertising and marketing expense can take two years or more to realize. We recommend looking at this over a longer time period, such as a full year.
Tom: I modeled revenue and subscribers growing 10% per Q and marketing growing 20% per Q, is this an accurate estimate?
Cliff / Alex:
Revenue is responsive to advertising and marketing expense, but I can't give you specific direction on the future levels.
Tom: I have accounted for $500K from Zoosk for the next Q and $500K for the Q after, is this an accurate estimation.
Cliff / Alex:
The Zoosk partnership begins 8/15/14 and continues for 90 days. It is accurate that the advance is $500,000. We cannot provide any details regarding revenue that will be recognized from the agreement or whether the agreement will be renewed.
Tom: How should investors model your current shares outstanding? Do you see any large raises of equity in the future or a stable number of diluted shares moving forward?
Cliff / Alex:
We cannot provide any guidance regarding potential equity issuances.
Forward-Looking Statements
This document contains "forward-looking statements" made under the "safe harbor" provisions of the Private Securities Litigation Reform Act of 1995 that are based on current expectations, estimates, forecasts and assumptions and are subject to risks and uncertainties. Words such as "anticipate," "assume," "believe," "estimate," "expect," "goal," "intend," "plan," "project," "seek," "target," and variations of such words and similar expressions are intended to identify forward-looking statements. Such forward-looking statements are subject to certain risks, uncertainties and assumptions that may cause actual results to differ materially from those expressed by the forward-looking statements, including, but not limited to, the following: general economic, industry and market sector conditions; our future growth and the ability to obtain additional financing to implement our growth strategy; the ability to achieve break-even cash flow; the ability to increase advertising and marketing expense or revenue, decrease expenses and increase the number of active subscribers or new subscription transactions; changes in subscription prices; the ability to anticipate and respond to changing user and industry trends and preferences; the intense competition in the social dating marketplace; and circumstances that could disrupt the functioning of our application and website. In evaluating these statements, you should carefully consider these risks and uncertainties and those described under the headings "Management's Discussion and Analysis of Financial Condition and Results of Operations" and "Risk Factors" in our most recent Annual Report on Form 10-K, Quarterly Reports on Form 10-Q and other Securities and Exchange Commission filings.
All forward-looking statements speak only as of the date on which they are made. We undertake no obligation to update any forward-looking statement or statements to reflect events or circumstances after the date on which such statement was made, except to the extent required by applicable securities laws.
Disclosure: The author has no positions in any stocks mentioned, and no plans to initiate any positions within the next 72 hours. The author wrote this article themselves, and it expresses their own opinions. The author is not receiving compensation for it. The author has no business relationship with any company whose stock is mentioned in this article.
Additional disclosure: Disclosure: I have no position in STVI. This article is an idea generation report sent out to members of SecretCaps.com on July 10, 2014. This is not one of our conviction pick level ideas, but can offer insight on micro-cap companies and interesting investment opportunities.This article is informational and in my own personal opinion. Always do your own research and contact a financial professional before executing any trades. See disclosure on SecretCaps.com