Goldman Sacks price has been on the declines in the last 2 weeks and in gemeral has been on the decline since June 2015.
Using Fibonacci analysis on the time axis on weekly chart , I found 9 cycles coming together for potential bottom in the week of June 20-27. Let's follow it in the coming days to see it it generates a bottom.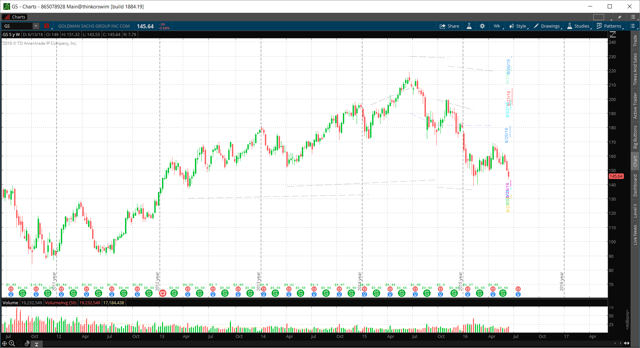 Fibonacci timing doesn't always work, however when it does, it can be very powerful. When it works, it can generate either long or short term bottom or top.
Fibonacci timing shouldn't be the only reason to go long or short an istrument. It should be used as additional tool in your arsanal of tools, technical or fundamental, to support your thesis.
Disclosure: I/we have no positions in any stocks mentioned, and no plans to initiate any positions within the next 72 hours.