Regeneron Pharmaceuticals(REGN) price has been declining since August last year.
Using Fibonacci Queen methods on the time axis on weekly charts, I found multiple cycles for potential bottom in this or the following week (6/19- 7/2).
The same method on the price axis, shows support at the $334-$335 level.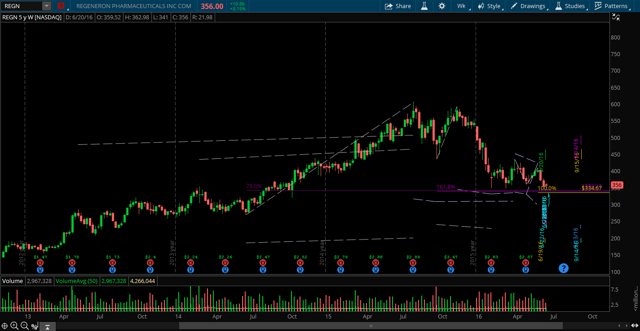 Fibonacci timing doesn't always work, however when it does, it can be very powerful.
Timing can generate either short or long term bottom/top.
Fibonacci timing shouldn't be the only tool used to go long/short an instrument, or exit a position. It should be used as an additional tool in your Arsenal, technical or fundamental, to support your thesis.
Disclosure: I/we have no positions in any stocks mentioned, and no plans to initiate any positions within the next 72 hours.