New Jersey-based CytoSorbents Corporation (NASDAQ:CTSO) is a blood purification medical device company focused on controlling excessive, potentially deadly inflammation in the ICU. The company's flagship product CytoSorb, which is developed based on the company's patented biocompatible polymer beads technology, can be used for a diverse range of inflammatory conditions, including critical illnesses, cancer and cancer cachexia among many others. The unique technology has the ability to extract harmful substances directly from the blood stream. I believe that CTSO's current price doesn't adequately capture the market potential of CytoSorb.
CTSO, which is currently trading at $0.24 with a market cap of ~$72 million, has huge upside potential. However, it's a micro-cap stock, and investors should note that there are risks inherent in micro-cap investing.
Future Potential of CytoSorb
CytoSorb is commercialized in the EU and received CE Mark approval in March of 2011, which helped the company sell the device into critical-care facilities across the EU as well as the majority of other international regions that accept European medical device approval, excluding the U.S. and Japan. Cytosorbents's unique technology facilitates physicians and healthcare professionals to extract toxic substances directly from the blood stream through a consumable plug-and-play blood purification cartridge.
CytoSorb is used in clinical situations where cytokines, kind of proteins secreted by immune cells, are elevated. This can not only lead to deadly inflammation, but also multiple organ failure, immune dysfunction, and often death in common illnesses such as sepsis, trauma, burn injury, pancreatitis, and acute respiratory distress syndrome. Cytokines act as chemical messengers to coordinate appropriate immune responses. CytoSorb is the only device approved in the EU specifically as a cytokine filter.
Immunotherapy is a multi-billion dollar market, which is Cytosorbents's opportunity. Although most areas of immunotherapy are saturated, such as vaccines or cancer immunotherapy, critical-care immunotherapy (the market that CytoSorb addresses) is a nascent market. To fight inflammation in the ICU critical-care physicians predominantly depend on steroids, which can be life-threatening despite having beneficial effects in the short-term. CytoSorb can fill this void and eventually become a dominant therapy in the ICU.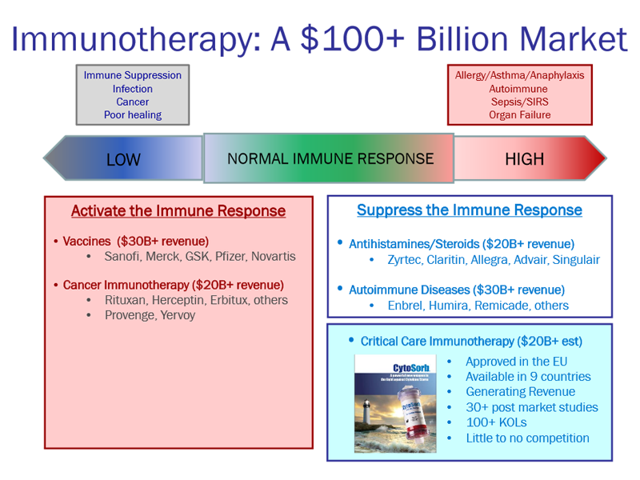 Source: Company Presentation
CytoSorb to Replace Current Standard Techniques
In case of a systemic inflammatory response syndrome ("SIRS"), a cytokine storm (also known as cytokine cascade and hypercytokinemia) occurs that could be life-threatening and lowering the cytokine level is considered beneficial. CytoSorb is a hemoperfusion device with a built-in extracorporeal cytokine filter made of biocompatible highly porous polymer beads. The beads contain millions of pores and channels that can remove certain pro-inflammatory and anti-inflammatory cytokines (e.g., TNF-α, IL-1b, IL-10) along with some physiologic fluids from the blood without reducing immune function. The device works with most of the equipments used in standard hospital renal replacement therapy. A recent study has examined the efficacy of extracorporeal blood purification ("EBP") techniques over standard techniques for the purpose of cytokine reduction. The study concluded:
Human clinical trials indicate that high cut-off hemofiltration techniques, and perhaps plasma filtration and extracorporeal liver support techniques are likely more efficient in removing cytokines than standard techniques.
According to a clinical review, sepsis is the primary cause of death in the ICU. In general, more than 35% of patients that are admitted in hospitals either already have sepsis or develop it during their ICU stay. Hospital mortality rates are 27% and reaching 54% in the case of septic shock. CytoSorb has the ability to significant reduce the mortality rate in septic patients. CytoSorb's revenue generating opportunity from sepsis alone is huge. Moreover, other conditions where the device is effective, such as trauma, burn injury, pancreatitis etc. as stated above, could make this opportunity even larger. The review suggests that recent technological progresses will soon replace the current steroid-based standard of care.
What about FDA Approval?
Until Cytosorbents obtains FDA approval for CytoSorb, expectations of the physician community will remain unfulfilled, primarily because the role of EBP techniques including hemofiltration and hemoperfusion in the management of sepsis and related conditions remains controversial. It is believed that although the use of EBP in SIRS/Sepsis has a biological rationale, suppression or elimination of cytokines could have serious negative consequences on immune surveillance and therefore the use of EBP should be investigated with appropriately designed and statistically powered randomized controlled trials (Grade D).
However, since Cytosorbents received CE Mark for CytoSorb, I believe that the company will eventually win the FDA approval also. A year ago, FDA has granted the company an approval to begin a U.S.-based human pilot study using CytoSorb under IDE (Investigational Device Exemption). The study has been initiated to examine the safety and efficacy of the device in trauma patients with rhabdomyolysis. If the study becomes successful (the probability is high with CE Mark already in hand), the trauma and rhabdomyolysis application could lead to CytoSorb's approval in the U.S. The company has garnered more than $15 million in support from the U.S. Government and started to collaborate with groups such as Battelle Laboratories, Harvard's Wyss Institute, NxStage Medical (NASDAQ:NXTM), and Massachusetts Institute of Technology.
Competitive Landscape
Currently, the standard of care for hypercytokinemia is primarily steroids, such as mometasone furoate, hydrocortisone, betamethasone, dexamethasone, beclomethasone etc. Aside from steroids, vaccines are also used to activate the immune response by mimicking infections.
Eli Lilly's (NYSE:LLY) Xigris (drotrecogin alfa [activated]) was one of the few drugs to fight sepsis with regulatory approval. However, the drug was withdrawn by the company following results of the PROWESS-SHOCK study which showed the study did not meet the primary endpoint of a statistically significant reduction in 28-day all-cause mortality in patients with septic shock.
With almost no effective treatment options existing today, CytoSorbents has an enormous opportunity to build critical mass before other products come to market. However, investors should note that with a substantial patent portfolio, the company has made it difficult for other companies to enter the market very easily, which essentially implies that the barriers to entry are significant. Dr. Phillip Chan, CEO of CytoSorbents said:
These awarded patents add to an already substantial patent portfolio that broadly covers the use of our biocompatible porous polymer beads to treat a variety of conditions and diseases. We continue to invest significantly in research and development, expanding the potential applications of our purification technology, and increasing our pipeline of licensable products. Our long-term goal is to maximize the value of our technology and create lasting shareholder value.
Estimating CytoSorb's Total Addressable Market
Since the use of EBP in SIRS/Sepsis is limited because it is controversial as mentioned above, indirect methods to either suppress or activate the immune response are the only treatment options physicians are left with.
When physicians try to suppress the immune response employing the treatment of autoimmune diseases, Amgen's (NASDAQ:AMGN) Enbrel, AbbVie's (NYSE:ABBV) Humira, and Johnson & Johnson's (NYSE:JNJ) Remicade are the three widely used products that together generate $26 billion in worldwide revenue every year, which represents a $30+ billion market overall.
In the absence of a specific treatment, top biotech companies including Sanofi (NYSE:SNY), Merck (NYSE:MRK), GlaxoSmithKline (NYSE:GSK), Pfizer (NYSE:PFE) and Novartis (NYSE:NVS) have developed vaccines in order to activate the immune system so that it can fight SIRS. The five top companies just mentioned together have $26 billion in vaccine revenue alone, which again is a $30+ billion revenue market overall.
So on an average CytoSorb's TAM could be as high as $30 billion.
Valuation and Price Target
CTSO's Q1 2014 overall revenue was ~$1.1M, compared to Q1 2013 revenue of $371,000. Its Q1 2014 product sales from CytoSorb were $569,243, an increase of 223% over Q1 2013 product sales of $176,098. The company's Q1 2014 product gross margin was in excess of 60%.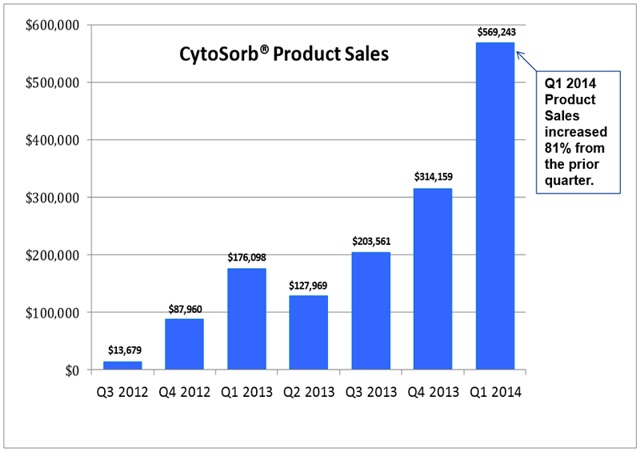 Source: Company Presentation
If the company can generate revenue that is just 1% (yes, just 1%) of its estimated TAM, its yearly revenue will be $300 million, which represents 100x revenue compared to today's $3 million. The company has $11.2 million of cash and $1.7 million of debt on its balance sheet as of Q1 2014. Assuming that the company will eventually obtain FDA approval for CytoSorb, I expect that its global revenue (including the U.S. and Japan) from the product will reach $300 million.
Yearly $300 million revenue could make CSTO a $1 billion company with an EV/Revenue of 3.5x (average multiple at which larger medical device companies trade), which translates into share price of $3.50 (assuming no share dilution). Although that's the long-term story, the possibility cannot be ruled out. CytoSorb is reimbursed in Germany/Austria at more than $500/cartridge. Depending on the application and devices used, revenue potential per patient is ~$1000-5000, or $3000 on an average. For yearly sales of $300 million, the company needs 100,000 yearly users, which is absolutely possible given the prevalence of cytokine storm among patients.
For the medium-term I expect that being an early stage medical device company, CTSO's CytoSorb sales will maintain the existing growth rate of around 200% in the next two years. Currently CytoSorbents is generating most of its CytoSorb sales from direct sales initiatives in Germany and Austria and continuing German sales provide early indication for long-term adoption of the device.
In FY14 I expect overall top line to be around $6 million, led by improved CytoSorb sales across Germany and Austria as well as additional sales realized due to increased distributor network. In FY15 I expect revenues to reach close to $12 million as a result of CTSO's direct sales initiatives with its sales force penetrating new hospitals and other care units within existing hospitals. Increased distributor sales across Europe, Asia and the Middle East will also help the company boost overall top line.
Assuming FY15 revenue of $12 million, CTSO's FY15 enterprise value will be $240 million based on the current EV/Revenue of 20x, which translates into a share price of $0.83, almost in line with sell side estimates. The price target is achievable over the medium-term in the absence of any short interest.
Upside Catalysts
1. CytoSorb sales could be boosted if it is used in the treatment of patients infected with the deadly MERS (Middle East Respiratory Syndrome) coronavirus. As of May 2014, MERS cases have been reported in several countries, including Saudi Arabia, Malaysia, Jordan, Qatar, Egypt, the United Arab Emirates, Tunisia, Kuwait, Oman, Algeria, Bangladesh, the United Kingdom, and the United States, and the company has undertaken aggressive sales strategy via its direct sales team in Germany, as well as via its distributor networks in other parts of Europe, the Middle East, and Asia.
2. CytoSorb is now being actively marketed in 18 countries around the world and CTSO is planning to continue its international expansion via independent distributors and/or strategic partners into many of the remaining 22 countries of the EU where commercialization hasn't yet started, which would provide additional catalysts to boost CTSO's sales and stock price. In the first quarter of 2014, the company raised $9.5 million for doubling the size of its internal sales force and doubling its distributor and corporate partnerships this year (see the image below). I expect the move to result in tremendous top line growth in the coming quarters of the current and next fiscal.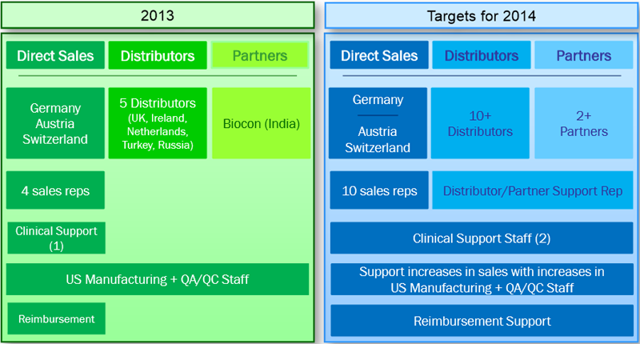 Source: Company Presentation
3. The company's goal is to up-list the stock to a national exchange later this year, which is expected to attract institutional investors to take position in CTSO. This will provide additional strength to the stock.
4. CytoSorbents has a robust product pipeline based on its unique blood purification technology, protected by 32 issued U.S. patents and multiple applications pending. Its upcoming product called HemoDefend has chance to obtain regulatory approval in the near-term, which is a blood purification system that eliminates contaminants from blood. The company has been recently awarded a $203,000 Phase I SBIR contract from the National Heart, Lung and Blood Institute ("NHLBI"), a division of the National Institutes of Health ("NIH"), to further develop its HemoDefend technology for blood transfusions. In addition to HemoDefend, other products in the company's pipeline include ContrastSorb, DrugSorb, and BetaSorb.
Bottom Line
In the last 52-weeks CTSO has traded in the range between $0.08 and $0.35. I believe that the stock can rise anytime driven by good news and therefore recommend buying the stock at the current price.
Disclosure: The author has no positions in any stocks mentioned, and no plans to initiate any positions within the next 72 hours. The author wrote this article themselves, and it expresses their own opinions. The author is not receiving compensation for it (other than from Seeking Alpha). The author has no business relationship with any company whose stock is mentioned in this article.