Since 2008 end, Indian government has injected close to US$130B  to stimulate the Indian economy. Indian GDP is little over US$1T and thus it represents around 10% of total GDP. Some of the key monitory tools used by RBI(Reserve Bank of India)
to stimulate revive Indian Business sentiments are as given below in Table1:- 



                    Table1: Key Indian Monetary Policy Rate(YoY%)(Source:RBI)

Indian Government supported the Indian monetary policy initiatives by increasing the spending in primarily rural and infrastructure space and offered tax break to key sectors including shipping,Manufacturing and Technology. To improve Indian infrastructure, Overall spending on infrastructure space will increase to 9% of GDP by FY14 from current 6% of GDP. Below picture shows how government spending has shot up abnormally in last one year.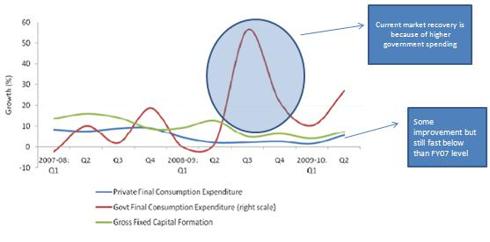 Picture 1: Consumption and Expenditure by government and Private Firms(Source:RBI)

Result: overall IIP(Industrial Production) shot up at a record pace since last two year, Total production in key sectors including mining; manufacturing grew at 11.3% in comparison to previous year. The below graph depicts overall movement across durable and non durable sector.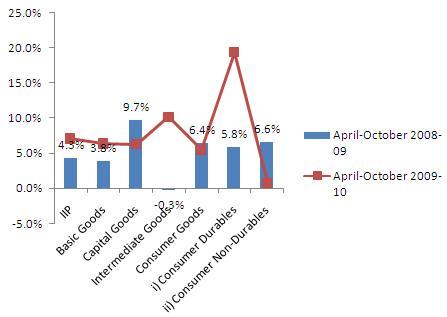 Picture2: IIP(2009)(Source:RBI)


So what we can expect in FY2010, we can expect following event(not necessarily in same order):-
Massive stimulus and higher fiscal deficit will lead to a higher inflation
Higher IIP and capacity expansion will force RBI to make key changes to its  monitory policies
We can expect higher interest rate and increased CRR by first quarter of 2010
Due to US weak business situation and higher demand for Indian currency will result in more stronger Rupees , it will affect export orient business specially IT service( Mindtree   posted over INR150CR in foreign exchange loss in latest annual earning result)
Because in the recovery cycle, Metal/Auto/Construction industry are primary mover, thus we can expect higher product prices and stock prices of key Indian firms operating in these sectors.

*All data are from RBI



Disclosure: None