Sorrento Therapeutics (NASDAQ:SRNE) is an oncology company developing new treatments for cancer and associated pain. Sorrento's most advanced asset Cynviloq is focused on the next-generation nanoparticle "paclitaxel," (trade name Abraxane) a drug marketed by Celgene Corporation to treat a number of types of cancer including; ovarian cancer, breast cancer, lung cancer and pancreatic cancer among others.
News: On Jan. 12, 2015 -- Sorrento Therapeutics, an oncology company developing new treatments for cancer and associated pain, announced today that over 80 patients randomized in the ongoing TRIBECA™ (TRIal establishing bioequivalence [BE] between Cynviloq™ and Albumin-bound paclitaxel*) registrational trial have been dosed. Sorrento intends to continue enrolling all qualified patients in the current screening process and anticipates having the "last patient in" by the end of January. Patients were recruited globally from over 20 sites in USA, Eastern Europe, and Asia. The initial safety assessment from treated patients revealed no unexpected adverse events and the data is consistent with the toxicity profile reported in the literature with albumin-bound paclitaxel.
Previously, Sorrento announced positive pharmacokinetic (PK) data from the first eight (8) patients enrolled in the TRIBECA study. Based on the reported positive data, sample size estimates suggest that only 53 patients are needed to meet regulatory guidelines for bioequivalence.
Henry Ji, Ph.D., President and Chief Executive Officer of Sorrento stated; "We are pleased with the imminent completion of the TRIBECA study." Additionally, "Our plan is to continue to enroll patients until the end of January to have a robust safety database of patients treated with Cynviloq (paclitaxel nanoparticle polymeric micelle) at 260 mg/m2 infused over 30-minutes. The completion of patient enrollment in January will allow us to make topline pharmacokinetic results available in March, and facilitate the planned NDA submission to the FDA seeking marketing approval for Cynviloq."
On March 16 -- Sorrento announced a $110 million collaboration agreement with NantCell, a subsidiary of NantWorks, to develop anti-cancer immunotherapies. NantWorks is the brainchild of one the most successful and "visionary" doctors in cancer research today, Dr. Patrick Soon-Shiong a scientist, inventor, entrepreneur and health care visionary, who is dedicating his life to disrupt, revolutionize and beat cancer.
Note: Cynviloq bioequivalence [BE] news can come at almost any time. The inherent risk is noted in a few statistical observation points that are distant from other observations; however the probability of success seems to outweigh any negatives per my due diligence. More research should be coming in the next few days/weeks/months.
Some DD: Sorrento's Presentations:
sorrentotherapeutics.com/investors/event.../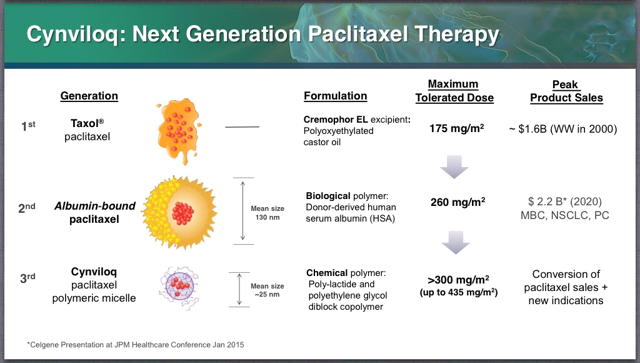 --------------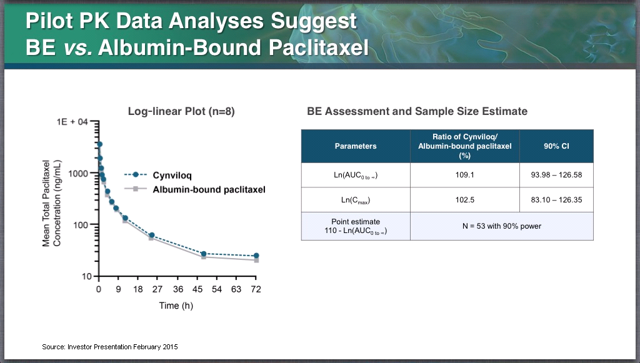 ----------------
Disclosures:
Abraxane® (paclitaxel albumin-bound particles for injectable suspension) (albumin-bound), registered trademark of and marketed by Celgene Corp.
Cynviloq, G-MAB, CAR.TNK, Chimeric Antigen Receptor Tumor-attacking Neukoplast and TNK are trademarks owned by Sorrento Therapeutics, Inc.
Disclosure: The author is long SRNE.