What a year we're having with so many stocks on the EXPstocktrader stock watchlist which are making new highs for the year. If you have followed me over the past year, you would have seen Big winners that have included RXDX, MRTX, OMER, VKTX, and STAA to name a few.

Today, I want to focus your attention on two CAR-T cancer stock plays that are heating up with ties to an explosive opportunity in China where the goal of that country is to be a leader in Car-T technology.
First, let me cover Genscript Bio, (stock link for Quote) a very unique player that is relatively undiscovered with its listing on the Hong Kong exchange. Following the likes of Celgene/BlueBird (NASDAQ:CELG) and Juno (NASDAQ:JUNO) from the US, it's been said to potentially be the first CAR-T player in China for multiple myeloma (MM), a nasty cancer.

Currently, Genscript (1548 HK) is a Janssen global partner with both US and China trials that are anticipated to commence in 2H18. That being said, data could come as early as 2H19 and with positive data, investors should expect the company to enter commercialization in China. Also, one might expect a pivotal US trial to potentially follow. Currently, China Renaissance just initiated a BUY with a risk-adjusted TP of HK$45, implying an approximate 57% upside in share valuation. Its candidate LCAR-B38M—CAR-T data could drive further upside.

Much R&D has been focused on toward myeloma which still remains incurable and has a high unmet medical need. Several implications for success could occur and there are many players that could benefit from a CAR-Ts. Specifically, Genscript has a target BCMA which has shown promising clinical data. You should also know that several BCMA CAR-T players are at different stages in the fight to beat this cancer. Genscript's LCAR-B38M is the first CAR-T and the only BCMA CAR-T to enter clinical trials domestically. Additionally, over the past few quarters, very promising data were released regarding LCAR-B38M in its early-stage China studies. This data, as you can imagine has led to a large pharma partnership. Its partnership with Janssen (NYSE:JNJ) released an update that it will be sharing 50% global and 30% China rights in return of an upfront payment of US $350M and potential milestones in the millions to be received by Genscript.

Source: China Renaissance Research Dated May 31, 2018


For US investors:
There's another very potentially explosive stock that (for the most part) is still believed to be flying under the radar that you need to have on your stock watchlist as a long-term play. The company is Sorrento Therapeutics (Nasdaq: SRNE) and it's a favorite CAR-T play based out of San Diego, California. With over 100 or more hours of due diligence spent on researching this company, I suspect that their CD38 candidate has the potential to become another one of those stocks that investors need to be aware of in the global marketplace. I have also sat down with management and some of the team like Dr. Jerry Zeldis, M.D., Ph.D. the company CMO and President of Clinical Research (formerly from Celgene). Dr. Zeldis, for over 20 years transformed Celgene from an obscure unknown biotech into a leading global leader in the biopharmaceutical industry. He and some of his team have jumped ship to Sorrento and I believe that they want to do it again at Sorrento Therapeutics and I do expect to see them forge ahead with a global footprint. 
Please note that when I say global, I mean that it's strongly believed that the company is positioning itself to trade on the Hong Kong Exchange where Genscript has gone from an impressive $5.00 to $30 since last summer 2016.

Investors should take note of Sorrento's extensive pipeline and milestones: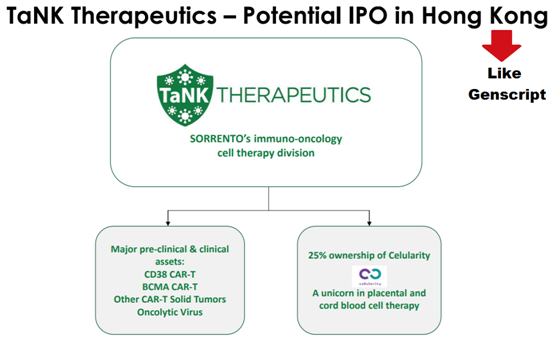 Why Sorrento Now?
There is so much to cover, so let's just look at the competitive M&A landscape and land grab for CAR-T that's occurring:
Gilead (NASDAQ:GILD) acquired Kite Pharma (NASDAQ:KITE) for $12 billion in August 2017


Juno Therapeutics (JUNO) was acquired by Celgene for $9 billion in January 2018



J&J (Janssen) paid $350M upfront to enter a deal with Genscript

June 2016, Shire (Nasdaq: SHPG) completed a $32 billion merger with Baxalta. Remember that in February 2016, Baxalta and Precision BioSciences entered an agreement to develop allogeneic CAR-T therapies in a partnership worth up to $1.7 B

In May 2016, Celgene entered a $200 million deal with Celgene with Agios Pharmaceutical (NASDAQ:AGIO) to develop therapeutics with a focus on cellular metabolism and immuno-oncology drug prospects

In early 2018, Celgene backing in Celularity with others is added to the mix

Celularity, Inc. -- under the direction of board members like Vice Chairman John Scully -- formerly from Pepsi (NYSE: PEP) and Apple (Nasdaq: AAPL), Bill Maris (Google Ventures founder $GOOGL) and many other talented executives are looking to forge its own way in the CAR-T industry by deriving T-cells from an allogeneic cell line.
Currently, Celularity is approximately 25% owned by Sorrento 


Additionally, Celularity holds pre-clinical and clinical CAR construct assets for allogeneic CAR-T/NK products and licenses of over 100 immunotherapy assets. Please see the company's website for more.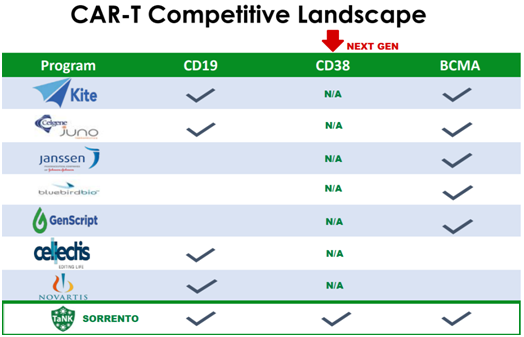 Conclusion:

While not every detail can be included in this blog post, this information on SRNE is just a glimpse, but I will say this. As a long-term investor, I look forward to the Next Generation of CAR-T technology. Remember, Sorrento has an anti-CD38 CAR-T (a chimeric receptor - T cell therapy much unlike the earlier generation CD19). Don't miss the boat if you passed on other CAR-T stocks mentioned above. Sorrento's CD38 is the future, and with its key advantage of selectively killing high expressing CD38 positive cells (which are mostly cancer cells) appears to be making the right moves to move its new drug candidate into the mainstream and on a path toward entering the explosive China market who has an insatiable appetite for CAR-T programs.
So, in order to conclude your own personal research, please review Sorrento's May investor powerpoint for more about its programs. It's also comforting to see that CEO, Dr. Henry Ji, and SVP George Ng have both placed a lot of skin in the game with his large ownership in the stock. You will see the most recent buys are at $9.95, and a discount to current market valuation today. I think the only concern that one would have is that big pharma steps in the way they did with Kite, Juno, and bluebird bio before we can achieve multi-bagger status with this gem. Best of luck to you in The Future.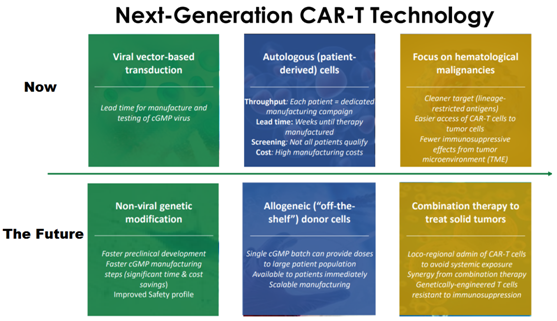 Disclosure: I am/we are long SRNE.