Why You Should Investigate Investing in VikingTherapeutics (VKTX). First, Viking Therapeutics, while still an early stage NASH candidate, has the potential of becoming another Madrigal Pharmaceuticals (NASDAQ:MDGL) success story due to its pharmacological similarities to MGL-3196--which recently announced a positive mechanistic readthrough.
In May of 2018, investors saw Viking stock spark on the details of Madrigal's mid-stage success with its NASH candidate MGL-3196. In this timeframe, we have seen MDGL stock appreciate from $100 to $300 (where it sits today). This is a remarkable run on what I'd call investor exuberance.
Now let's look at VKTX stock, which, in this same timeframe, has appreciated from $5 to $10. Due to the fact that there is still a huge gap between the two companies, it's reasonable to assume that an opportunity still exists for an investor who is willing to assume some risk to get in before this sector takes off even more than its already experienced. If MDGL continues its run, one can only expect that VKTX--with its NASH candidate, Phase 2-stage VK2809 with the same reported mechanism of action--will be sucked up into the vortex.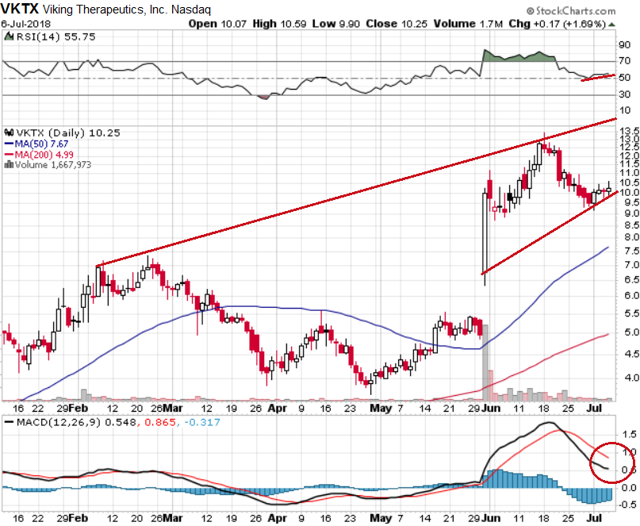 Financial HealthRecall that a few weeks ago, Viking raised $67 million is a stock offering to help with its pipeline funding for 2018. The company is financially strong and the next raise (in my opinion) should come when the stock reaches much higher levels to fund its ongoing operations/pipeline.Deep Pipeline
Digging deeper. Besides the VK2809 NASH indication, where, if the data are equivalent to that of MDGL's, the gap should start to close. In the meantime, there are many other prospects with the potential to make the company a success like VK5211, the company's hip fracture recovery program. Additionally, there is its rare disease programs VK0214 and VK2809 as listed below.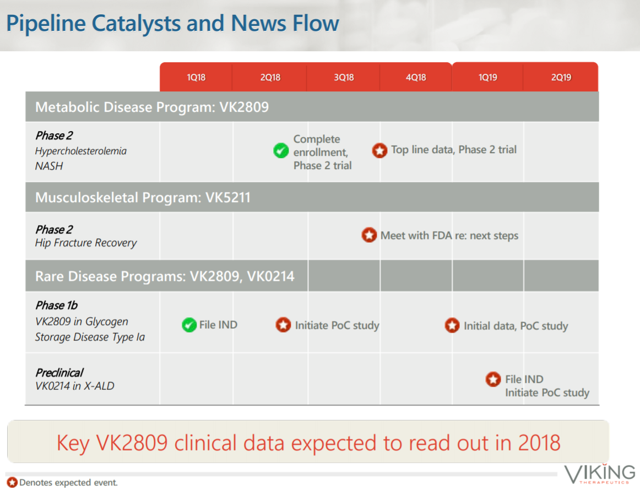 Talk about an opportunity, remember that there is currently no approved therapy for NASH patients. If MDGL succeeds as the first company in this space, that's great as there is lots of room for more than one company in the estimated $50B total addressable market in the U.S. The EU is an equally similar and separate opportunity. Now you can see why there is so much excitement in NASH. Given the details as I have lightly touched on above, my suggestion is to dig deeper yourself and possibly get long Viking Therapeutics stock before its too late. My loyal followers and I expect to enjoy the ride over the next 12-18 months--where I suspect that patient investors will be handsomely rewarded as institutional investors with an insatiable appetite for winning biotechs will potentially send this stock to incredible highs.
Disclosure: I am/we are long VKTX.
I wrote this article myself, and it expresses my own opinions. I am not receiving compensation for it (other than from Seeking Alpha). I have no business relationship with any company whose stock is mentioned in this article.