Revolution Medicines: A Potential Oncology Niche Disruptor
Please Note: Blog posts are not selected, edited or screened by Seeking Alpha editors.
Long-Term Horizon, Biotech, Tech, Growth At A Reasonable Price
Seeking Alpha Analyst Since 2008
Formerly a Wall Street executive from a premier investment bank, and a Master's graduate from Harvard (magna). Author EXP's goal is to help investors discover stocks before the "crowd." The first article published was on "LNG" many years ago; an undiscovered gem. BLOG: https://seekingalpha.com/account/authorboard/instablog

This is not an easy business. Investing is psychological in nature and can be extremely taxing. Patience is key. Not all ideas are written about or picked for publication.

The goal is to try to identify current stock opportunities in the market that can produce some huge gains from disconnects in stock prices. These inefficiencies can be taken advantage of if you can properly identify opportunities, and then manage to act on them before the crowd.

EXP resides in the USA and is very thankful to followers worldwide.

You can also follow EXPstocktrader on: Twitter --- @WallStEagle     Email --- EXPstocktrader@gmail.com >>>

Disclosure: The administrator(s) of the services mentioned here may be long, short, or flat in any position mentioned as disclosed. All statements are made without any representation of its complete accuracy and administrator(s) are not compensated for posting notes by listed companies. Some minimal compensation is paid by SA if the article gets picked for circulation. EXP never takes money from companies to promote or write about a stock. All stock prices shown are approximate. Ratings may change at any time. All posts are for simulation purposes only. All stock trades transacted by you are at your own risk. We trade stocks and do not usually buy and hold indefinitely. Please take any information that you see here and consult your own investment advisor before making any real trades. EXP, EXPstocktrader and Seeking Alpha are Not licensed to give you investment advice based on your own personal suitability and risk tolerances. Please consult with your financial advisor before making any trades that you read about here or anywhere EXPstocktrader publishes information for that matter. Thank you.
Summary
Recent IPO and potential long-term oncology disruptor.
Cutting-edge oncology with significant potential in malignancies.
A solid commercialization agreement with Sanofi.
Followers, take a look at Revolution Medicines (RMVD) as a buying opportunity as the next potential biotech disruptor and under the radar stock with cutting-edge oncology.
Let's Take A Look At The Facts
Revolution Medicines is a biotech company focused on frontier targets with key signal transduction proteins for which there are:
1) No available direct inhibitors, or
2) The only direct inhibitors may not suppress the full range of ways in which downstream signaling can drive cancer.
First, let's look at the company's pipeline.
The company is primarily aiming at the RAS and mTOR pathways, two fundamental signaling networks that have been implicated in a range of aggressive, intractable tumor types. Revolution is advancing an array of potent, selective, highly specific, and tractable small-molecule candidates. (Niche precision oncology)
RMC-4630 is a potent and selective inhibitor of SHP2, a central node in the RAS signaling pathway. In collaboration with its partner, Sanofi, they are evaluating RMC-4630 in a multi-cohort Phase 1/2 clinical program, which includes an ongoing Phase 1 monotherapy trial in patients with tumors harboring genetically defined mutations in the RAS signaling pathway.
Sanofi Agreement
The RMC-4630 program is the focus of an exclusive global research, development, and commercialization agreement with Sanofi (SNY), under which we received a $50 million upfront payment. Additionally, Sanofi agreed to cover substantially all research and all development costs for the joint SHP2 program. Sanofi received an exclusive worldwide license for global commercialization of any approved products targeting SHP2, subject to a U.S. co-promote right for Revolution Medicines.
Also, the companies have agreed to enter into a 50/50 profit and loss share arrangement in the U.S., and, subject to certain limitations, RVMD is entitled to receive tiered royalties on annual net sales ranging from high single-digit to mid-teen percentages on sales in other markets. RVMD could also receive more than $500 million in development and regulatory milestone payments.
The Importance of SHP2
In collaboration with academic partners, RVMD has demonstrated that some mutant forms of RAS, in addition to other cancer-causing mutations within the RAS pathway, rely upon upstream signaling from SHP2 for oncogenic activity.SHP2 appears to play an important role in oncogenic growth and survival signaling in up to 45% of non-small cell lung cancers, as well as some other common cancers including colorectal cancer, melanoma and ovarian cancer.
Importantly, the company has demonstrated that its SHP2 inhibitors arrest tumor growth and/or trigger tumor cell death in mouse xenograft models of cancers bearing specific KRAS, NF1 and BRAF mutations that have been shown to rely upon SHP2 signaling. That said, RVMD believes that SHP2 has the potential to be a valid therapeutic option for the treatment of certain cancers that rely on, or are "addicted" to, SHP2-dependent oncogenic mutations.
In Addition to Inhibition of Oncogenic Signaling
The company has also identified a second anti-cancer mechanism for its SHP2 inhibitors. It is believed that they stimulate adaptive and innate immune activity within the tumor microenvironment. Therefore, these compounds also have been found to have the potential to restore anti-tumor immunologic responses that have been silenced by the cancer cells. Remember, one-way cancer cells hide is to express proteins on their surface to turn-on a "checkpoint" to stop an immune system attack.
Second, let's look at a few members of the company's impressive management team.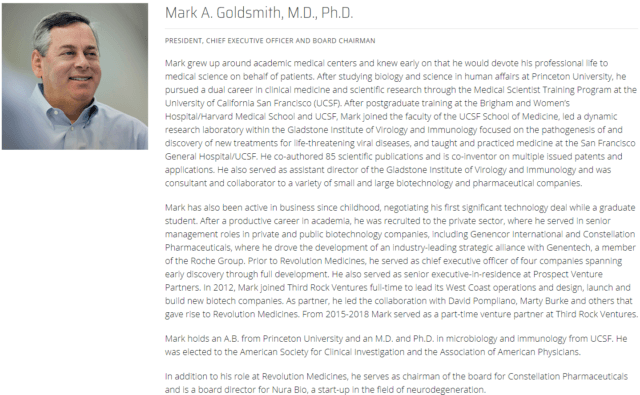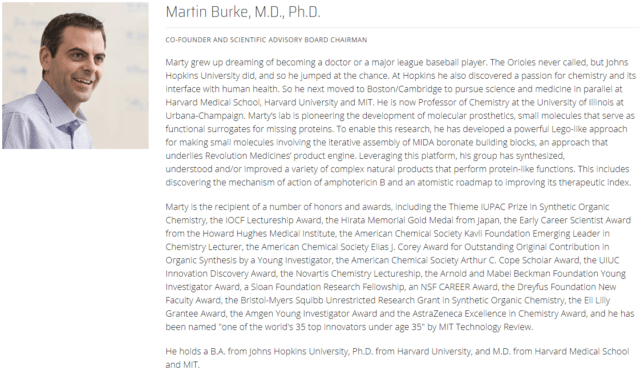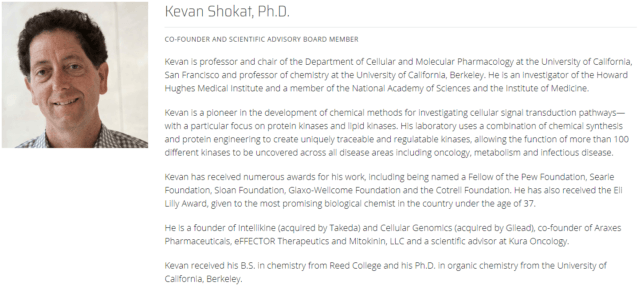 Next, looking at the funds holding or accumulating the stock.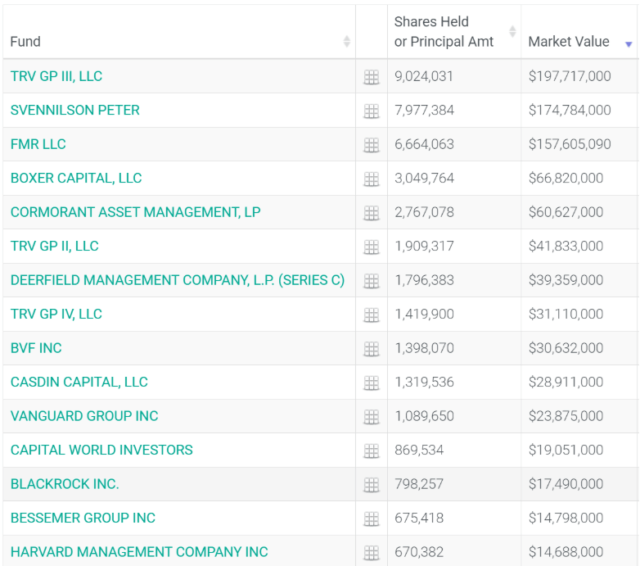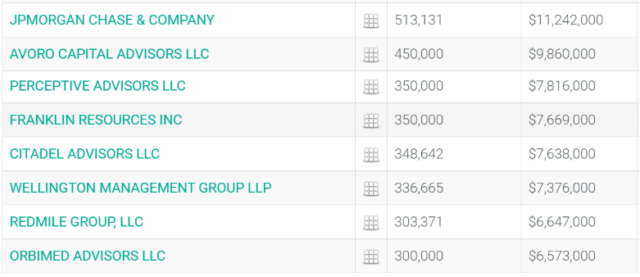 Recent comments from H.C. Wainwright (HCW) -- Initiating at Buy, with $55 price target
Following Revolutions R&D day in June, the analyst noted that RMC-4630 dose and schedule optimization further improves the tolerability profile. Data presented showed that dosing RMC-4630 200mg on day 1 and day 2 (D1D2) results in a concentration level that exceeds the EC75 (i.e., the apoptotic threshold), while also increasing the peak-to-trough ratio—resulting in a significantly reduced G3+ treatment-related adverse event rate and discontinuation or dose reduction rate. The firm also noted that Revolution also showed that treatment with monotherapy RMC-4630 200mg D1D4 elicited a complete response in a uterine cancer patient with an NF1 loss of function (LOF) mutation.
Additionally, RMC-5552 preclinical data suggests encouraging potential as well with an upside to their valuation. Specifically, their preclinical data for RMC-5552, Revolution's selective mTORC1 inhibitor, has been shown to be particularly encouraging. Remember, and per HCW research, SHP is a protein tyrosine phosphatase enzyme and is considered a "central node" in the RAS pathway, which drives the aggressive growth of multiple cancer types through signaling by multiple receptor tyrosine kinases (RTKs). Thus, SHP2 inhibition can be deployed as a strategy for building combinatorial regimens involving pairings with kinase inhibitors that block targets like EGFR, ALK and MET—all of which are validated already and that form the basis for multiple approved drugs—e.g., Tagrisso (osimertinib), Xalkori (crizotinib) and Cotellic (cobimetinib).
Valuation and Risks.
HCW assesses Revolution Medicines by using a discounted cash flow (DCF)-based methodology, which ascribes a $3B valuation to RMC-4630 and the RAS(ON) inhibitor.
They employ 35% probabilities of launch for regimens comprising either RMC-4630 + a KRASG12C inhibitor or the RAS(ON) inhibitor in KRASG12C NSCLC; a 35% probability of launch for RMC-4630 in EGFR+ NSCLC; and 15% probabilities of launch for both RMC-4630 + a MEK inhibitor in various other mutant NSCLC cases and RMC-4630 paired with an anti-PD-1 agent in PD-L1+ NSCLC. In addition, they utilize a 11% discount rate and 1% terminal growth rate, along with a 29.84% effective tax rate.
Risks include, but are not limited to:
(1) Clinical setbacks with RMC-4630;
(2) Inability to secure regulatory approval in a timely fashion for RMC-4630;
(3) Poorer-than-anticipated commercial performance of RMC-4630 within various combinatorial settings due to greater-than-projected competitive pressure, pricing issues or macroeconomic factors;
(4) Failures with other pipeline candidates, notably the RAS(ON) inhibitor; and
(5) Possible impact from the COVID-19 pandemic, which may make clinical trial execution challenging or impossible.
Conclusion
Given the brief due diligence provided in this article, the pipeline and niche nature of precision oncology targets for Revolution Medicines warrant a Buy Rating and would accumulate shares on any fades. One could argue that, as an oncology disruptor, Revolution Medicines offers the potential to join the ranks of leading biotech companies that outperform given its high potential by focusing on frontier targets over time.
Keep in mind, and to date, there has been encouraging efficacy data thus far with the strong belief that there will be much more to follow given the company's drug development efforts in a wide array of fronts. Investors should be especially excited about RMC-4630 based on the program's profile and potential. That said, the only way to truly see how far this company rewards investors is to see the data play out over the next 12 to 18 months.
Analyst's Disclosure: I am/we are long RVMD.
Seeking Alpha's Disclosure: Past performance is no guarantee of future results. No recommendation or advice is being given as to whether any investment is suitable for a particular investor. Any views or opinions expressed above may not reflect those of Seeking Alpha as a whole. Seeking Alpha is not a licensed securities dealer, broker or US investment adviser or investment bank. Our analysts are third party authors that include both professional investors and individual investors who may not be licensed or certified by any institute or regulatory body.