Summary:
Western Lithium USA (OTCQX:WLCDF) manages the property of large fields of lithium in the US, located in king's Valley, Nevada. It intends to start production of lithium carbonate for the electric automobile industry.
Tesla Motors Inc (NASDAQ:TSLA) has decided to build Tesla Gigafactory, a lithium ion battery production facility in Nevada, near were Western Lithium is located.
Once this factory is operational Western Lithium USA is in an ideal position to become one of Tesla's main suppliers or a strong candidate for an acquisition.
Production is scheduled for Q4 2014
Why Western Lithium USA this is not just another mining company
Western Lithium USA is a development stage company, specializing in the mining of lithium carbonate in Northern Nevada. In a nutshell:
US$8.5M in cash (Sep 2014).
US$15M raised in capital over the past six months after Tesla announced gigafactory would be built in Nevada for the production of lithium batteries.
No corporate debt.
2 main patents: Western Lithium Hectatone and The Company's Hectagel.
5th largest lithium reserves worldwide.
Western Lithium USA intends to begin lithium carbonate mining in the lithium fields the company owns in Nevada. Not very different from other mining companies, except this time Tesla Motors has plans to build and install a lithium battery gigantic factory in Nevada. When this takes place, Western Lithium USA is uniquely located to become this automotive giant's main lithium supplier.
This is good news for this company, since many positive scenarios could materialize. First scenario: Provided they can sell lithium at a large scale to TSLA for the production of batteries, the company would have a steady flow of income, motivating its growth and with it, the increase in its share price.
A second plausible scenario would be that Tesla decided to acquire the company, integrating itself vertically, in order to control the extraction of lithium and secure its most valuable raw material. This would once again be good news for the company since an acquisition by a larger third party increases the value of the organization.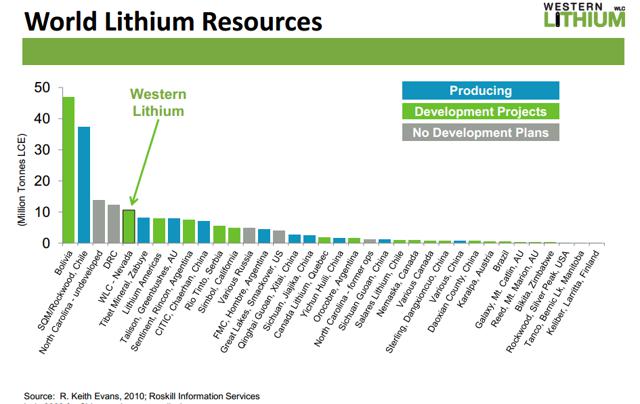 Conclusion
While Western Lithium USA (OTCQX:WLCDF) will begin operations in the near future (operations scheduled to start in Q4 2014), the fact is it does hold the mining grounds (100% ownership) to be able to extract the mineral Tesla (NASDAQ:TSLA) will be interested in when it begins its own operations, in its newly founded battery factory. Moreover, the financial figures for this company appear strong and reliable (Cash and no corporate debt). Having this financial strength from the start and a statement from Tesla to build a factory for battery production promises a very good start for Western Lithium USA once it begins to operate. The company holds one of the biggest reserves of lithium in Nevada, which will further encourage American companies that rely on this mineral to depend on Western Lithium.
Disclosure: The author has no positions in any stocks mentioned, and no plans to initiate any positions within the next 72 hours.