The recent downward trend of Chesapeake Energy Corporation (CHK) stock is not only worrying but eyeopening as well. Markets on Friday 7th September 2019 closed at 1.58 registering a slump of 1.25% from the previous day. Earnings in its Q2 report indicated that the oil and gas company had increased its liabilities and equity to $16.54 Billion as at June 30, 2019 from $12.735 billion in December 31, 2018. With increased revenues of up to $2.39 billion (an increase of 10 million- since December 2018), Chesapeake has had to reconsider its business strategy to instill investor confidence amid the shifting oil price dynamics.
The month of August saw Chesapeake's stock plummet to a record low, since April 1999. With reports indicating a huge sell-off as a result of 5-session losing streak, Chesapeake's management has reconsidered its oil and gas business operations. Since the company's shares were weighed down by the decrease in crude oil prices, accelerated debt' 'and a three-year cumulative loss by the end of the second quarter, this article will assess whether a stronger focus to the oil market is a catalyst that will uplift the stock price in the future.
In the first quarter, Chesapeake's stock rose to a high of 3.28 (a high of 50% since January 2019) with discovery of new oil and gas ventures. It took a dip in 2018 due to increased debt when management staked cash amounting to $1.8 billion for explorations. Instead it ended up spending $2.4 billion in extra drills for more gas and oil wells.
Increased Debt vs Revenue
As at June 30, 2019 Chesapeake had accumulated net long-term debt to $10.161 billion from $7.787 billion recorded in December 31, 2019. Debt had increased by $2.374 billion representing a 30% difference in less than 12 months. With revenues standing at $2.39 billion in 2019, the marginal recording shows that the company needs to increase its volume per trade. The average price of oil per barrel forecast by Chesapeake in 2019 was $59.38 while that of natural gas per 1000 cubic feet of gas (MCF) was $2.83. Although it is imperative to increase the cash flow there needs to be a realignment to ensure the operations generated from an oil barrel measure up to one barrel used in production.
Chesapeake's market capitalization as at September 7, 2019 stood at $2.583 billion slightly above its Q2 revenues. With investors gaining at an EPS of 0.62 against a price-per-earnings (P/E) ratio of 2.57, there is a show of confidence in the company's future growth despite the absence of a dividend yield for investors. To ease pressure and reduce the debts, the company has embarked on capitalization of development costs including drilling. Other than this, it will also suspend further exploration until it authenticates the proved areas.
Comparison with Chevron Corporation
Chesapeake's revolving credit that matures on September 2023 has a borrowing base of $3.0 billion. The Q2 earnings report showed that the company had a capacity of $1.574 billion left with the next borrowing left for the Q4. At the current debt of $10 billion, the debt-to-equity ration of Chesapeake is exorbitantly high at 2.315 (long term debt of $9.7 billion and stockholders' equity at $4.7 billion). More than two-thirds of the company's operations are funded by debt leaving a third to be catered for by shareholders' equity. In comparison, an oil and gas industry leader like Chevron Corporation (CVX) with a market capitalization of $224.507 billion had total debt and obligations of capital leases standing at $38 billion (as at December 2017). 
Chevron's stockholders' equity as at June 30, 2019 was $156.395 billion and total debt plus obligations for capital leases was $30,649. The debt-to-equity ratio is 0.20 presenting a strong financial power of investment.The dividend yield from such a strong position stood at 4.03% and a P/E ratio of 15.34. The high yield for investors was attributed to decreased debt in 2019- from $34.459 billion in December 31, 2018.
Barrel Productions 
Chesapeake's CEO, Robert Lawler, announced a record 122,000 barrels per day being produced by the company as a huge milestone. In 2018, Chesapeake registered a 10% growth in oil production by drilling 90,000 barrels of oil per day. In contrast, Chevron drilled out 3.061 million barrels per day in 2019, an 8% increase from 2018.  While the production capacity for Chevron is not unequal to that of Chesapeake, it is important to point out that the production growth of Chesapeake is higher than that of Chevron (within the stated period). In 2019,Chesapeake's oil production grew by 35% against that of Chevron that stood at 8%.With Chevron's main focus on oil, natural gas hit 6.9 billion mcf per day in 2018. 
       Price of Crude Oil
A year-to-date analysis of crude oil price shows a slight volatility of the commodity from under $47 in January 2019 to $57.80 in September 2019- showing  24% rise in price from the previous day's record. 
WTI crude oil price (YTD)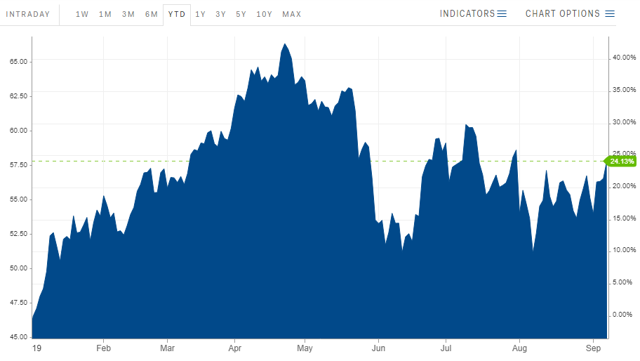 Source: Markets Insider
When the WTI crude oil prices rose to 66.30 in April 2019, Chesapeake stock traded at 3.12 while Chevron traded at 121 against a drop of 119 in September 2019. A rise in WTI crude oil prices are seen to highly affect Chesapeake's stock price as compared to Chevron. The same assertion can be duplicated in Brent crude oil price that has little or no marginal difference with WTI as far as predictability is concerned. 
A one-month analysis shows that while Brent crude oil price is higher in returns, the affected dynamics are equal. The two prices rise and fall in similar proportions.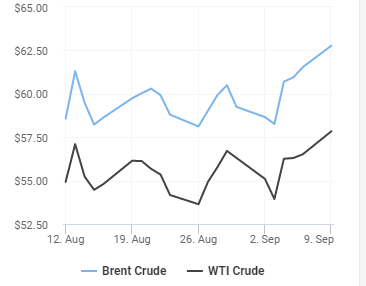 Source: Oil Price
It is expected that the improved trade relations between the US and China will aggravate the price of crude oil due to increased manufacturing and growth. The price of crude oil may increase or remain neutral due to the shared prospects of trade partners in the gulf and the Americas.
Conclusion
Increased crude oil prices are seen to have a positive correlation with the share price of Chesapeake.The comparison with Chevron has served to show that despite its status as a global leader in oil and gas production, Chesapeake has the strongest potential for growth. The balance between production of natural gas and oil may not help to reduce the revenue loss by Chesapeake. The main focus of Chevron has been the production of oil. If replicated in Chesapeake, this drive will aid to reduce both long and short term debts by supporting development cost capitalization and funding proved areas of oil production. In light of the looming increasing oil prices and the planned oil takeover by Chesapeake, you should watch out for an increased stock price.