The facts on the U.S. equity markets are pretty clear:
The markets are valued for a V-shaped recession/recovery.
The retail investor is pulling money out which is reducing trading volume.
Institutional investors are all in (cash in portfolios is very low.)
The market is supported by massive liquidity injections which have lowered interest rates, increasing the tolerance for risky assets.
A lot (maybe almost all) of Hedge Funds are fully leveraged.
The tipping point in the market is probably not any of these but a 6th point that is not in play yet: 
Properly invested hedge funds can make money on the way down and how to do this is well known.
Probably every hedge fund has a plan on how to take advantage of the expected correction.  The question is what will happen in the market when every hedge fund tries to execute their correction strategy at once?  In 1987 universal use of portfolio insurance resulted in a 20% one day drop in the S&P 500.
I was a broker in '87 and saw the Fed rescue the market by knocking yield on the long bond down 1.3 percentage points in a few days as shown on the chart below.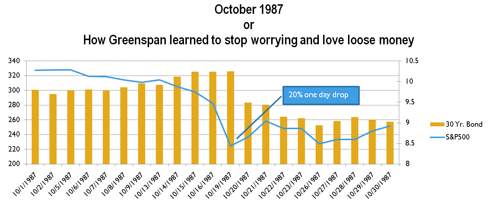 Back then, the long bond was yielding 10.24%, today (1/12/2010) it is at 4.64% so there in not as much room for a Fed rescue.
If you manage a Hedge Fund you need to ask yourself:  "Can I define the tipping point well enough to execute my plan before the market jams?"  If the answer is No, you need to rethink your correction strategy because the Fed net is not as strong as it was in 1987.
Disclosure:
Short Market