I understand your Herbalife (NYSE: HLF) fatigue. I try not to be long-winded. I will present some simple observations based on cash-flow and weekly charts.
For some, Herbalife is a cash-cow and therefore a great investment. They could care less about how that cash is generated. Let's not talk about the 'morality' of the business and only focus on the cash-flow trend. Here is an annotated chart, which I developed form public records.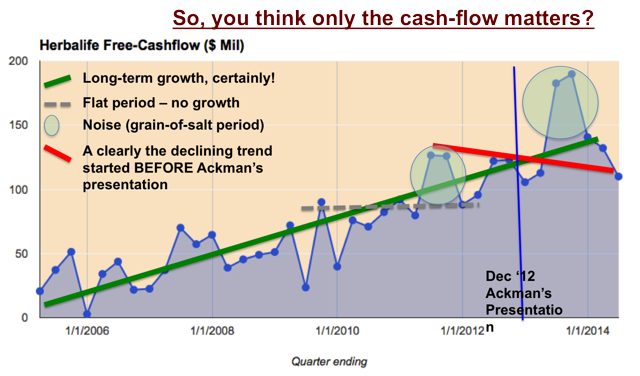 My observations on the cash-flow trends:
The pattern is a bit erratic. However, certainly the long-term growth of cash-flow from 2005 is looking pretty good.
Two periods of sudden spike in cash-flow may simply be a noise. Especially the spike in Q2-13 to Q4-13 period, which may be the result of an all-out effort by the management to thwart Ackman's campaign. (I think it is the last hurrah!)
Let us ignore this as anomaly. Take a look at the last 13 quarters data and you will notice a clear down-trend in cash-flow. Yes, one quarter doesn't make a trend. But, 13 quarters do! The trend is down and there goes the Herbalife "growth" story.
For some people, Herbalife is a volatile and tradable stock. Agreed. Also, the chart is looking rather weak off late, but not yet broken. Something changed this past week (ending Aug 22, 2014) and it appears Herbalife chart has cracked. Take a look at the weekly annotated chart through Aug 20 trading. (Chart courtesy Stockcharts.com)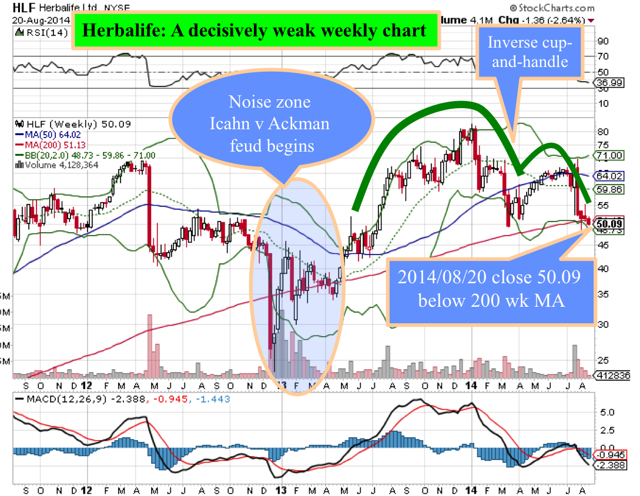 Here is another view of the same chart, which is updated with official close for the week ending Aug 22 (also courtesy of stockcharts.com)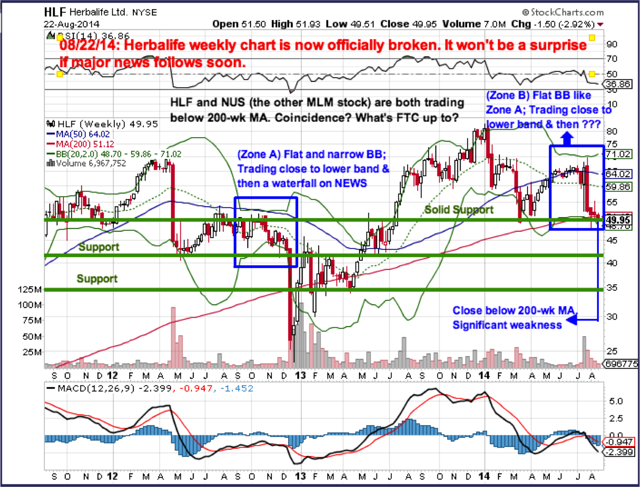 My observations:
On weekly RSI basis, Herbalife is not yet in the oversold region.
For the week ending Aug 22, Herbalife shares closedat 49.95 which is below the 200-week moving average 51.12 - the first such close since April of 2013. Very few stocks recover from a decisive breach of 200-wk MA (or so I was told).
One can expect some follow-through selling and a retest of the 200-wk MA - not necessarily in the same order.
The stock appears to have a formidable support at 49. Considering the next approach to 49 will be the third assault at this level in five months, this support may not hold.
Note also the inverse cup-and-handle formation, which also has 49 as the support.
Until 49 is decisively breached - preferably on a weekly close - it would be fair to say that the "chart has cracked but not yet shattered."
If 49 is breached decisively, I would call the chart "completely broken" and it could possibly result in another 35-point slump from the inv-cup-and-handle support of 49 (52 week high of 84 minus 49 support = 35) which puts Herbalife at 14-15.
Calling for Herablife at 14 or 15 purely on technicals appears ridiculous at this point. My guess is, even if a 35-point slide is unrealistic, a 20-25 point slide to the Dec 2012 lows is possible. If it does get there, I doubt if the selling will be gradual. It could be a waterfall-like drop. What will trigger such a selling? May be some news.
MLM "Industry" peer also under pressure
Shares of Nu Skin (NYSE: NUS), Herbalife's MLM cousin have experienced relentless selling for the last eight months. The following is a weekly chart of Nu Skin (Courtesy: Stockcharts.com)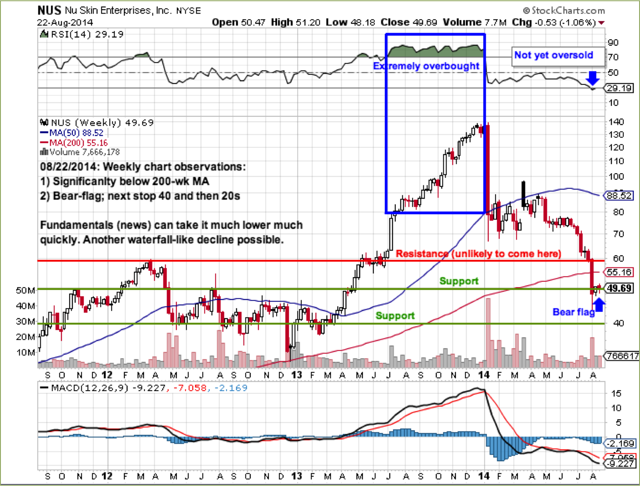 Herbalife appears to have joined its peer, Nu Skin. Given such a weakness in these two MLM stocks, I wonder when the next shoe is going to drop.
Summary:
The MLM as a business is under intense scrutiny and shares of leading companies in the group are under pressure
Herbalife's cash-flow appears to be shrinking. With all the bad press, I sincerely doubt if it is going to resume growth at least until the investigations are settled in favor of Herbalife.
The chart is showing a clear exodus by longs.
Caveat emptor
Finally, I've been shorting Herbalife via puts for the last 20 months without success. Right now I have a small put position. But I intend to increase the position in the near future.
For the record, I think Herbalife is a fraud and they prey on the gullible and vulnerable poor and middle-class. For all you know, all this analysis is my confirmation bias. And may be it is my small short position speaking.
An appeal:
Herbalife discussions draw emotionally charged comments here and elsewhere. I find that very unnecessary. People can have differing opinions on the company or stocks and respectfully disagree. I respect your right to believe whatever you want to believe. I have done my own research and formed an opinion of my own. I request everybody to respect my right to have my own opinion. Therefore, please spare me from lectures and take my opinion for what its worth, which is, "nothing."
Also, my comments are aimed at Herbalife - not at those who disagree with me on Herbalife. Even if you believe that "Corporations are people," and therefore I am making "personal attacks" - please realize that Herbalife is not your mother or grandmother. In any event, if you disagree with me, please do spare me from caustic remarks or insults.
Disclosure: The author is short NUS, HLF.