The purpose of this instablog post is to provide some follow-up to my SA article: Is Nu Skin Insolvent? (NYSE: NUS) dated August 29, 2014.
Update 3: Sunday, Aug. 31 at 9:30 AM
I am not much of a chartist. However, from time to time I look at charts so that I will not get run over by algos or chartists who care less about fundamentals. Here is the monthly chart of NUS updated through Aug. close. It is very possible NUS to trade below on news. The trip to 10 could be swift. [Fair warning - this may very well be my short-position speaking. i.e, I have a bias in my analysis.]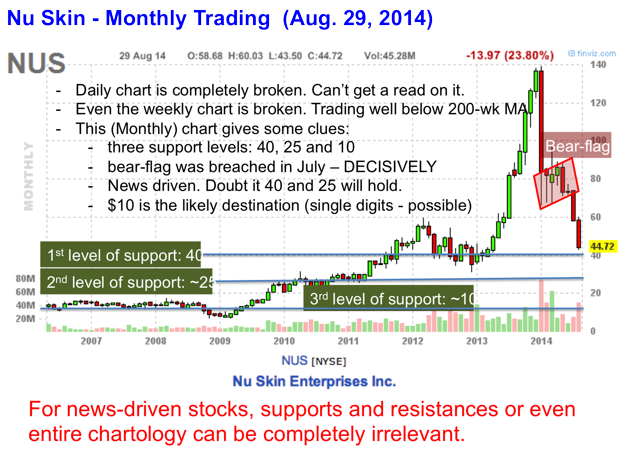 Update 2: Saturday, Aug. 30 at 8:20 PM
Earlier today, Mr. John Hempton of Bronte Capital tweeted the following.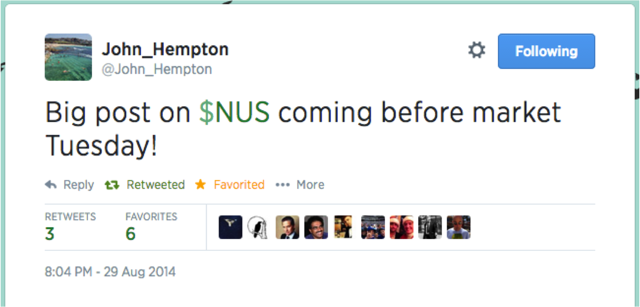 He immediately followed up with another teaser tweet..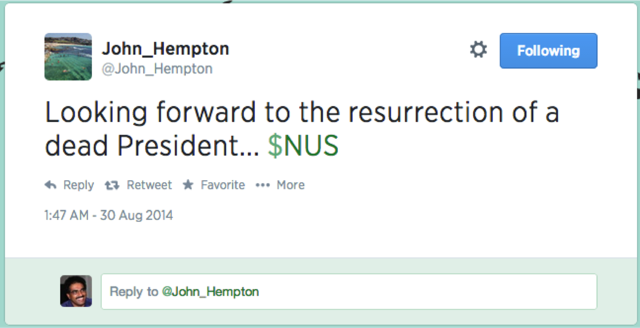 I wonder what he is hinting at!
In a blog post titled, Nu Skin - an MLM with Wonky Accounts (dated Aug. 18), Mr. Hempton has indicated that he short NUS. His reasons for shorting NUS include:
..I want you to notice $389 million in inventory versus six months cost of goods sold of 263 million. It has about 270 days of inventory. By contrast Herbalife has about 50 days of inventory.

It looks like Herbalife is professionally run and Nuskin is not.

But I think it might be worse. Nuskin has $389 million of inventory and the inventory is mostly vitamin pills. Can you imagine what $389 million in vitamin pills sitting in warehouses at production cost looks like? It is kind of strange thinking just how much that is...
It should not be any surprise if he pans NUS more in his upcoming article on Tuesday.
Update 1: Saturday, Aug. 30 at 7:40 PM
As you can see, my article titled "Is Nu Skin Insolvent?"was published by Seeking Alpha on Friday, Aug 29 at 10:57 AM US Eastern. The same day, there was heavy activity in NUS options trading. The put/call ratio for Aug. 29 was something like 7.8 to 1. Most of the big blocks of put options were bought after the publication of above article on SA.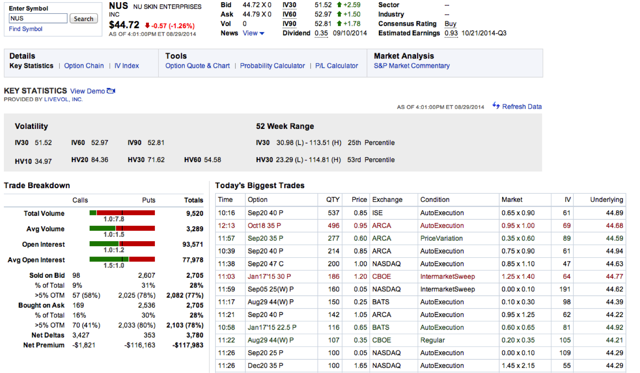 I think it is just a coincidence as cracks in Nu Skin's financials are evident for anybody who cares to take a closer look at. Therefore, I very much doubt that the above article has any influence on traders' perception related NUS.
In the inertest of further disclosure...
I've been dabbling with NUS short position since early Aug. 2014. On Aug. 29, I've strategically rolled some of my ITM puts into OTM puts.
Disclosure: The author is short NUS.