I pride myself on responding to client inquiry. I've had enough important clients reach out to ask how I can be still bullish crude oil so I thought I would share some secrets. I've been collecting the thoughts and reads from my contacts in the industry and I've come up with a balanced oil market "chalk talk."
Understand one thing walking out of the locker room: I'm trading my view and these energy vehicles like Bill Belichick coaches the Patriots - from an unmistakable bullish posture: I'm looking for oil in the $60's and XLE in the $80's in a 6 to 18-month period and I'm positioned to profit from it.
POSITIVES
+ OPEC Compliance rose to 94% in February. The dark bar is the production cuts achieved so far, the light bar is the cuts pledged and as you can see a few countries like Algeria, Venezuela, UAE, and Iraq are cheating their bits off. Kuwait, Angola, Qatar, and Ecuador are at least trying. Most importantly, Saudi Arabia, cut way more than they had to. It's clear their intention is to eliminate global inventory overhang.
The Brent crude oil curve has flattened quite a bit from its steep contango a month ago. This will help take out inventory overhang. Some experts think the shale sellers will offset the Saudi cuts. I believe the U.S. shale alone will not be able to compensate for the cuts. If Saudi Arabia remains on an output cut pace like the one they are on, it may take half a year, but it's only a matter of time before the curve turns backwardated and the rest of the + points below kick in.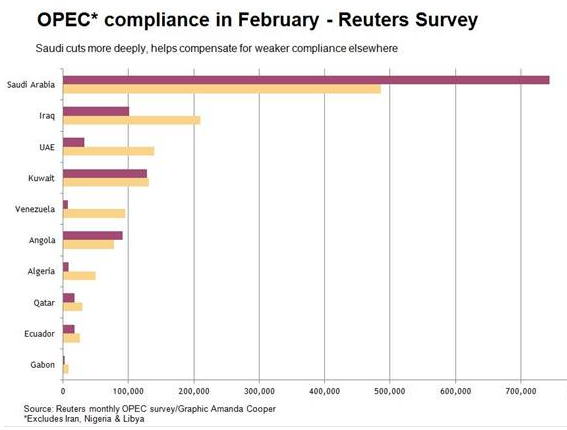 + US Exports We were exporting record outflow of 1.2 million barrels per day until they fell to 720K barrels in the week ended February 24th.
There's strong demand from Asia. The Dubai proxy below, which was once a $15 discount to WTI crude, is now trading over WTI. That's where the demand is, that's where U.S. exporters can deliver crude. Asian refiners are undergoing maintenance to comply with environmental regulations so Singapore, India, and China are going to the Dubai hub in the United Arab Emirates for supply. This dynamic may fluctuate but the Dubai appreciation trend is intact.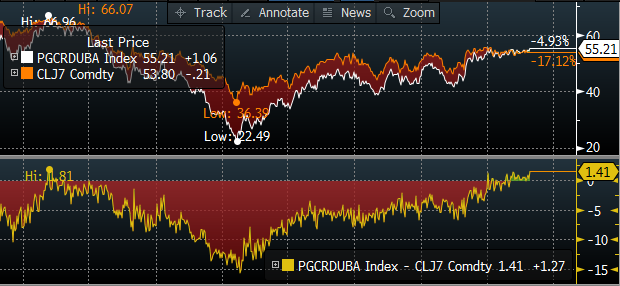 SOURCE: BLOOMBERG
+ Gasoline Demand: The U.S. accounts for 10% of the worlds gasoline demand, which reached a new record in 2016 at 9.326 million barrels per day. You heard President Trump mention American roads and bridges in his Congressional address. Building them will increase the demand for raw materials. That's why I'm long XLB, IYM, and XLE.
Energy will be a critical input to the infrastructure implementation, assuming the President can pass legislation. If he does, you can expect a bump in GDP, and then a bump in consumer spending which makes its way to travel & leisure.
This Reuters article states we drove 3.22 TRILLION miles on U.S. roads last year, up 2.5% from 2015, the fifth consecutive year of increases. This trend is our friend and it might be getting steeper. You can read the details but the most recent American Automobile Association survey tells us there's a bull market in vacations and 80% of them are road trips. When I consider that this driving season is happening in a new era of consumer optimism and business confidence, I start to think they could be underestimating the driving season.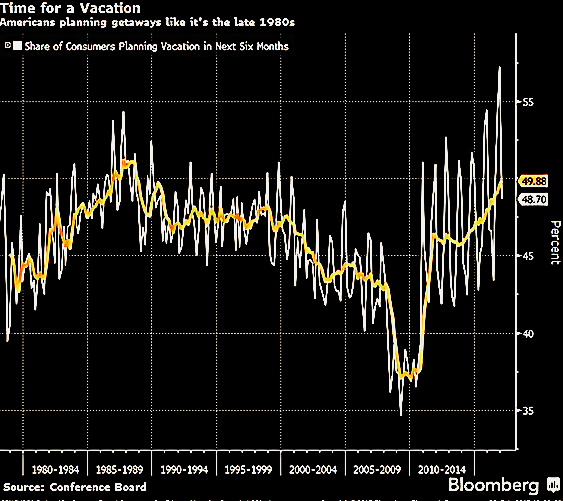 + TRUMP PUT: A publication called The Petroleum Economics Monthly put out a note in December that talked about a Trump Put in oil. They directly compared it to the Greenspan Put in the stock market. PEM states that our oil & gas industry will be the greatest beneficiary of Trump's protectionist policies and "those exploring for oil and gas will rush ahead without caution." Back in the 60's U.S. producers benefited from federal controls that limited imports and raised the oil price. It's likely to happen again. PEM says the Trump administration would allow a rise in gas prices because of the boom in investment, and therefore American employment in the oil & gas sector. Wildcat city all over again.
NEGATIVES
(-) Gasoline in Storage: Refiners like Marathon Oil and PBF Energy are cutting output because of all the gasoline in storage. Low prices at the pump mean margins are thin so you won't get paid after storing it. NYMEX gasoline crack spreads (pictured left) have come off significantly. Yesterday's data showed refinery utilization picking up quite a bit but this trend is weighing on the energy complex at the moment. Crack kills.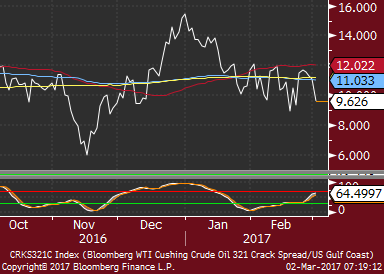 (-) Rising Production and Rising Supply: Crude inventories just rose to a record of 520.2 million barrels. Crude oil production has begun trending up again since the great oil spill of 2015.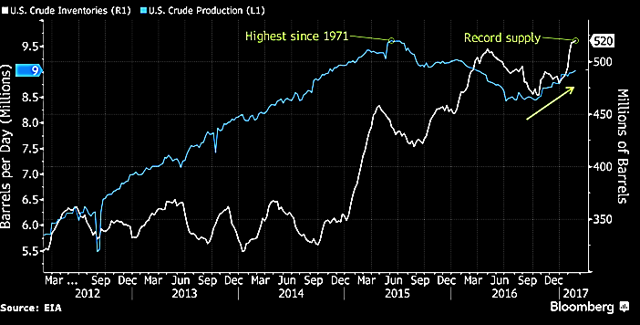 (-) Net Spec Length: We're lugging around 556,000 futures contracts of chest beating oil length. You can't imagine their average is much better than the low $50's. That's why I lead to my next conclusion.
(-) Technically speaking: I would imagine stop losses start flowing into each other below the February low of $52, below the 200-day moving average at $51.15, and below $50. If those get triggered, I will definitely get rinsed out of my XLE and Permian position (NYSE:WPX), but it won't change my view that the dynamics are in place for WTI to trade higher in the next six to eighteen months.
That's my view, and I'm sticking to it.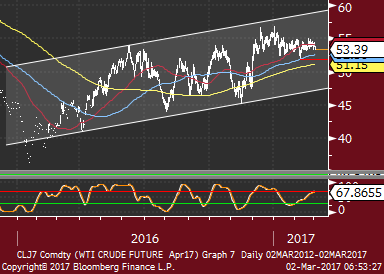 WTI Futures - constructively surfing the channel higher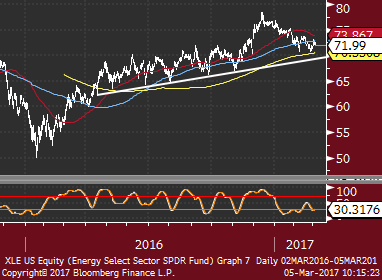 XLE Energy ETF - My bet is the up trend holds.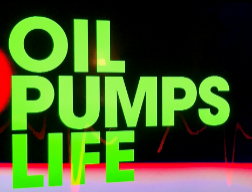 Can you tell me what this "OIL PUMPS LIFE" screenshot is from. My bet is more than 75% of your eyeballs were on it recently. I like to keep you guessing like you hold me accountable.
BUY OIL.
Save
Disclosure: I am/we are long XLE, WPX, XLB, IYM.