Novadaq Technologies Inc. And Perkinelmer Inc. Are Expected To Continue Leading the Near Infrared Imaging Market
The global near infrared imaging market is projected to reach $471.2 million by 2020, at a CAGR of 8.8% from 2015 to 2020.
The key strategies adopted by the major players include new product development, mergers & acquisitions, agreement, and regulatory approvals.
Major players operating in the near infrared imaging market Biospace Lab (France), Fluoptics (France), Mizuho Corporation (Japan), Li-Cor, Inc. (U.S.), Bruker Corporation (U.S.), Carl Zeiss Meditec AG (Germany), Novadaq Technologies Inc. (Canada), Hamamatsu photonics K.K. (Japan), Karl Storz GmbH & Co. KG (Germany), PerkinElmer Inc. (U.S.), Promega Corporation (U.S.), and Miltenyi Biotech (Germany), among others.
In September 2015, Novadaq Technologies Inc. unveiled its new product SPY-Q Case Manager (SPY-QCM), which is an image acquisition and analysis software toolkit that enables physicians treating patients with compromised blood flow and tissue perfusion to assess the effectiveness of chosen treatments over time using new case management functionality. This product helped the company to expand its product portfolio. It helps the physicians in the ongoing monitoring and treatment of wounds of patients.
PerkinElmer Inc. introduced IVIS Lumina Series III for improved in vivo imaging for life sciences applications in January 2013. The IVIS Series III bench-top platform can perform multiple modalities including photographic, bioluminescent, fluorescent imaging, X-ray, radioisotopic/Cerenkov, and real time imaging. The IVIS Lumina Series III can acquire images at multiple wavelengths to calculate concentrations of different fluorescent components in every pixel of an image.
In October 2015, Novadaq Technologies Inc. and Arthrex, Inc. entered into a co-marketing agreement, which allows both the companies to combine their expertise and devices to offer a world-class endoscopic system for a wide variety of surgical specialties, including orthopedic, general, colorectal, and gynecological surgeries. This agreement helped the companies to offer end users unparalleled choice in providing the best care for their patients.
The companies are also following the strategies of divestiture, award, relocation & licensing, and new brand strategy. In November 2015, Carl Zeiss announced that it added INFRARED 800 to OPMI PENTERO 800 surgical microscope. This new enhancement was done to cater the needs in breast reconstruction, lymph supermicrosurgery, and oral and maxillofacial surgery. Addition of INFRARED 800 to OPMI PENTERO 800 complements precision optics of OPMI PENTERO 800 and enables intraoperative visual assessment of blood flow and vessel patency.
This report provides a detailed analysis of the global near infrared imaging market and segments the same on the basis of product types, applications, end users, and regions. Based on product type, the market is segmented into near-infrared fluorescence imaging, near infrared fluorescence & bioluminescence imaging devices, and reagents.
By application, the market has been segmented into in-vivo imaging, cancer surgeries, cardiovascular surgeries, gastrointestinal surgeries, plastic/reconstructive surgeries, and others. The end users of near-infrared imaging devices are hospitals and research labs.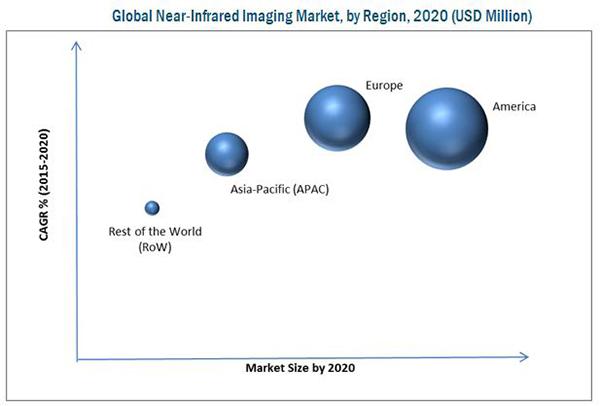 On the basis of region, this market has been segmented into North America, Europe, Asia-Pacific, and Rest of the World (RoW).
Read More about this report: 
https://www.marketsandmarkets.com/Market-Reports/near-infrared-imaging-market-174869738.html