Emergence of Start-Ups While Large Players Acquiring Small Players
Although there are several microfluidics-based products available in the market for various application areas (including research, in vitro diagnostics, and drug delivery), microfluidics is still regarded as an emerging market with a significant growth potential. At present, research is being conducted on integrating the microfluidics technology with devices in the life sciences industry for various applications. Product development is mainly done at universities or academic institutes and in order to provide advanced technologies to end users, these institutes have provided a platform for the formation of a number of start-ups to commercialize their products.
Although small university start-ups have the technological expertise, they lack the financial and marketing capabilities to bring their products to the market. Typically, such start-ups are acquired by large pharmaceutical and medical device companies focusing on expanding their technological expertise and extending their product portfolios. Such acquisitions by large market players with a wide geographical reach and advanced manufacturing capabilities enable the large-scale production and commercialization of Microfluidics products. For instance, in 2016, Luminex Corporation (US) acquired NanoSphere Health Sciences, Inc. (US). Moreover, in 2017, IDEX Corporation (US) acquired thinXXS Microtechnology (Germany), a manufacturer of Microfluidics devices.
List of University Startups In The Microfluidics Market 
Emerging Application of Microfluidics Technology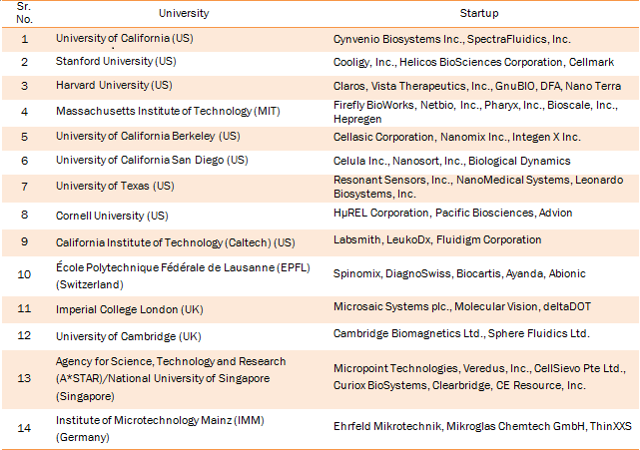 The microfluidics industry could experience additional growth booms in the next few years. In particular, cancer diagnostics, treatment planning, and follow-up look extremely promising with the increased use of Microfluidics technologies at sample preparation level to isolate circulating tumor cells and DNA in liquid biopsies for example and at diagnostics level with molecular diagnostics for oncology for the analysis of these cells and DNA molecules. Moreover, in accordance with the forecasts cancers are currently the major diseases targeted by patent applicants in the domain of Microfluidics technologies for diagnostic applications. In this domain, nucleic acid amplification is the most widespread diagnostic technique in patents. Organs-on-chips are another microfluidics application with the potential to become a multi-billion-dollar market, enabling more predictive models for drug and compound testing.
Microfluidics Components Procurement Model of Major Players
Microfluidics technologies' maturation and their increased use within the industry has also affected supply chain structure. While some diagnostics companies are outsourcing Microfluidics device production, others have made the choice to produce in-house, which raises many questions about the cost of goods sold and where the value stands.

Read More about the Microfluidics Market:
https://www.marketsandmarkets.com/Market-Reports/microfluidics-market-1305.html