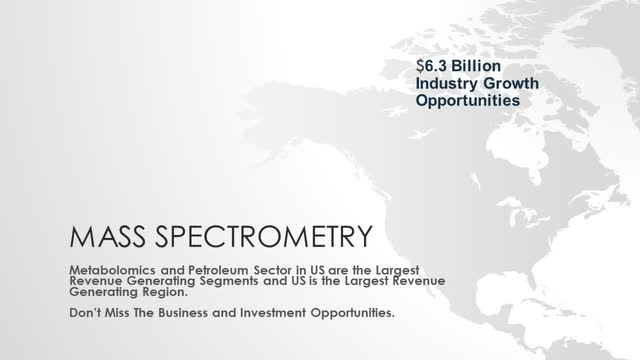 Growth in the mass spectrometry market is primarily driven by factors such as government initiatives for pollution control and environmental testing, increasing spending on pharmaceutical R&D across the globe, government regulations on drug safety, growing focus on the quality of food products, increase in crude and shale gas production, and technological advancements in mass spectrometers.
Mass Spectrometry Market: Impact Analysis
1. Mass Spectrometry Market Overview
2. Mass Spectrometry Market: Geographic Growth Opportunities
3. Government Regulations on Drug Safety
4. Increase in Crude and Shale Gas Production
5. Increasing Spending on Pharmaceutical R&D
The mass spectrometry market is expected to grow from USD 4.6 billion in 2019 to USD 6.3 billion by 2024, at a CAGR of 6.7%.
Key Questions Addressed in The Report:
1. Who are the top 10 players operating in the global Mass Spectrometry market?
2. What are the drivers, restraints, opportunities, and challenges in the Mass Spectrometry Industry?
3. What are the opportunities for stakeholders and provide details of the competitive landscape for key players?
4. What will be growth of Mass Spectrometry in North America, Europe, Asia Pacific, Latin America, and the Middle East and Africa?
Download PDF Brochure:
Hybrid Mass Spectrometry:
The hybrid mass spectrometry segment is expected to witness the fastest growth during the forecast period. Advantages offered by hybrid mass spectrometers, such as rapid and high-resolution testing abilities with more accurate and precise results, are increasing its adoption. Consequently, the demand for mass spectrometry devices for high throughput screening is also growing.
Pharmaceuticals and Biotechnology Applications:
Mass spectrometry is widely used for accurate analysis of small as well as large molecules in pharmaceuticals, forensic & clinical research, and other areas. The mass spectrometry applications market is segmented into pharmaceutical & biotechnology applications, environmental testing, food & beverage testing, petrochemical applications, and other applications. The pharmaceutical & biotechnology applications segment held the largest share of the market in 2019, a trend that is expected to continue during the forecast period. The large share of this segment can be attributed to the rise in demand for pharmaceutical biosimilars, phytopharmaceuticals, and regenerative medicine.
North America and Europe to Dominate the Market:
North America held the largest share of the market in 2018 and is projected to continue to do so during the forecast period. Factors such as the growing funding for research and government initiatives in the US, widespread usage of mass spectrometry in the metabolomics and petroleum sector, and CFI funding towards mass spectrometry projects in Canada are driving the North American market.
Request Sample Report:
Key Players:
The major vendors in the mass spectrometry market include SCIEX (US), Agilent Technologies (US), Thermo Fisher Scientific (US), Waters Corporation (US), and Shimadzu Corporation (Japan). These leading players offer an expansive product portfolio for mass spectrometers and have a broad geographic presence. The other players in this market include PerkinElmer (US), Bruker (US), Analytik Jena (Germany), JEOL (Japan), Rigaku (Japan), DANI Instruments (OTCPK:ITALY), LECO (US), Hiden Analytical (UK), Kore Technology (UK), Extrel CMS (US), MassTech (US), AMETEK Process Instruments (US), MKS Instruments (US), Advion (US), and FLIR Systems (US).
Thermo Fisher Scientific (US) held the dominant position in the mass spectrometry market in 2018. This can be attributed to its vast portfolio of mass spectrometry equipment used for various applications. Thermo focuses on expanding its product portfolio by introducing new and advanced mass spectrometers for its customers in multiple fields such as biotechnology, pharmaceuticals, toxicology, and forensics, among others. In 2019, the company launched new triple quadrupole LC-MS systems, Orbitrap LC-MS systems, and Mass Spectrometry software.
Calibre Scientific (US) - Shimadzu's Analytical and Measuring Instruments segment offers a wide range of chromatography products, including gas & liquid chromatography systems, gas chromatography/mass spectrometry (GC/MS) systems, liquid chromatography/mass spectrometry (LC/MS) systems, life science laboratory instruments, data management & software, as well as spectroscopy, elemental analysis, surface analysis and other instruments. Shimadzu operates in Japan, North & South America, Europe, China, and other Asian countries.