Biologics are pharmaceutical products that are extracted from biological sources. Biologics safety testing is carried out by manufacturers to detect contaminants like bacterial toxins, mycoplasma, and viruses. It is a mandatory process in these companies for the quality control of raw materials as well as for process control and validation of end products.
What the Market Looks Like?
The global biologics safety testing market is expected to reach USD 4.90 Billion by 2022 from USD 2.75 Billion in 2017, at a CAGR of 12.2% during forecast period. North America to account for the largest market size during the forecast period.
The major factors driving the growth of this market are the growth in pharmaceutical & biotechnology industry driven by government support, the positive trend of R&D investment in the life science sector, increasing number of drug launches, and high incidence & large economic burden of chronic diseases. In the coming years, emerging markets and increasing pharmaceutical outsourcing are expected to offer growth opportunities for players in the biologics safety testing market.
Download PDF Brochure @ https://www.marketsandmarkets.com/pdfdownloadNew.asp?id=34624144
By application, Vaccine and Therapeutics Development segment to record the highest CAGR during the forecast period
Vaccine and Therapeutics Development segment is projected to register a higher CAGR during the forecast period. Factors such as the rising prevalence of diseases, increasing initiatives for immunization, and increasing company investments in vaccine development are expected to drive the growth of this market segment.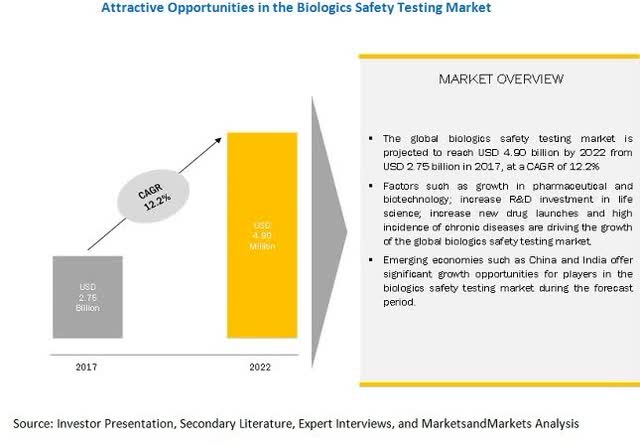 The success of biological safety tests depends mainly on the expertise of the analysts themselves as much as the environmental conditions under which the test is performed. For optimal efficacy, biologics safety testing needs to be conducted by skilled professionals with sufficient knowledge of the nuances of this field. Handling the instruments used in biologics safety testing also requires expertise. Consequently, the lack of a skilled workforce poses a key challenge to the growth of the biologics safety testing market
Critical questions the report answers:
Where will all these developments take the industry in the long term?
What are the upcoming trends for the biologics safety testing market?
Which segment provides the most opportunity for growth?
Who are the leading vendors operating in this market?
What are the opportunities for new market entrants?
Read more about Biologics Safety Testing Industry@ https://www.marketsandmarkets.com/requestsampleNew.asp?id=34624144