Oligonucleotide Synthesis Market: Size, Share, Growth, Emerging Trends, Top 10 Players And Industry Outlook
Please Note: Blog posts are not selected, edited or screened by Seeking Alpha editors.
Summary
In 2020, Danaher Corporation (US) opened IDT China, an official business entity, to better serve its customer base.
Introduction
The report "Oligonucleotide Synthesis Market by Product (Drug, Synthesized Oligo (Primer), Reagents), Type (Custom, Predesigned), Application (Therapeutic (ASO, siRNA), Research ((PCR, Sequencing, Diagnostics)), End User (Pharma, CROS, CMOs) - Global Forecast to 2027", is projected to reach USD 16.7 billion by 2027 from USD 7.7 billion in 2022, at a CAGR of 16.8% during the forecast period.
One of the key factors driving the market growth is the emerging field of personalized genome sequencing, which helps determine the best approach for patient care, whether preventive, diagnostic, or therapeutic. The incorporation of synthesized oligonucleotides to treat various diseases also supports market growth.
In the realm of biotechnology, the Oligonucleotide Synthesis Market stands out as a cornerstone of modern scientific progress. With its ability to design and produce custom DNA and RNA sequences, this market plays a pivotal role in various sectors such as pharmaceuticals, research, diagnostics, and more. This article delves into the dynamic world of oligonucleotide synthesis, shedding light on its significance, innovations, and promising future.
Download a PDF Brochure: Oligonucleotide Synthesis Market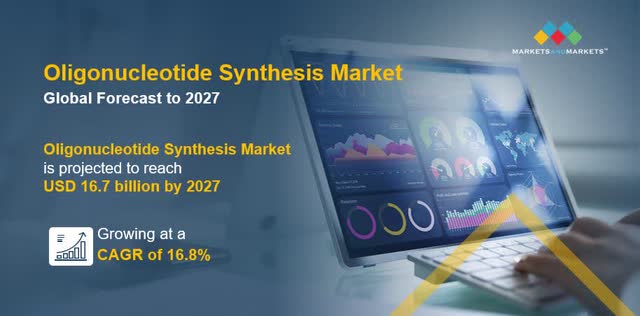 Unravelling the Oligonucleotide Synthesis Landscape
The Process of Oligonucleotide Synthesis
Oligonucleotide synthesis involves the artificial creation of short DNA or RNA sequences with precise nucleotide sequences. These synthesized oligos find application in a plethora of domains, including gene editing, drug development, molecular diagnostics, and even DNA data storage.
Key Market Players and Innovations
Leading biotech companies are making remarkable strides in advancing oligonucleotide synthesis techniques. Innovations like phosphoramidite chemistry, solid-phase synthesis, and automated synthesizers have revolutionized the way oligos are produced. These advancements have not only enhanced the efficiency of synthesis but have also made it more cost-effective, opening doors for widespread applications.
The players operating in the oligonucleotide synthesis market are Danaher Corporation (US), Thermo Fisher Scientific, Inc. (US), Merck KGaA (Germany), LGC Limited (UK), Maravai Life Sciences (US), Agilent Technologies, Inc. (US), Eurofins Scientific (Germany), Kaneka Corporation (Japan), Biolegio B.V (Netherlands), Biolytic Lab Performance Inc. (US), Microsynth AG (Switzerland), Adtbio Ltd. (UK), Twist Bioscience Corporation (US), Eton Bioscience, Inc. (US), CSBIO (US), Tag Copenhagen A/S (Denmark), Biogen Inc. (US) Sarepta Therapeutics, Inc. (US), Ionis Pharmaceuticals, Inc. (US), and Alnylam Pharmaceuticals, Inc. (US).
Request a Sample Report: Oligonucleotide Synthesis Market
DANAHER CORPORATION (US)
Danaher has become one of the key players in the oligonucleotide synthesizers market with the acquisition of IDT (2018) and Cytiva (2020). These acquisitions enabled Danaher to expand its product portfolio for oligonucleotide synthesis. The company now offers synthesized oligos, such as primers & probes, and the raw materials used to synthesize oligos, such as reagents and equipment. IDT pursues organic strategies such as product launches and expansions as its key growth strategies. For instance, in 2019, the company launched the longest (up to 350 nucleotides in length) ready-to-use custom oligo pools in the market. In 2020, the company also opened a new business entity in China to better serve its regional customer base. Such strategic developments help the company further enhance its presence and increase its share in the oligonucleotide synthesis market.
THERMO FISHER SCIENTIFIC, INC. (US)
Thermo Fisher Scientific (US) led the oligonucleotide synthesis market with the second-largest share in 2020. The company has an exhaustive product portfolio consisting of primers, probes, custom oligos, phosphoramidites, reagents, and custom oligo modification. The company operates in over 50 countries across North America, Europe, Asia, and Latin America. It has adopted various organic and inorganic growth strategies to strengthen its market position. For instance, in 2019, Thermo Fisher supported BioNTech's (Germany) messenger RNA (MRNA) manufacturing platform by supplying nucleotides, enzymes, reagents, and other critical raw materials to expand its manufacturing capacities.
BIOGEN, INC. (US)
Biogen led the oligonucleotide synthesis therapeutics market with the largest share in 2021. This large share can be attributed to the launch of SPINRAZA in 2016. SPINRAZA is the first and only approved treatment for SMA (spinal muscular atrophy). The company has its oligonucleotide synthesis manufacturing (OSM) facility in North Carolina, which is utilized for manufacturing antisense oligonucleotide drugs like SPINRAZA and other antisense oligonucleotide drug candidates, which are currently in the pipeline. Globally, SPINRAZA's revenue reached USD 2 billion in 2020. SPINRAZA consistently accounted for more than 10% of Biogen's total revenue for the past three years. The company mainly focuses on growth strategies such as expansions. For instance, in 2019, SPINRAZA (nusinersen) received approval from the China National Medical Products Association (NMPA) for the treatment of 5q SMA, which further expanded its presence in China.
The Intersection of Oligonucleotide Synthesis and Healthcare
Oligos in Therapeutics
The Oligonucleotide Synthesis Market has enabled breakthroughs in therapeutic development, especially in the field of RNA interference (RNAI) and antisense oligonucleotide therapies. These technologies hold immense promise for treating genetic disorders, viral infections, and even certain types of cancers.
Diagnostic Applications
In diagnostics, synthetic oligos serve as essential tools for identifying genetic mutations, pathogens, and other biomarkers. Their high specificity and sensitivity make them invaluable in tests like polymerase chain reaction (PCR) and next-generation sequencing (NGS), driving advancements in precision medicine.
Exploring Challenges and Future Opportunities
Complex Designs and Lengths
As researchers aim for more intricate sequences and longer oligos, the synthesis process faces challenges in maintaining high fidelity and yield. The market is responding with innovative chemistries and technologies to overcome these hurdles.
Customization and Personalized Medicine
The Oligonucleotide Synthesis Market's future lies in tailoring treatments to individuals through personalized medicine. Customized oligos could target unique genetic variations, making therapies more effective and minimizing side effects.
FAQs about Oligonucleotide Synthesis Market
Q1: What are the primary applications of synthesized oligonucleotides?
Q2: How do innovations like solid-phase synthesis contribute to the market's growth?
Q3: Can you elaborate on the role of oligos in gene editing?
Q4: What role does the Oligonucleotide Synthesis Market play in COVID-19 research?
Conclusion
The Oligonucleotide Synthesis Market continues to push the boundaries of possibility in the realm of biotechnology. Its far-reaching applications in healthcare, research, and diagnostics highlight its indispensable role in shaping the future of science. As innovation propels the market forward, we can anticipate breakthroughs that have the potential to revolutionize medicine and molecular biology.
Seeking Alpha's Disclosure: Past performance is no guarantee of future results. No recommendation or advice is being given as to whether any investment is suitable for a particular investor. Any views or opinions expressed above may not reflect those of Seeking Alpha as a whole. Seeking Alpha is not a licensed securities dealer, broker or US investment adviser or investment bank. Our analysts are third party authors that include both professional investors and individual investors who may not be licensed or certified by any institute or regulatory body.