This report aims to provide detailed insights into the global microplate market. It provides valuable information on the type, procedure, application, and region in the market. Furthermore, the information for these segments, by region, is also presented in this report. Leading players in the market are profiled to study their product offerings and understand the strategies undertaken by them to be competitive in this market.
Key Factors Driving Market Growth:
The growth of microplate market is mainly driven by factors such as the increasing R&D expenditure in the pharmaceutical industry, increasing focus on miniaturization, technological advancements, and growing prevalence of diseases.
Revenue Growth Analysis:
The global microplate market is expected to reach USD 996.9 million by 2022 from USD 820.3 million in 2017, at a CAGR of 4.0%.
Download PDF Brochure: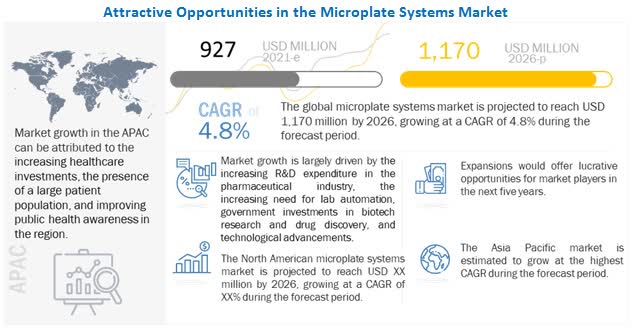 Competitive Landscape:
The competitive landscape includes the analysis of the key growth strategies adopted by major players to expand their global presence and increase their shares in the market. The key growth strategies adopted by the top players in the market include product launches and approvals, agreements, expansions, and acquisitions. Product approvals and launches were the most widely adopted growth strategies by market players in the last three years to garner a larger share of the market.
Key Players:
Bio-Rad Laboratories Inc. (US),
PerkinElmer (US),
Danaher Corporation (US),
Thermo Fisher Scientific (US),
Agilent Technologies Inc. (US),
Tecan (Switzerland),
BMG Labtech (Germany),
Promega Corporation (US)
Get more crucial industry insights:
https://www.prnewswire.com/news-releases/microplate-systems-market-worth-1-170-million-by-2026--exclusive-report-by-marketsandmarkets-301320834.html