** Trading results of a simple strategy to measure the existence/absence of mean reversion on the S&P 500 Index; The trading rule is, if the index goes up in any given day, we go long for the next trading session, if the index ends the session in negative territory, we short it for the next session (always using daily closes and no transactions costs were considered)

I have started trading professionally in 2000, 10 years ago. And all the research I gathered over the years to support both my discretionary and my systematic trading showed the superiority of mean reversion trading, or fading the moves day in and day out.

The premise is simple, most market moves are simply noise and we should always take the other side of the market. Over the last 10 years (this graph is not shown in this post) if you had sold short the SPDR S&P 500 ETF (Public, NYSE:SPY) or the S&P Futures after an up day and bought every time it went down in a single session you would have tripled your money without using any leverage. That was the power of mean reversion in the S&P 500 Index and in the stock market in general. I have the habit to run studies for periods of 10 years, thinking that what has happened prior to that is ancient history.

But this time I went further back... I researched mean reversion back to the 60`s, roughly 50 years of historical data. Why did I run this test? Because I have found myself to be on the wrong side of the market quite often lately and I COULD NOT UNDERSTAND WHY. I mostly had good trading weeks and months, using my plethora of trading techniques and all of a sudden the well seemed to have dried (there were a few good leveraged plays that went my way, but I really had to push hard to make some real money).

What I take from this data is:

- Mean reversion started working ONLY in 2000 (it has not ALWAYS worked, not by any means)
- Prior to the year 2000, it was profitable to go with the flow; if the market rose it would probably rise again in the next day and the reverse was also true
- 2008 was the best year for mean reversion
- late 2009 (you cannot see it on the graph, but the last few months were terrible for mean reversion trading) and 2010 mean reversing stopped working.

Is this a permanent market change in market dynamics? Is this just a seasonal anomaly?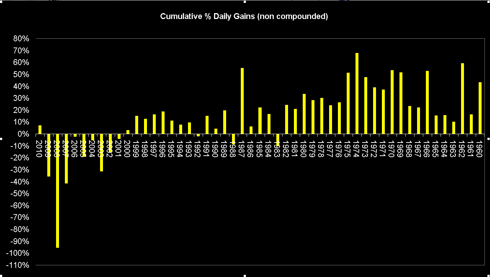 Disclosure: no positions