Momentum works as a stock-picking strategy according to this great piece of research from Kenneth French, a professor of finance at Dartmouth College and a notorious american economist most famous for the work he did in asset pricing with Eugene Fama. 

The research`s conclusion is that past performance looks like a forerunner of future performance in US stocks through history. Stocks that have done well, on average, continue to do well.

That`s a provocative thought, but this research is pretty resolute.  

French divided stocks into deciles and found out that the 10% best performing stocks kept on performing the best in the future and the 10 percent worst performing stocks lagged the market substantially.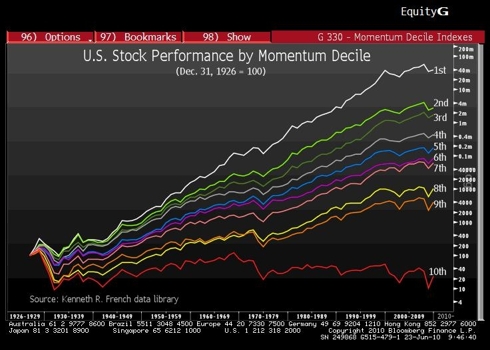 Source: Bloomberg

Stocks like Las Vegas Sands Corp (NYSE:LVS),  Baidu (NASDAQ:BIDU), Gannett (NYSE:GCI), E.W. Scripps Company (NYSE:SSP), SanDisk Corporation (SNDK) and UAL Corporation (UAUA) would be long candidates for this strategy as they are the strongest performers over the last 52 weeks.

Disclosure: no positions