Yahoo (YHOO) has a big problem. The once-great company needs to do something to remain relevant. Even its email addresses are being spurned in professional communities, with job advice boards specifically advising candidates NOT to use an @yahoo email address, likening it to @hotmail or @aol address (the latter of which coincidentally shares many of the same security issues as Yahoo).
With such a poor public perception of the Yahoo moniker and the company as a whole, perhaps Yahoo would be better off if it started over and changed its name altogether.
KEEPING UP WITH THE TIMES
Yahoo has lost a lot of ground in recent years. The company's homepage still looks roughly like it did in 2002; the only real difference is a different font and a slightly different layout.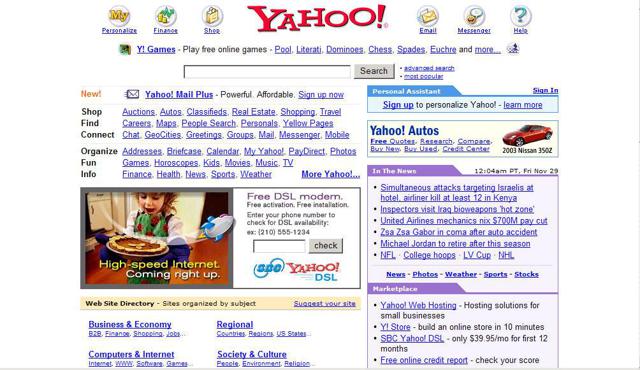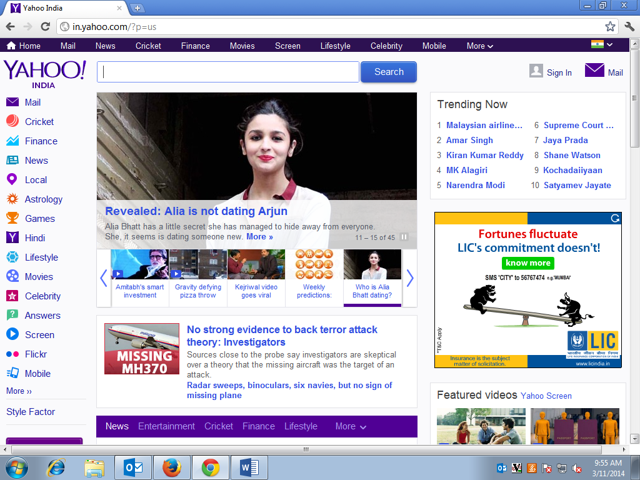 And why even have a homepage? They are passe. Roughly one-third of people in the US primarily go online using a mobile device, with mobile usage poised to eclipse desktop usage by 2015 - and mobile devices generally do not use homepages. Yahoo rival Google (GOOG) shut down its version of a homepage, called "iGoogle," last year. Google explained the reason, stating that "with modern apps that run on platforms like Chrome and Android, the need for iGoogle has eroded over time, so we'll be winding it down." So why doesn't Yahoo follow suit?
Even Yahoo's email is out of date. Its features, its color scheme, its perception all need a boost. Yahoo has tried several times since Mayer came on board to revamp the mail system but so far it has not been met with a very warm reception. The New York Times called a recent attempt the "online equivalent of a riot." One frustrated user wrote, "The new Yahoo is so bad it's tragic," while others complained the company was trying to mimic Google's Gmail.
YAHOO MAIL
Yahoo Mail is a "big deal" for Yahoo, writes Vanity Fair. "It has an estimated 275 million users, and while no one on the outside knows the precise numbers, there's an assumption that well over half of Yahoo's traffic originates with people who come to check their mail. In other words, if Yahoo loses those people, there could be a ripple effect."
And then there are the security issues. The company has been besieged lately. The attacks took Yahoo's servers down several times, spurring the company into actions which, while may have helped the issues, resulted in a rash of bounced messages.
These issues are bad enough in and of themselves, but don't forget that Yahoo offers a premium email service called "Ad Free Mail" for $49.99 a year - many of these complaints are from PAYING customers.
Revenue from the company's display ads has also been on the decline, while Google's share of the global digital ad market is rising and newcomers to the digital ad market like Facebook (FB) are starting to take root. Pageviews on Yahoo sites have definitely improved under Mayer - traffic to Yahoo sites actually beat out traffic to Google sites last July. But if this trend is indeed related to email users and Yahoo finally loses them for good, the company is going to take a major hit - losing both pageviews and income from premium email subscribers.
But it's not as if Yahoo CAN'T do it.
A FEW FALSE STEPS
Let's not forget, Yahoo was an industry leader, once upon a time. In the years leading up to the dot-com bubble, Yahoo had a total market value of over $100 billion and seemed poised to give rival Google a run for its money. Then, in 2000, Yahoo and Google teamed up. Under the agreement, Google became Yahoo's default search results provider. The deal was meant to be a complement Yahoo's network. Before long, people started bypassing Yahoo and going straight to Google - and it was all downhill from there.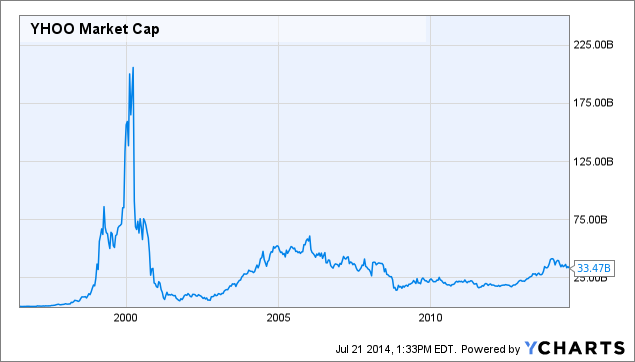 YHOO Market Cap data by YCharts
At one point, Yahoo had a good infrastructure and the addition of CEO Marissa Mayer has helped. The company's share price has swelled by 33% in the last year, and 155% since Mayer joined the company. Some of that is the honeymoon effect, but she has made several big moves with big potential, such as the acquisition of Tumblr and the addition of Yahoo Yodelers - and then, of course, there is Alibaba.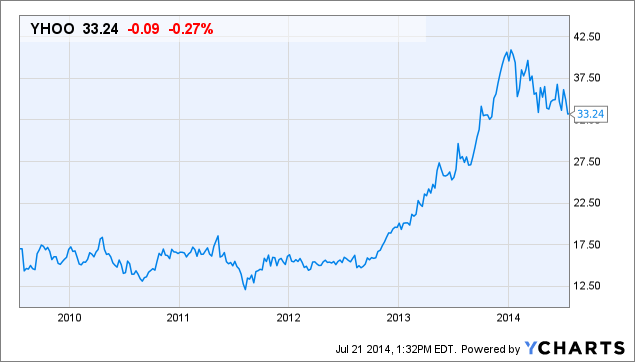 ALIBABA
Once Alibaba has its IPO, Yahoo will walk away with a 16% stake in the company and a fresh influx of cash - a payday of as much as $48 billion in cash. There will obviously be a large tax burden but hopes remain that Yahoo CFO Ken Goldman may be able to find some sort of work around to minimize Yahoo's tax bill after Alibaba's public offering.
One big possibility is that Yahoo will use the money to further foreign investment, possibly continuing the company's push towards overseas video assets and ability to compete against Google, "which generates a higher portion of its ad revenue overseas" according to Cantor Fitzgerald's Youssef Squali in a recent article by the Wall Street Journal.
But maybe Yahoo's problem isn't its overseas standings or its recent acquisitions? At some point, Yahoo is going to have to focus on identifying its core, building up its reputation, and securing its infrastructure.
GOING FORWARD
Yahoo could start over and rebrand its efforts. Google has routinely launched services which it later shutdown. Like iGoogle or Google Video, the efforts weren't wasted. By and large they were integrated into the broader Google framework. Google Video went into YouTube and iGoogle became integrated into enhanced search results and Chrome extensions.
Yahoo could do the same thing, in reverse.
Yahoo has functioned as an aggregate (that is what a homepage does, after all) - why not remove the middle man - itself? The company could take the services that work, secure its infrastructure, and wrap the whole package up in a new brand. Imagine a Tumblr that integrates into a photosharing site, email, messaging service, and media platform? Email that lets you share whole photo albums and videos, as well as a message, at a click of a button. A home site that aggregates content from blogs you follow, rather than filling in the squares of a homepage.
The money from Alibaba's IPO could be used to execute just such a plan. All it would take is an improved infrastructure, a little programming, and a killer marketing team.
Tumblr already has greater user buy-in amongst its users than Facebook or Twitter. According to Tumblr founder and CEO, David Karp, members spend an average of 14 minutes per visit, which is 90 seconds longer than Facebook and a few minutes longer than visits to Twitter. And, perhaps more importantly, Tumblr is more popular amongst younger users than Facebook - a fact that will sure take more importance going forward.
Value-added additions could be layered over the web, as well as email and social media. The result would be a unified experience, pushing Internet services into a magazine type structure - and all of that could be monetized with targeted ads.
Mashable quoted Karp as saying that people spend more time on Tumblr because it is "so much better." Karp explained: "It's very different behavior. People come here for same reason they turn their TV on when they come home at the end of the day ... It's something to do before checking your email, it's a chance to go and see stuff you enjoy, let's you escape from the real world."
And his comments tie directly into Mayer's vision for Yahoo. Mayer has long said that "media has long been one of Yahoo's key strengths" and that she wants to "harness the power of the web and deliver it in a concise experience, like that found in the beautiful, elegant magazine."
Interactive sections that add value to content are already part of Yahoo News Digest, which uses the Summly acquisition to blend stories from a variety of sources into a morning and evening overview of top news stories for the day, and further value is added to these stories using interactive sections called "atoms" which add images, videos, and even Wikipedia entries. Why not apply it to the entire Web experience?
TAKEAWAY
Until Yahoo takes solid steps to build the framework and infrastructure for its services, pushing its efforts across the brand into a unified, consistent, and reliable framework, investors should take a step back and wait and see - Alibaba or not.
But if Yahoo puts the huge chunk of change it has coming into rebuilding and possibly rebranding its efforts, the company just might be able to reclaim its seat at the head of the pack. The change won't happen overnight and Yahoo has made enough false steps that I wouldn't expect its share price to reflect its efforts straight away, but it is worth keeping the company on your radar.
Disclosure: The author has no positions in any stocks mentioned, and no plans to initiate any positions within the next 72 hours. The author wrote this article themselves, and it expresses their own opinions. The author is not receiving compensation for it (other than from Seeking Alpha). The author has no business relationship with any company whose stock is mentioned in this article.