Microsoft (MSFT) is in for some changes. Satya Nadella, the company's CEO, took the reins in early February and is focused on helping the $366.55 billion market cap tech giant rediscover its core competencies while aligning its strategy going forward with the same.
Microsoft's share price has climbed steadily since Nadella took the helm, but I'm not interested in playing the momentum.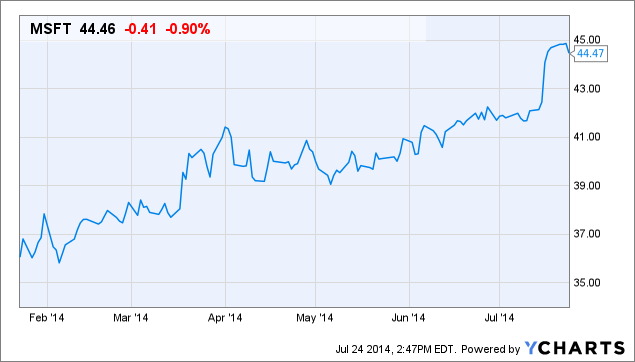 The bigger question is whether the company is worth its share price and whether its real value will increase over time - and that is debatable.
That's not to say there aren't are good things happening at Microsoft - there are.
LOOKING AT THE NUMBERS
The company's cloud revenue is up 147%. This section of the company's business includes the company's subscription document management and creation service Office 365 as well as Azure. The early numbers look as though Microsoft's push into cloud services will be a success, pointing to an annualized run rate of $4.4 billion.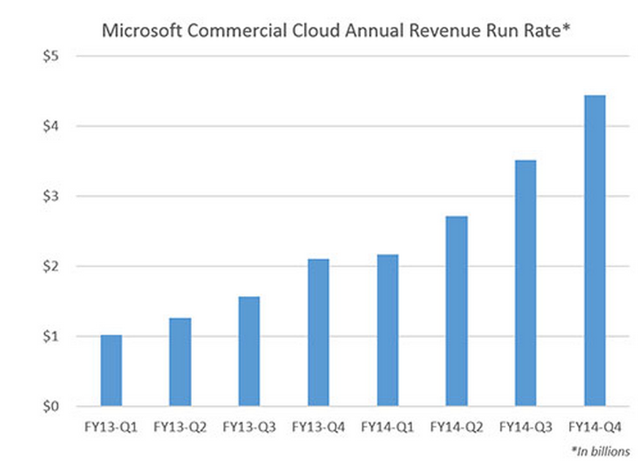 Bing also improved its ranking, taking over 19% of the US search engine market - and that could go up. Apple (AAPL) recently announced that Microsoft's Bing would be the default search engine in its iOS 8 and OS X Yosemite, and there is a possibility it will replace Google as the default search engine. The change comes after Apple made Bing the default search engine for Siri, the personal assistant program.
Microsoft has also been doing well in cost discipline. Last quarter, the company grew gross margin by $1 billion or 7%. Granted, a push into cloud services will do that - no software installation discs or packaging - but its a strong number.
In addition, Microsoft's revenue growth has been around 15.6%, compared to an industry average of 11%, and the company has very low levels of debt. Its debt-to-equity ratio is around 0.25 and it has a quick ratio of 2.31, showing that in addition to owing very little the company also has ample liquidity to cover its short term needs. On top of this, Microsoft's share price has been on the rise, even before Nadella took over. It's share price went up over 59% during the past three years, 42% in the past year.
Microsoft also boasts strong cash flow. Its net operating cash flow increased over 61% compared to the same quarter last year - a stellar figure given that the average cash flow growth rate in its industry is roughly 40%. The company has also posted strong earnings per share, pulling in $2.66 per share versus $2.02 three years ago.
Then there is Microsoft's new CEO - Satya Nadella.
ENTER NADELLA
While it is still early in Nadella's tenure, the CEO is getting credit for applying financial discipline while pursuing his vision for a "mobile-first and cloud-first" company. Brendan Barnicle of Pacific Crest Securities said Microsoft was "hitting on all keys" prompting the analyst to raise his rating of the company to Outperform from perform. Marketwatch quoted him as saying, "Microsoft is demonstrating unprecedented financial discipline that is applying to all of its businesses, especially Nokia."
Daniel Ives, of FBR Capital Markets, echoed Barnicle, explaining "This guidance speaks to management's efforts to make Microsoft a "leaner and meaner" technology giant over the coming years in order to strike the right balance of growth and profitability around its cloud and mobile endeavors." Brent Thill of UBS was also upbeat, boosting his one-year target estimate to $50 from $46 noting the positive steps Nadella's leadership is taking "in both product innovation and cost controls [and] as this transformation plays out, we believe Microsoft will become more efficient in driving recurring revenue at lower costs."
That is a whole lot of optimism, even for a CEO honeymoon period.
Nadella seems geared towards reorienting Microsoft's efforts away from software and more towards cloud-based efforts and devices designed to make goong mobile easier. The Microsoft CEO explained vision for the company, its market, its core competencies, and the importance of the cloud in Microsoft's future as well as its hardware in a 3,200-word memo sent to employees on July 10. It was called "Bold Ambition & Our Core." One week later, Nadella sent a second email to employees, warning of a reduction in overall workforce of up to 18,000 jobs - I'd say that is pretty bold.
The cuts came just before Microsoft released its 2Q14 earnings. The company narrowly topped revenue expectations (bringing in $23.38 billion over $23 billion expected), and missed EPS expectations by $0.05, posting $0.55 GAAP while analysts were estimating $0.60 per share. As Microsoft CFO Amy Hood was careful to note in the earnings call, the "guidance did not include the impact of the acquisition of Nokia's devices and services business. Excluding that [Microsoft] grew revenue 10% exceeding the high-end of [its] guidance range."
But if wishes were fishes, as the old saying goes.
REASONS FOR RESERVATION
Microsoft has been a pioneer in many ways but the concept of becoming "cloud first" isn't exactly a headline. Really, it's barely news. Every tech company that has direct consumers of its end products is focusing on developing services for the cloud and creating a unified consumer experience across devices.
That said, Microsoft seems much more like a hold position to me. It is well established enough that large hits to its share price are relatively unlikely, at least in the shorter term - but so are large increases. Microsoft is currently trading at roughly $44 a share and carries an average price target of $46.81 - even with its 2.7% dividend, that isn't much of a return for a would-be investor.
Microsoft is also holding high levels of cash - at a time when the tech industry is soaring and M&A is par for the course of larger companies. It makes me question whether the company is initiating many new projects - especially since it has not kept up with its competitors' innovations.
Microsoft is keeping its focus on business technology - a division that has traditionally brought it good success - but, that success may have run its course. Microsoft built its business decades ago by pushing its solutions through Value Added Resellers (VARs), offering bundled business solutions with the necessary hardware. And it worked. After only a few years, Microsoft emerged as a dominant force and solutions like Microsoft Office were everywhere.
The company tried to replicate the strategy with its launch of Windows 8 but it was late to market. Developers and manufacturers had already geared offerings towards Apple's iOSX and Google (GOOG)'s Android when Microsoft's Win8 debuted.
Going forward, Apple's recent partnership with IBM (IBM) is bound to take its toll. It will bring a large amount of resources and potentially additional devices to Apple's already dominant position. In addition, the partnership between Apple and IBM means that there can be a new series of VARs for the enterprise markets.
Microsoft may see a small piece of this thanks to Apple's inclusion of Bing, but it won't be nearly the extent of the success Microsoft enjoyed in the past. Over time, as Apple and IBM bring to market the fruits of their partnership, Microsoft will have increasingly less footing in the business technology markets.
GOING FORWARD
It's time to stop the love fest and treat Microsoft like any other company. Nadella is pushing the company in a new direction - a necessary step. The question investors have to ask themselves is whether they believe Microsoft has the capabilities to become a leader in a cloud-first, mobile-first world - and how well the tech giant can stand up to its rivals.
In addition to navigating the waters of competitive technology, Microsoft may also have legal challenges to face. The company is under investigation by China. On Monday, government investigators visited Microsoft offices in Beijing, Shanghai, Guangzhou, and Chengdu. Reuters quoted a source close to the company as saying that the visits were likely related to an antitrust investigation. Qualcomm (QCOM) is currently facing penalties which could exceed $1 billion in a similar probe.
While an investigation does not presume guilt, should Microsoft be hit with similar penalties, the impact on its share price, and, to a greater extent, the company's flexibility moving forward could become an issue.
The company may be able to get the right people on board and introduce software that will run consistently and dependably, but it won't be right away. These things take time, and the company's share price is bloated right now. And, the business avenues Microsoft has depended on in the past may not be there.
Keep Microsoft as a wait and hold position - at least until after the honeymoon.
Disclosure: The author has no positions in any stocks mentioned, and no plans to initiate any positions within the next 72 hours. The author wrote this article themselves, and it expresses their own opinions. The author is not receiving compensation for it (other than from Seeking Alpha). The author has no business relationship with any company whose stock is mentioned in this article.