People who frequently read my articles know that I love to talk about economic indicators and that I build my articles around graphs that show certain trends and correlations.
Now, I decided to write an article about the indicators I use to analyze the US economy. I will also paste the link of this article in my Seeking Alpha bio so people can access it quickly.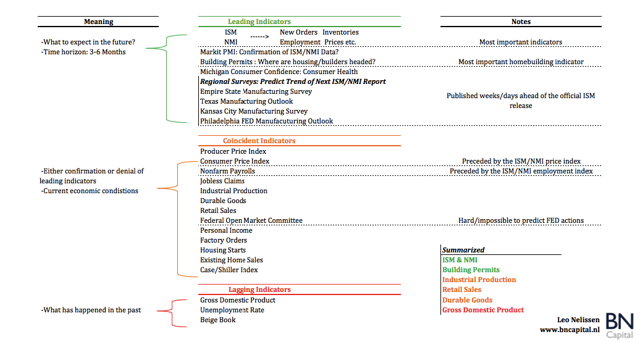 There are three types of indicators.
Leading indicators tell you what is going to happen. They are the most important indicators. There is simply nothing as important as a good understanding of these indicators. Most leading indicators are surveys about the future. What do companies think is going to happen? Both the ISM manufacturing and non-manufacturing index as well as all regional PMIs are surveys. Building permits are different. Building permits tell us how many are planning on building a house. In addition to these indices, you get an entire overview of all industries provided by the Institute for Supply Management. I often use these stats to analyze companies.
Coincident indicators either confirm or deny the outlook given by leading indicators. When I analyze industries and companies I always look at both leading and coincidence indicators. When I look at Paccar PCAR I always look at the ISM index first. Then I look at heavy truck sales (coincidence) to spot an interesting point to buy or short the stock.
Lagging indicators are by far the most useless indicators out there. Both unemployment rates and GDP growth rates can be manipulated very easily. No professional trader cares about these indicators. Most retail traders believe that these numbers say something about the economy and place bets after the release of these very numbers. The opposite is true. Once GDP numbers have been published and retail traders placed their bets, professional traders are already three months ahead when it comes to investment research. Why would any forward looking investor be interested in old data that can be revised even months after the initial publication?
At this point, I've said everything you need to know. You can use the graph as a guideline while doing research. Also keep in mind that most indicators can be broken down into different industries and aspects. Industrial production for example contains production of heavy trucks, food & beverages and much more. You also get to know much about new orders, shipments etc. I feel like a kid in a candy shop when I look at coincident indicators after having done my leading indicator homework.
Before I end this article I post a few links below. They will redirect you to some of my articles where you can get some examples of different indicators.
Now you know a bit more about my way of doing research and the reason why I don't do complete breakdowns of companies. It's simply not necessary.
I hope you liked this article. Feel free to leave a comment if you have questions or remarks. Also, let me know if you are interested in getting an indicator overview of Europe.
Disclosure: I/we have no positions in any stocks mentioned, and no plans to initiate any positions within the next 72 hours.
I wrote this article myself, and it expresses my own opinions. I am not receiving compensation for it (other than from Seeking Alpha). I have no business relationship with any company whose stock is mentioned in this article.