After trying to go long a couple of weeks ago and subsequently stopped out very quickly, its time to examine the current levels and valuations out there.
I believe we are at a point of extremely oversold levels, it doesn't necessarily mean it cant continue to be oversold, but the market looks as if its preparing for a short covering rally in which many sideline investors will cautiously jump on thinking the bottom is in. This should last approximately a month or so, now is a good time to bring out the shopping list.
My favourite sector in terms of risk and reward would be the Oil industry. Many companies are selling at prices last seen in 2009 with oil at $45 a barrel! Many of these have potential to see 20% increases in a very short time frame.
After being stopped out of Suncor (NYSE:SU), it seems my stop was well placed when considering how far it fell following the market collapse.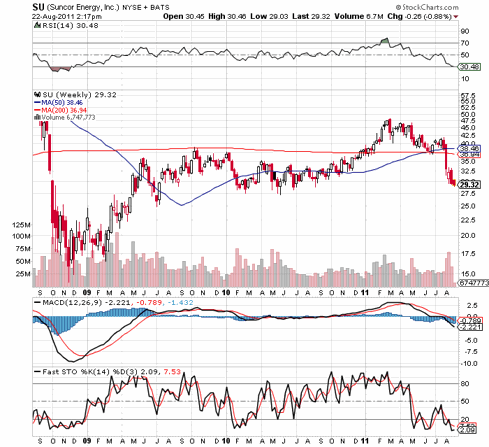 Purchased around $29 gives us a great setup as we place a stop under $27 and look to take some off at $35 if it gets there
Transocean (NYSE:RIG) also has a great setup as its sitting right on its support zone, this gives us a clearly defined trade with a buy around 50 and a stop below $45 This stock also is currently Yielding over 6%